Murrindindi Project – Toolangi Working Bee 19th & 20th October 2019
Ten Offpeak members were joined by six members of four other Four Wheel Drive Clubs at the Murrindindi Scenic Reserve.  Rangers Jen and Andrew greeted us and directed us to the tracks they wanted us to drive, clear and report on any damage.  Then we all headed out together, separating into groups of two or three vehicles to tackle the specific tracks.  We drove along, clearing fallen branches and debris from the track as we went.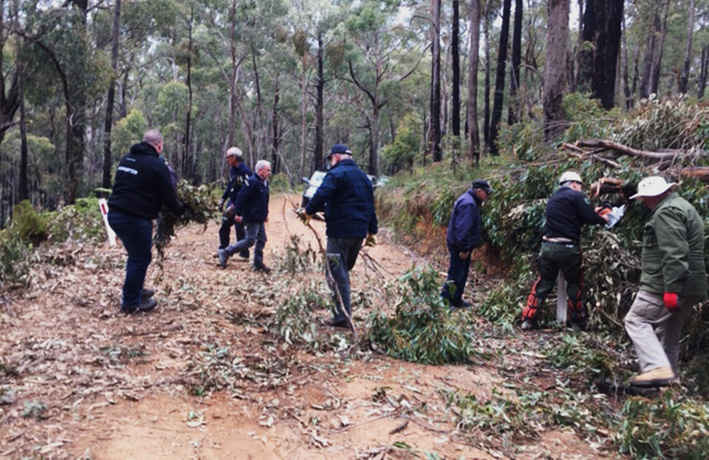 Clearing the rubble
Some time later we met at an unofficial campsite where some motorcyclists had directed the Rangers saying there was a fire burning there.  There was no fire (until the Rangers lit one to cook their lunch) but it proved a good diversionary tactic to prevent the bikers being booked for being on a closed track.  We enjoyed a friendly chat around the fire while we ate lunch.  When the fire was extinguished using the Rangers' fire equipment, we headed off again to drive more tracks.  The group we were part of was singularly unsuccessful with the track we had been assigned.  We encountered a tree which had been cut but the gap was too narrow.  Our attempts to cut this back succeeded in flattening the chain saw battery, but not in cutting the tree.  Undaunted we made our way past the obstacle and took a track which on the map appeared to lead back to the main road but in fact ended in an ignominious dead end.  We had to turn back and retrace our route.  We later learned we had strayed onto a Vic forest track we weren't intended to be on.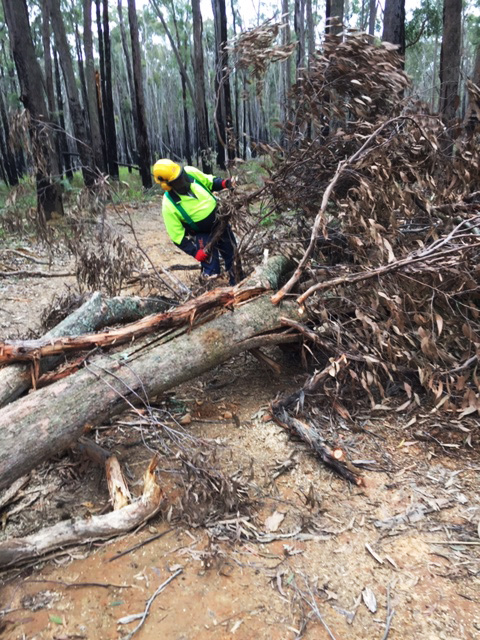 Where do I start?
While those who had come for the day headed home the rest of us assembled at camp for a slap-up BBQ provided by Ranger Andrew.  As the BBQ was being prepared four vehicles towing all-terrain vehicles drove past.  As these are not permitted to be used in the Park, Andrew, accompanied by Colin, set off to see where they were going.  They set up camp down the road a bit and when questioned they assured Andrew they were going to drive their all-terrains on private property.  When Andrew returned we enjoyed sausages, rissoles, steaks and salad.  As heavy rain set in we moved into the shelter or gathered around the large fire we had going before retiring for the evening.
Sunday followed the same pattern as Saturday.  We split into groups of two or three vehicles and set out to drive more tracks.  Andrew went to check on the all-terrain vehicles and as they were still in camp and there was evidence they had been used he departed to bring the Police.  Each driver was fined over $800.  Meanwhile our group followed tracks near the Murrindindi River.  It was an interesting drive without much clearing to do, as these tracks were officially open so had been driven by others.  We came to an intersection where the signpost indicated all the three roads there were all called Spur Track.  We therefore took Spur Track, but it was not long until our progress was halted by a large tree across the track.  We turned back and by taking a side track were able to return to camp.
The arrangement was for all groups to return to camp by 1:30 p.m. for a BBQ lunch before heading home.  We were the only ones there by 1:30, but the other groups drifted back.  At 3 pm Andrew packed up the catering trailer and headed off while we waited until the stragglers returned.  They eventually did,  a little worse for wear but having had an exciting time in the mud on Aeroplane Track.  If you are driving Aeroplane Track and you hear a phone ringing you will know it is one that was dropped by Zachary when he slipped in the mud.  With everyone accounted for we were able to head for home after a very successful working bee.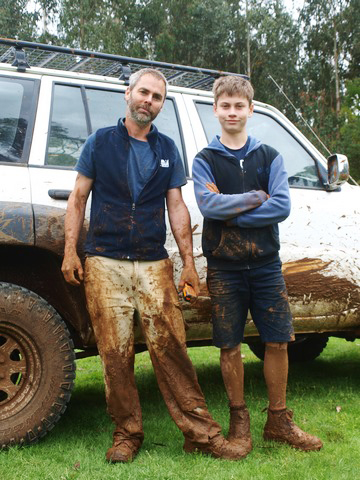 Without comment
Text and pics: Heather