Trip Leaders: Wayne and Ruthi
Participants: Graham, Mark & Felicity, JP & Trish, Geoff & Peggy 
The group met at Wallan War Memorial for a 10:30am start. Some members availed themselves of morning tea from the local shops. After the pre-trip briefing, we proceeded along the Wallan-Whittlesea bitumen road before turning left on to the gravel at Mahadys Road where a brief stop to air down was made.
The following roads / tracks were taken:
Mill Range Road, Pipeline Track and Raynors Road to Andersons Garden Picnic Area for a toilet break.
Westcott Ck Road, Escreet Road and Main Disappointment Road where access to Blair's Hut was blocked by a team performing remedial works.
Board Road, Lords Road, Sunday Road, Morrison Creek Road and Comet Link Road.
Poison Post Track past Regular Camp and Flowerdale Road to No. 1 Camp for Lunch.
Strath Crossing Road, Murchison Spur Road with a side trip via Murchison Falls Road to see Strath Falls, and on to Murchison Gap where the trip was formally concluded.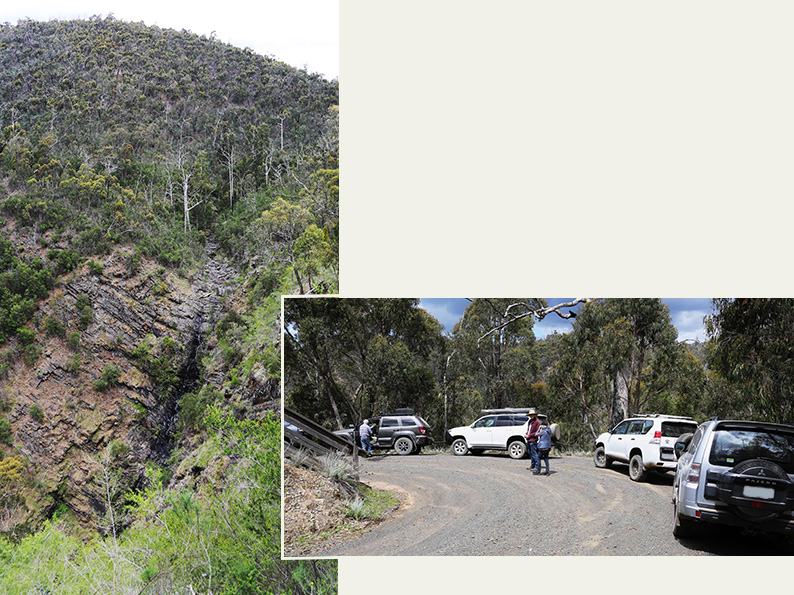 Strath Falls
The trip was through picturesque forested areas with wide green grassy verges. Some puddles / bog holes were encountered which were in the main avoided. Engine Camp Road was not passable due to a fallen tree, which resulted in the route being altered to continue along Broad Road, Lords Road (which was heavily overgrown resulting in a lot of new bush pinstriping) and Sunday Road before resuming the planned route on Morrison Creek Road.
A number of fallen trees were encountered in addition to the Engine Camp Road. One was moved aside by the trip leader, two others were sawn so that the blocking parts could be moved to the roadside and for the final encounter, it was possible to drive over the tree where it crossed the verge.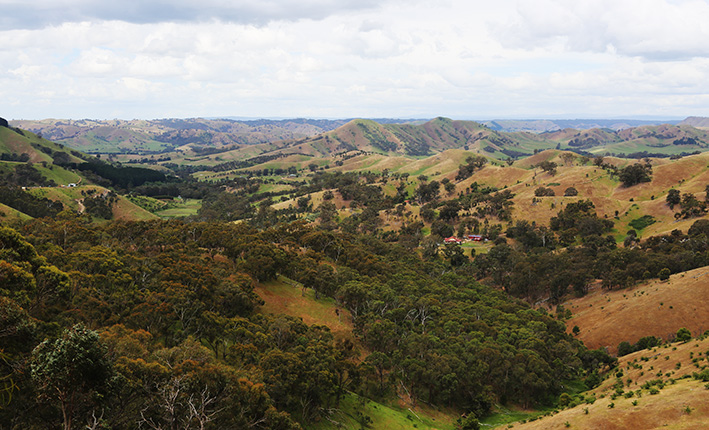 The view from Murchison Gap
The trip provided a couple of moments of excitement:
Our trip leader discovered a leech on his hand and first aid (antiseptic) was applied to the wound site.
One member tried to cross a large puddle that had not been tested for depth and almost got stuck. A hasty reverse was successfully deployed!
After the formal conclusion of the trip, the group proceeded to the Village Green Cricket Ground for a wonderful afternoon tea. We were entertained by the owners' repartee and the memorabilia on show, as well as the wonderful gardens.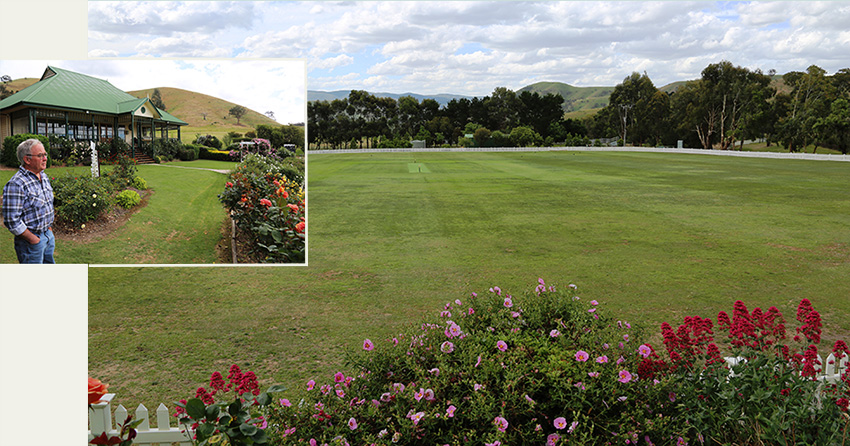 The Village Green. [Inset: The Pavillion]
A great trip – Well done Wayne and Ruthi!
Words & pics: Mark