Trip Leader: Graham
Participants: Roger, Geoff, Mark (with visitor Deb), Peter
This trip was originally scheduled to take place on the 10th of December 2019, but was postponed due to mechanical problems with the Trip Leader's vehicle.
A total of 6 people (members and visitors) in 5 vehicles met at High Street, Lancefield near the Hay and Gain store at 10am for a 10:30am trip briefing and departure.  It was a dry day with a cool morning but was expected to be warm in the afternoon.  The purpose of the trip was billed as a fun day pitting driver and vehicle against some of the more interesting tracks in the Cobaw State Forest. No particular route was planned, but rather a random exploration of the tracks in the forest, looking for some achievable challenges.  The trip rating was "difficult" for dry weather conditions for high clearance 4WD vehicles.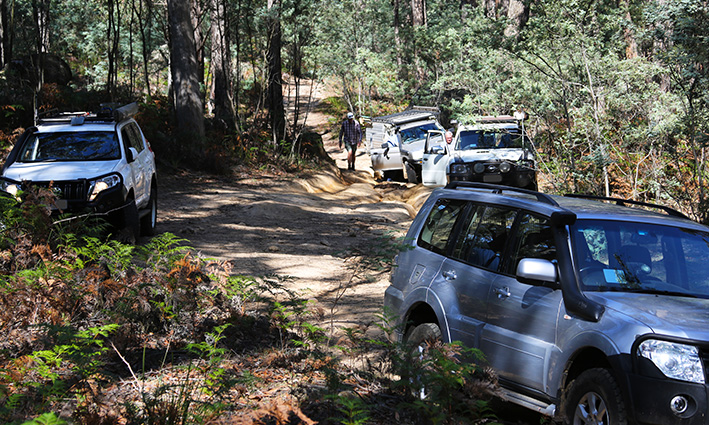 The Cobaw State Forest has been described as: "A large preserved region of protected native bushland in the Cobaw Range, about 2500ha.  The Forest was severely damaged by bushfires in 2003 and perhaps more recently as well.  There are innumerable tracks in the forest, and it is a popular weekend destination for hikers, trail bikes, and 4WDs.  The ridges are strewn with granite boulders of all shapes and sizes."   The day started off pretty chilly and quite misty – those wearing shorts were certainly feeling the 7.4°C air temperature.
After coffee at the bakery, the trip leader briefed the participants and supplied us with an excellent map of the forest tracks. Once mobile, the convoy headed in an easterly direction towards Kyneton, turning right (north) on to Mooneys Lane.  Here, the convoy stopped to air down for the day's adventures.
As the convoy entered the State Forest, we turned left immediately on to Croziers Track and the fun began. The track was badly rutted and rocky which was an indication of the nature of most of the day's driving.
Croziers track made a turn towards the southwest before looping towards the north east and ending at Reillys Fire Line, where we turned left. 
We soon met up with Devanney Road for a bit of light relief driving before turning right on to Soil Pit Track which is a particularly steep, rutted and rocky track.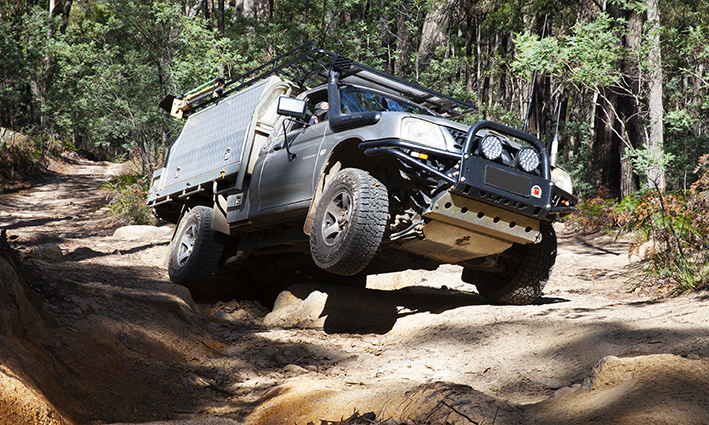 They day was filled with technical challenges including one member requiring a tow up a difficult section when traction was lost, and many difficult sections requiring guidance over steep rocky terrain. Suspension articulation and traction control systems were tested to the limits.
Total trip distance was 33.7km, 13.7km on forest tracks.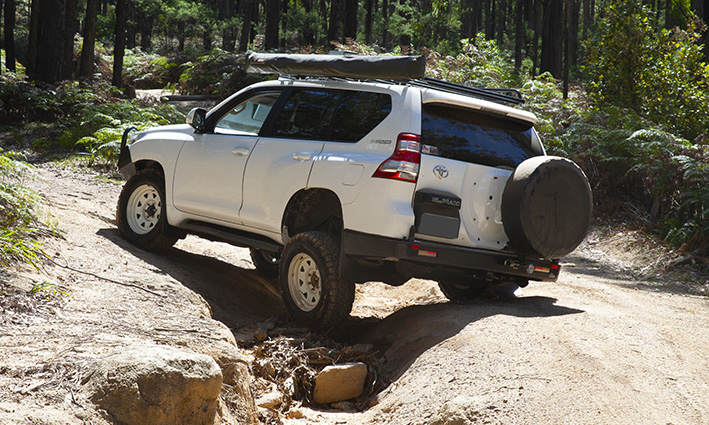 A great day was enjoyed by all participants.  Many thanks to the Trip Leader.
Text: Mark
Pics: Mark & Graham