Leader: Uwe
Participants: Colin A, Bill & Gill A, Daniel and visitor Peter B.
Five cars met at the toilet block cnr Henty and 22 Bennett St, Noojee after 8:30 am. It was a sunny, beautiful (but cool) morning.  We were expecting rain however, mid-day. Left on time! at 9 am, after some members got their Java from the Little Red Duck Café.
First we headed north on Loch Valley Rd, with Uwe leading and Bill & Gill TC. Along this route were beautiful stands of Manna Gums. We then turned right on to Toorongo Rd and soon had to give way to 2 logging trucks that hurtled past us. Thankfully, Uwe had organised Bill & Gill to keep a handheld on the logging frequency, so we were in contact with the logging company. We passed some old logging coops. After a long drive, we then merged on to Nine Mile Rd, where we saw lots of tree ferns and Stringy Bark trees.
When we tried to turn into Park Rd, there was a "Road Closed" sign. Oh dear! On further inspection and looking at maps, it appeared that Uwe's route was going to take us past the bridge repair ahead, so we proceeded. Park Rd had a long downhill that crossed the Thompson River four times. After that we turned east into Crème Can Hill Tk, where we had another river crossing with a big rock smack in the middle. Little water flow, so no problem. The uphill was steep, but it was a rocky firm track.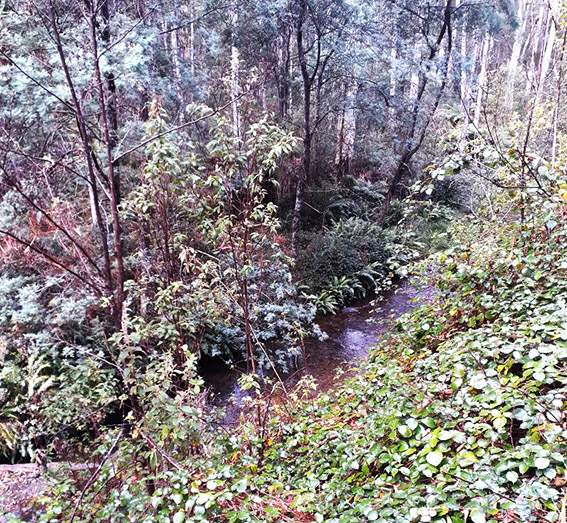 We then turned east onto the Thompson Jordan Divide Rd for a short distance, before turning NE on the Thompson Jordan Divide Tk. This did cause some confusion later when we made some navigation errors and had to do a few Uies (pun intended). We also had to pass two huge moving excavators. It turns out one wrong track we took was a new fireline double width track, they had made in the past. And at 12 noon exactly the rain started! It turned out the TJD Tk merged into the track we had been looking for – Caspar Ck Tk. We then travelled a steep downhill, which would have had magnificent views, if not for the rain and mist. The track had a good base, so no drama, even with drizzle.
At the T intersection (just north of the Thompson Reservoir) we went left, going north on Red Jacket Tk. We took it to the Red Jacket Cemetery Historical Area, where we looked at the history of the extinct gold mining town and of its post office. Very interesting how they managed telegraph and post way out in the bush. The 1939 fires burnt any remains. We had lunch there and took some pictures.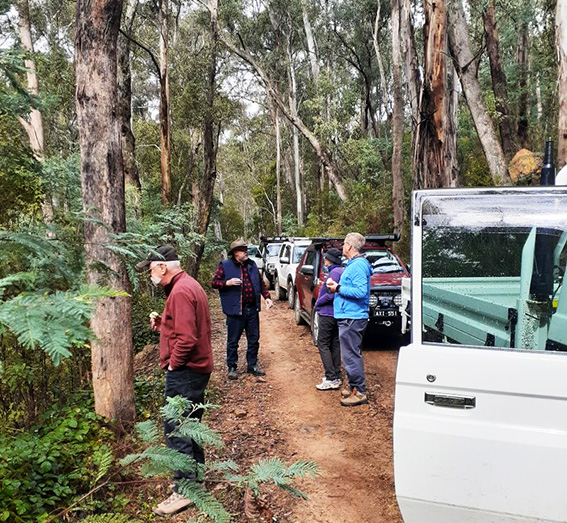 We then picked up the Victor Spur Tk going NE, finally turning left on the Woods Point – Walhalla Rd, travelling towards Woods Point, as it started to hail! The temp outside was 5 degrees. BRR.  About this time it absolutely poured down rain. We were very glad we were on a major gravel road.
When we got to Matlock, we stopped and had a discussion about whether to turn north to Woods Point, or to continue towards Warburton. As it was now about 2:30 pm we decided to end the trip there, as it was already quite dark and raining heavily. So we said our goodbyes and scattered in different directions. Uwe going to the LaTrobe Valley, others to Melbourne and one beyond.
It was a great adventure with an interesting mix of scenic, historic and medium tracks.
Report and pictures: Daniel Fengler