11 May – 23 May 2021
Trip Leader: Uwe
Participants: Peter C, Fay and Danny
We left Melbourne on Tuesday May 11 in terrible weather en route to Ballarat to meet up with trip leader Uwe. Pete had prearranged to meet up with us in Ararat and unfortunately JP and Trish had to withdraw from the trip due to Trish being unwell.
It rained constantly from Melbourne to just short of Ballarat which made us think it was going to be a miserable, wet trip. However, suddenly the rain stopped and the sun appeared by the time we met Uwe.
We then proceeded to Ararat to meet up with Pete. After a short pitstop for fuel and food we then checked out Ararat's One Tree Hill lookout before proceeding to Murtoa. At Murtoa we visited the heritage listed grain store, commonly known as 'The Stick Shed'. This enormous shed measuring 270 metres long, 60 metres wide and 19 metres high was constructed in September 1941, taking only four months to construct. It gets its name from the 560 unmilled poles that support the roof.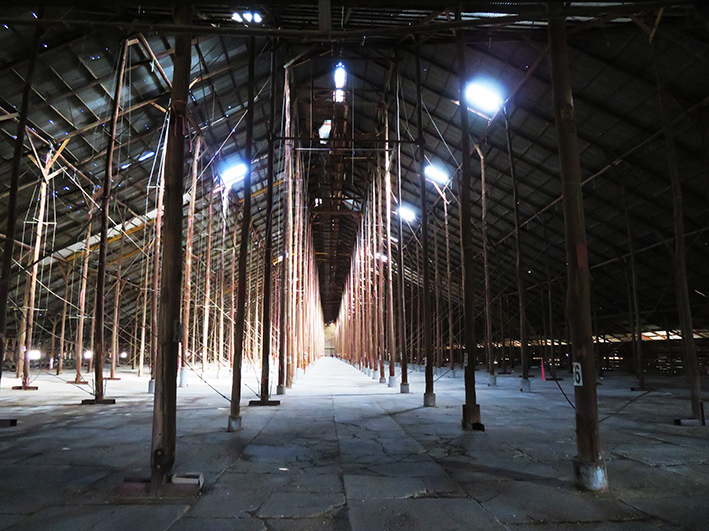 We then headed to Rupanyup to view the first of a number of silo artworks. This artwork was of two local sporting teenagers representing football and netball.  Our second stop on the Silo Art Trail was at Sheep Hills, the artwork there was of two senior indigenous elders and children. Our final art work site for the day was at Brim which portrayed four local farming identities. We set up camp for the night at Redda's Lions Club Park on the banks of the Yarriambiack Creek.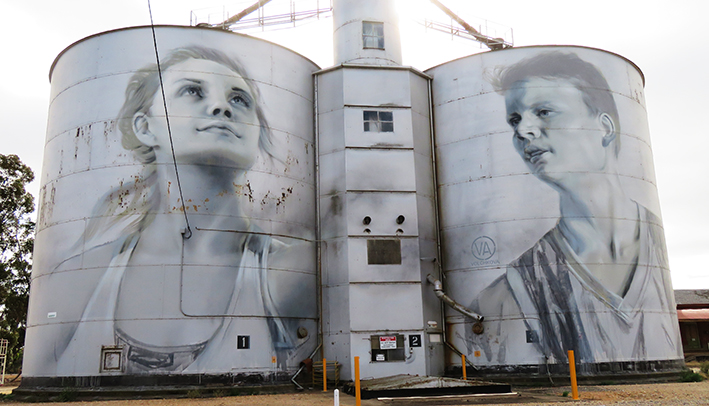 The next day we headed off under clear blue skies but only 4 deg C to Roseberry. The silos there depicted a young female sheep farmer and a tender moment between a man and his horse. Next stop was Lascelles where the silos there portrayed a fourth generation couple from the area. The last stop along the art trail was Patchewallock where the silo there depicted a young sheep and wheat farmer. We then proceeded to Ouyen for lunch before heading to Mildura for a fuel and food stop. Then on to Curlwaa Caravan Park, near Wentworth for our overnight camp.
The next day after a 6 deg C start we went to check out the Murray Darling junction near Wentworth. There we inspected the Weir No 10 Lock before heading into Wentworth to visit the Paddle Steamer model display. We then headed north, stopping at Coombah Roadhouse for lunch and then onto Broken Hill and Silverton where we spent the first of three nights at Penrose Park. 
The next day we visited the historic Daydream silver mine which operated from 1882 to 1983, where we participated in both the underground and surface tours followed up by scones and a cuppa. Next we drove to Broken Hill to visit the miners memorial which individually listed all the miners killed in Broken Hill and surrounding mines. A poignant display of the vast number of lives lost in the local mining industry.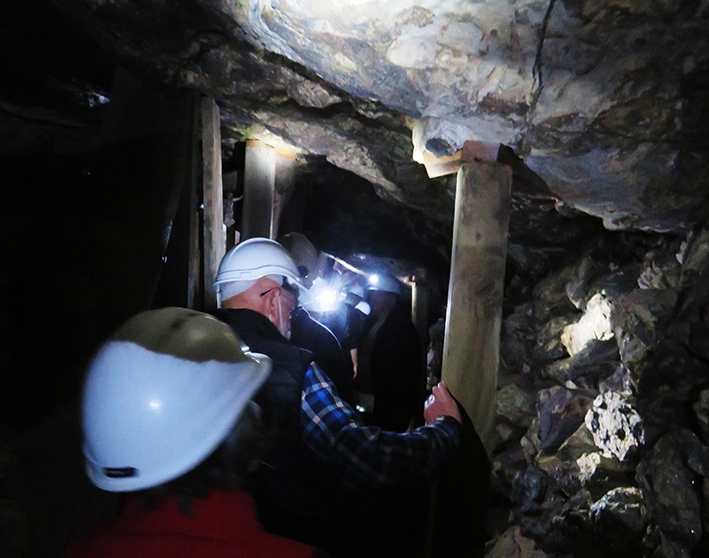 Our second day at Penrose Park saw us venture out to visit Eldee Station for a look around the facilities. While there was nobody camped there at the time there was clearly a lot of development being undertaken to accommodate campers in the future. On our return to Penrose Park we called into the vast Umberumberka Reservoir, Mundi Mundi lookout and the old Siverton township. After morning tea at the old Silverton Hotel we checked out some of the old buildings and ruins before heading back to camp.
The next day we packed up and then called in to visit the Living Desert Flora and Fauna Sanctuary and Sculptures before passing through Broken Hill en route to Mutawintji National Park. We stayed 2 nights there with a campfire each night.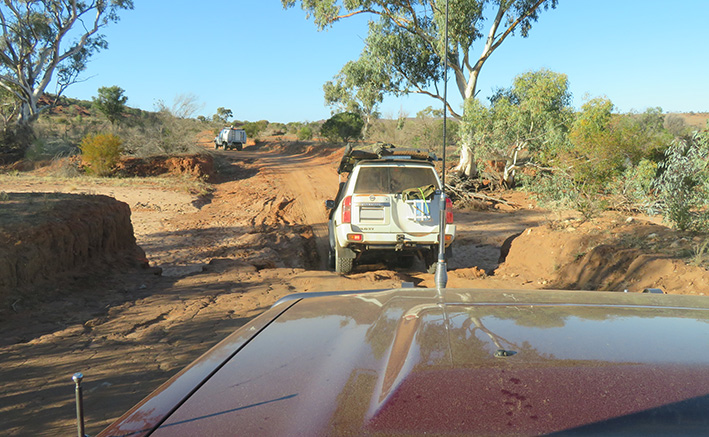 The first night Pete lit the fire using Uwe's newspaper, in fact the whole newspaper was consumed. Somewhat flabbergasted that Pete used the whole newspaper on just one fire, Uwe lit the next night's fire without any paper at all – just to prove a point! This outwardly friendly banter was cause for a few good laughs. Apart from the jocularity we did manage to undertake the picturesque Mutawintji Gorge walk and spent the rest of our time there relaxing and reading.
On Tuesday, May 18th, we packed up and headed off to inspect the Rockholes Hotel ruin before proceeding to White Cliffs. We had a brief look around White Cliffs before heading onto Wilcannia for our overnight stay at Warrawong Caravan Park. 
The next day we joined a 30 minute queue for fuel at the only operating fuel outlet in Wilcannia before heading off toward Menindee and then onto Pooncarie where we camped beside the Darling River. We had a relaxing afternoon before heading off to the pub for dinner. The pub was very busy but the wait for our Chicken Parmas was well worth it!!! 
The next day we moved onto Mungo National Park where we checked out the Zanci Homestead remains and the Mungo Woolshed. After checking into the visitor information centre we proceeded to set up camp in the designated camp area. Afterwards we walked the short distance to the Mungo Lookout. This lookout, while not very high, still has a commanding view over the now dry Mungo Lake bed (Lunette).
On our second day at Mungo we drove the few short kilometres to visit the 'Walls of China', one of the world's most significant archaeological sites. The Lake Mungo Lunette contains the burial sites of Mungo Lady and Mungo Man, who inhabited this area some 40,000 years ago. Next we checked out the Red Top Lookout, overlooking the most severely eroded area in the park. Here there are baked clay mounds originating from Aboriginal fireplaces that were located around the shoreline of the Lake.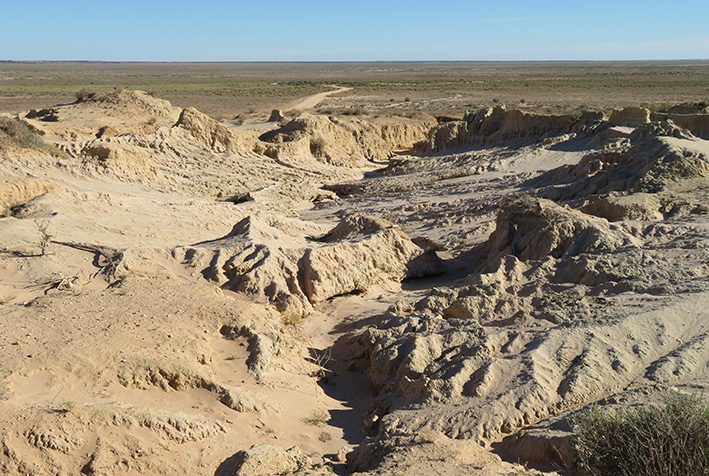 We then returned to the visitor centre hoping for a much-needed shower, but there were too many visitors there, including a large group of dirt bikers and a group of 'T' Model Fords, most towing mini camper trailers. The fact that these old-timers were still able to traverse the badly corrugated roads leading to the Park is testament to their durability.
On Saturday 22, we packed up and headed for Mildura where we refuelled and had morning tea. At that point Pete decided to head straight for home as Deb wasn't feeling well after her Covid immunisation. Uwe, Fay and I continued on to Sea Lake for our last official overnight stop. As is the usual procedure we planned to have a last night dinner and just as well we booked into the local Pub early as it seemed that everyone from around had the same idea. We enjoyed a fabulous meal and a few drinks to celebrate the end to an easy, relaxing tour.
Our thanks go to Uwe for organising the trip and to both Uwe and Pete for their company and the many laughs.
Text and photos: Fay & Danny