Sunday 21st November - Friday 26th November 2021
Gathering Coordinator: Gary
Base camp location: O'Sullivan's Pine Plains Lodge, a private camping and accomodation facility within the Wyperfeld National Park in the Mallee region of Victoria.
They came in their thousands - well, 35 anyway, in 20 assorted vehicles, most arriving on the Sunday afternoon in beautiful sunshine, albeit with strong gusty winds adding to the challenge for those trying to get the creases out of their long-unused tents. Those with vans had an easier time of it though I didn't see a lot of awnings deployed. Some had come direct from home while others had made use of the opportunity to do some touring on the way, taking their time and staying at various locations en route. A few had even arrived a couple of days ahead of time in order to check out the area and some of the local tracks, and presumably, to occupy the best of the campsites. As it turns out, pretty much anywhere in the camping area was as good as anywhere else.

So the scene was set.
Monday 22nd November
Kow Plains Homestead and Big Billy Bore
Leaders: Wayne and Ruthi
Firstly, we drove on Racecourse Track, Millers Track, towards Snowdrift Track, then to Wirrengren and our first stop, O'Sullivan's Lookout. We walked up the track to the top, and had group photos taken, plus scenery photos. Then onto a slippery track, Red Gum Track, where four-wheel-drive was required. We then travelled on Gunners Track to Underbool for a fuel stop. Following that, we visited Kow Plains Homestead, which is Heritage listed, and Jocelyn showed us around for an inspection, which was very interesting, and we were able to ask questions and partake of a fabulous morning tea with scones etc.  We picked up some brochures too.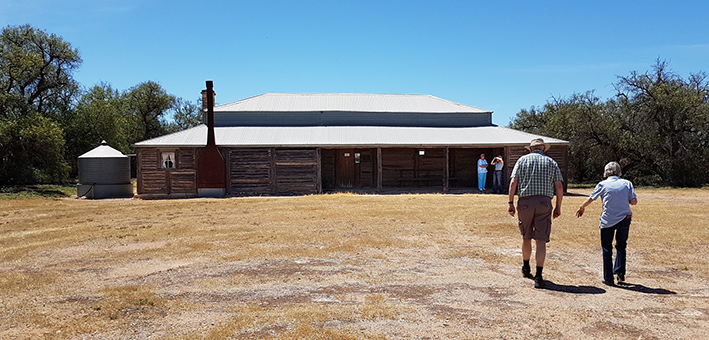 Then we drove through Murrayville on our way to our second major destination, Big Billy Bore, which was our lunch stop, and time to air down our tyres.
We had an "incident" with one of the cars (Ignatius) who got stuck at least twice, on the Cowangie-Nhill Track/Delisio Track, due to being unable to engage 4WD (confirmed later by Mitsubishi inspection) and had to be recovered by shovelling and snatch strap.
After that, it was getting late, and the names of the tracks were secondary to reaching our camp site where the others would be worrying about us. Wayne had to change his original plan, and we came home via Crow Road, Racecourse Track, and arrived safely, to everyone's relief.
Text and pic: Angela
Destination: Lake Albacutya
Leaders: Gary & Leanne
A little after 9 a.m. seven vehicles set out from camp and headed south and east into Wyperfeld National Park. We followed numerous sandy and bumpy tracks including Moonah, Eagle, North-South and Dattuck and arrived at Eastern Lookout. From this viewpoint we had good views over the surrounding mallee scrub and other features of Wyperfeld.
From there we travelled a short distance to the Mallee Fowl Walk where we had lunch then took the short walk to have a look at the Mallee Fowl mound. This turned out to be a hole in the ground, possibly the base of a previous mound.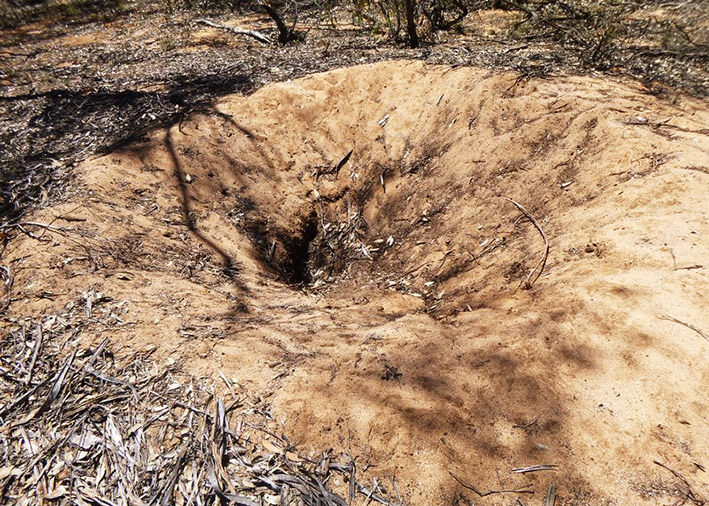 We then followed the James Barnett Nature Drive and visited Wonga Campground, the main camping area in the National Park. We then headed south and left the park and travelled through farms where harvesting operations were under way. We explored Yaapeet in search of Archibald's grave. A distant sighting in a paddock may have been it but we weren't sure.
We arrived at the shore of dry Lake Albacutya and made our way across on Boat Ramp Track to Western Beach. It was a long time since the boat ramp had seen a boat but as we crossed back we thought the grey clay surface of the track may have been more challenging after some rain. It was getting late in the day and some were running short on fuel so a decision was made to return to camp on the bitumen via Hopetoun. We arrived just before the Bow Bakery closed, so those feeling peckish enjoyed vanilla slices, chocolate eclairs while others fuelled up. The drive back to camp was quick and easy and we even got there in time for a delayed Happy Hour. It was an interesting and enjoyable trip. Thanks Gary & Leanne.
Text and pics: Heather. 
Murray Sunset NP and Pink Lakes
Leaders: J-P and Trish
Six cars headed north to Underbool via dry sandy and good gravel roads through a mixture of open and mallee country.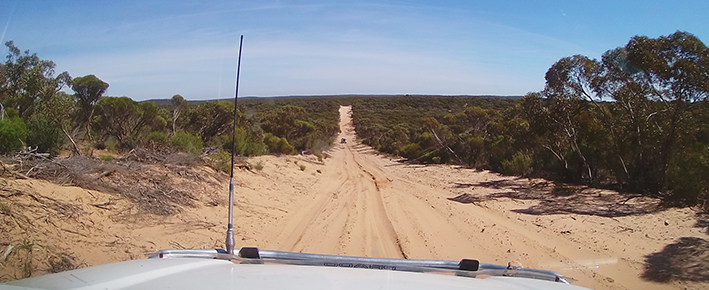 The Gnarr track took us to Mt Jess for morning tea and we continued north to reach Mopoke Hut which was built 59 years ago for cattle drovers. Mount Crozier Camping area was our shady lunch spot. The tracks here were sandy and undulating but where flat there was water in places to avoid. Lake Kenyon was the first pink lake we visited before moving onto Lake Crosbie where we walked across the crystalline salt surface to get to the other side.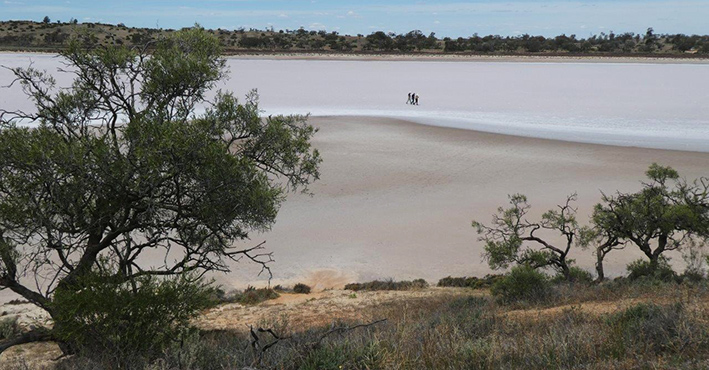 Both lakes had some water in them. A colourful galah watched us from a nearby tree while another galah had a sleep in his car. The return trip was uneventful, but overall, a very enjoyable 210 km trip.
Text and pics: Paul
Tuesday 23rd November
Sand Play
Leader: Peter
Much of this trip took us around part of the National Park boundaries.  We set off at a cracking pace along Racecourse Track and then on to Gunners Track which consisted mostly of sand, was rough in parts, but with some firm stretches. After about 40 minutes we stopped at a large dune to discuss how to best tackle the climb. Tyre pressures were lowered and Peter made the first attempt, coming to a stop about ¾ of the way from the top. With several members of the team pushing and the use of MaxTrax he eventually reached the top. After helping Peter, Geoff came back to the car and announced, "Hold on tight – this will be fast!", put his foot down and high-tailed it to the top in one go. Momentum was the key and after that everyone else drove up in quick succession.
Meanwhile the leader took off to do a recce. The remaining cars followed and found him stopped at the base of a very steep dune. Peter, Geoff, David and Bill all unsuccessfully attempted the climb, with Bill proving to be the clubhouse leader by making it further than the rest, with much bouncing towards the top of his run.
There were a couple more dunes to get over before we came down to a more level, firm part of the track. Dune #5 had a very soft top. Peter got over in one go, Geoff floundered a little at the top but managed to get over, however others were forced to lower their tyre pressures further and several people required more than one attempt. Eventually all cars succeeded. Meanwhile Peter had gone searching for a suitable lunch spot.  When the rest of the group had made it over the dune, we went after him and found a spot for lunch where he joined us a little bit later. By lunchtime we had covered a whole 36.8kms!
After lunch we returned at a sedate pace the way we had come.  In reverse the sandhills proved to be not nearly as challenging. After entering Racecourse Track, David and Sue announced they had a flat tyre so the rest of the group stood around and watched while David packed it for a temporary fix.  We stopped once again on the way back, this time at the Rabbiters Hut, before going our separate ways. Originally a tent, the Rabbiters Hut was rebuilt in the 1980s using corrugated iron. Rabbits were a huge problem around the area and in plague proportions during the 1800s. 
We returned to base by 3pm, having covered 75kms in all.
Text: Geoff and Peggy
Eastern Lookout and Mallee Fowl Nest
Leaders: Paul and Tineke
We left at 10. It was a great trip - no dramas, the tracks were varied, quite a lot of soft sand especially on the corners. Headed off to Casuarina camping spot for morning tea. Wool Track, Meridian Road, left at Moonah Track, right at Eagle Track which ran next to the park fence for quite a while then North South Track, right at Dattuck track and onto the Eastern Lookout for lunch. We climbed up the hill and onto the lookout tower. This was followed by a short walk to see the mallee fowl mound which turned out to be a hole. We turned around and headed back the way we came. Stopped to look at a huge 11 metre diameter spinifex roundel.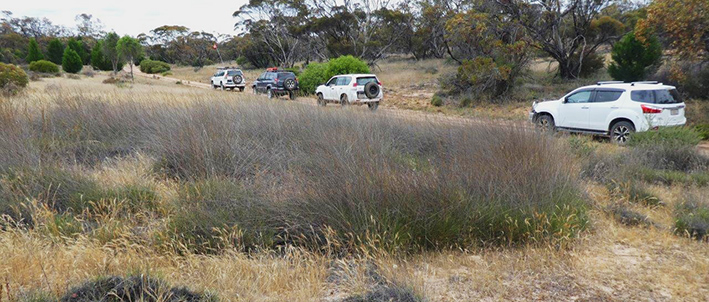 A blue tongue lizard blocked our way for a time as it refused to get off the middle of the road. The Nine Mile Square Track led us to Emu Flat Track and home after a wonderful day. 97 kilometres, home at 3:20.
Text: Maria, pic: Paul
White Springs Track to the Big Dune
Leader: Graham
This trip travelled the Gunners Track route to Underbool for fuel and morning tea, then via Stock Route Track to White Springs Track. The intersection of many tracks at White Springs Lookout seemed like a good spot for lunch. We continued to slog our way through the soft sand until we reached Big Dune, a really big dune. A couple of our intrepid adventurers attempted, but failed to meet the challenge.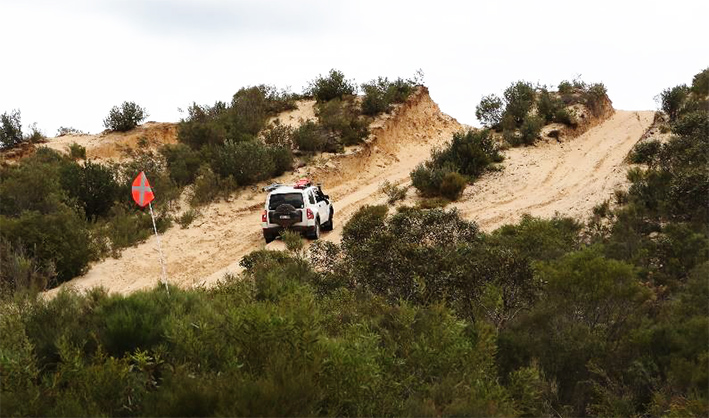 Time was against us by this point so we headed north back to the highway, then via Underbool for fuel and back to camp.
Text: Graham, Pic: Mark.
Wednesday 24th November
Main Objective: The Bow Bakery, Rainbow
Leader: Uwe
Seven vehicles departed the campground after the previous evening's downpour, heading south-east along what soon became a very chopped-up, muddy Emu Flat Track. Once past the sloppy grey clay across Lake Agnes, the tracks moved back into sand country and mud was less of a problem.
The route took us east, then south through the eastern section of Wyperfeld NP to Eastern Lookout, where we didn't, and Mallee Fowl Walk, where we also didn't, but did have morning tea. Then past Wonga campground and out to Lake Albacutya (last filled in 1974), and on to Rainbow. Here we were able to meet our objective, stocking up on vanilla slices (Uwe's rating 3.5 stars) and lunching on pies and other tasty baked goods and sweet treats. Some also topped their vehicles' tanks.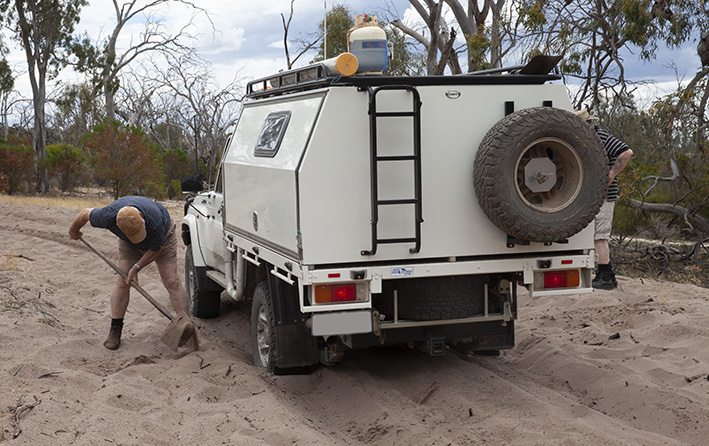 Seriously?
After lunch we basically retraced our steps, this time skirting the western and northern shores of Lake Albacutya (last filled in 1974) - some soft sandy sections requiring some oomph and maybe 4WD (!) - then on past Wonga campground, etc., etc., back to O'Sullivan's. Just in time for happy hour and the next overnight instalment of rain.
Text and pic: Graham.
Thursday 25th November
Highlights of Wyperfeld NP
Leaders: Richard and Maria
At 9:00 am 8 cars left camp along Pine Plains Road toward the park entrance. We all turned left on Mt Jenkins track encountering a few puddles left behind after the night's rains.
A right turn found us on the way to Kellies Lookout for morning tea after a good look around, only one car getting bogged in the soft sand of the car park.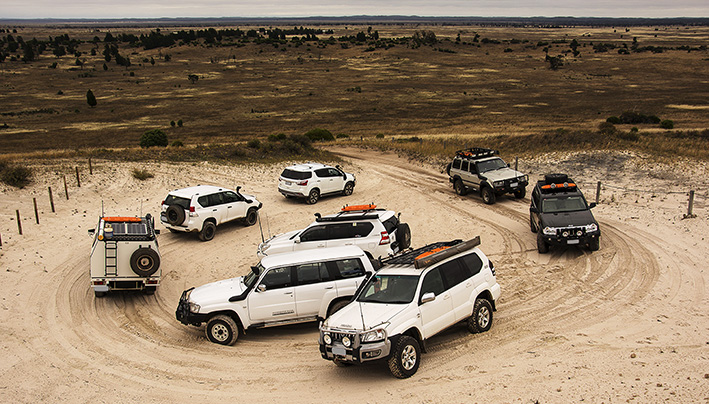 Back on Mt Jenkins track we proceeded to Gunner and then Wirrengren Plains on our way to the Big Gum Tree, a very large red gum taking 6 people holding hands to measure its circumference.
Next it was O'Sullivan's Lookout where most of us climbed to the viewing area atop the dune.
Back on Wirrengren Plains Track we proceeded to the Snowdrift picnic area for a bit of sand tobogganing and lunch.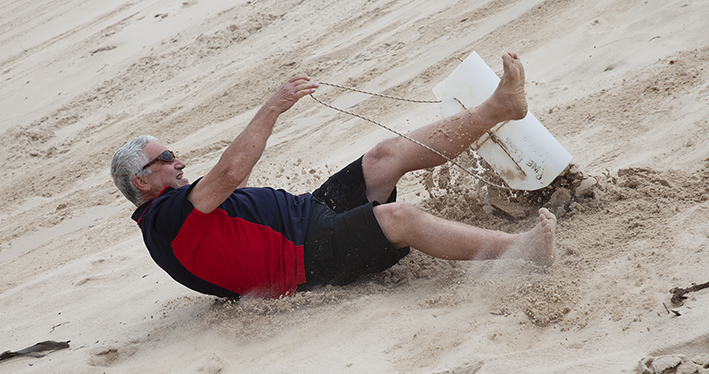 A short drive found us back in camp by 1:30 pm after 60 km drive.
Thank you Richard and Maria and TC Colin A.
Text: J-P and Trish, Pics: J-P and Graham.
Pink Lakes Trip
Leaders: Bill & Gill
Rain gave all in the convoy a much-appreciated break from dust. 
We proceeded on the usual route to Underbool along Racecourse, Gunners, Underbool Patchewollock Rd, Stock Route Rd, Willsmore Rd past the Linga Airbase with crop harvesting en route. Crossed Mallee Hwy and following Pink Lakes Rd to Murray-Sunset NP, down Pioneer Dr stopping at Lake Hardy. Very colourful when the sun is out. It wasn't.
Morning tea at Lake Crosbie, exploration and vigorous shoe cleaning ensued.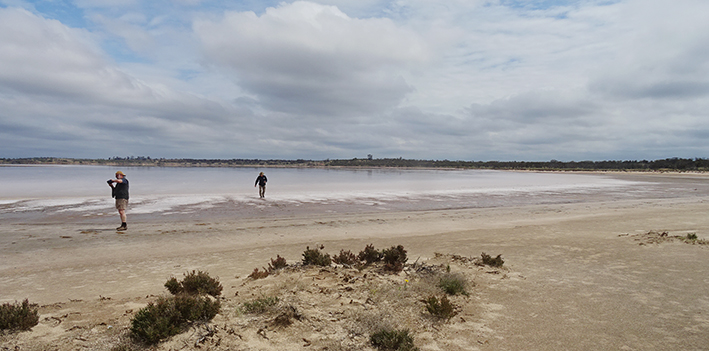 The TL lost convoy after morning tea! What did he eat?
Major Mitchell Cockatoos were sighted before the salt museum where salt harvesting and loading implements are displayed.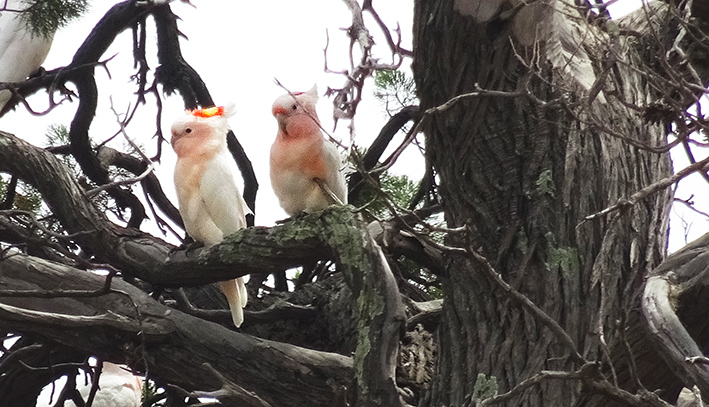 After deviating up Pioneer Drive to Lake Becking we inspected the tramway and walked to the picnic area for lunch.
Then to Lake Kenyon and the obligatory group photo, learning self-timer use!!! Leaving, the leader skirted the lake missing the 4WD track. Ah! Deja vu!
Following Bertelli Rd through a large puddle and Mamengarook Rd, arriving at Underbool for fuel, in the sand mud and water of Patchewollock Rd, Gunner Track to the Rabbiters Hut. Finally, racing down Racecourse Track, TL was late for afternoon tea.
Text and pics: Dave and Sue.
Friday 26th November - Departure Day
Following a fortunately dry night, the strong gusty winds were back, adding to the challenge for those trying to get the creases back into their no longer unused, and happily dry tents. Those with vans simply had to hitch up and untie the electric string tethering them to poles at their end of the campground. This must have presented a more onerous task than one might have thought, as those camping under canvas had long since departed on their various homeward journeys.
During the week, two couples had to prematurely head for home due to ill health and we share their disappointment and wish them speedy recoveries.
I am sure all participants would like to join me in expressing our thanks to Gary for coordinating the whole shebang, and to Pete for handling the arrangements with the Patchewollock Pub for our Thursday dinner.
Dare I say, "A great time was…"? Shudder! No I don't. But it was.