Trip Leader:
 

Uwe
Participants:
 

Peter, Roger, Colin
Day 0 – Sunday May 8th
We all met at Sea Lake mid-afternoon at the Travellers Rest caravan park where we made camp for the night.
Colin & Peter took a side trip to Lake Tyrell before dinner.
We had our evening meal at the Sea Lake Hotel where there was only pizza available.
Day 1 – Monday May 9th
We headed off from Sea Lake towards Wentworth. The weather was mostly sunny.
We stopped at the riverside park at the confluence of the Darling and Murray Rivers for lunch.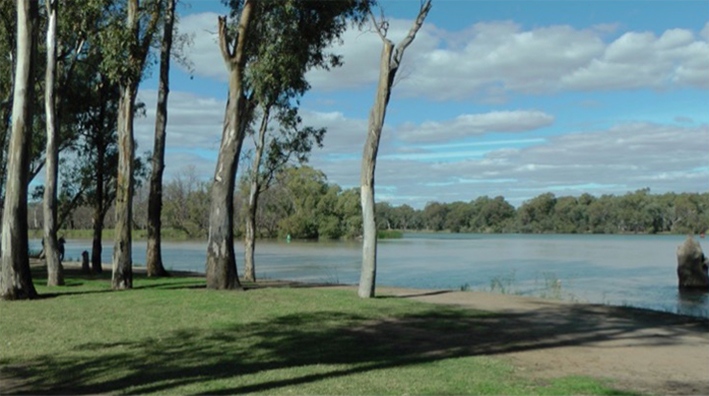 After lunch we headed off to Thegoa Lagoon via an unintended tour of the swampy areas of the lagoon while looking for our overnight camp.
We camped beside the Murray River, a bit downstream of Lock No 10 and had a camp fire that night.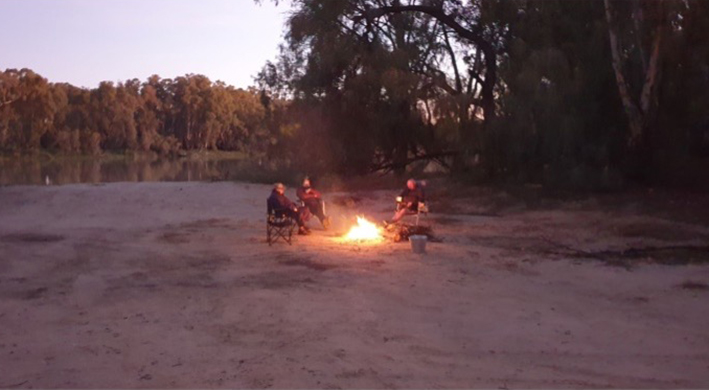 Day 2 – Tuesday May 10th
We headed to Silverton with a stop at Broken Hill tourist centre to check the road conditions in the North West of NSW. The roads were closed north of Silverton, only the Silver City Highway from Broken Hill to Tibooburra was open. The road into Fort Grey (near Cameron Corner) was open but it was unclear if we could get to Innamincka from there. This necessitated a change of plan. We decided to continue to Penrose Park for the night and discuss our options there.
At Camp we discussed our options for continuing towards Cameron Corner and Innamincka, we decided we would go back to Broken Hill and then up the Silver City Highway to Milparinka and then decide if we would continue or not from there.
Day 3 – Wednesday May 11th
Heavy rain hit over night at Penrose Park but it mostly cleared up in the morning however it was overcast and the rain returned during the day.
We headed back to Broken Hill and then north up the Silver City Highway. Some of the flood ways had water in them, up to about 200 – 300 mm deep.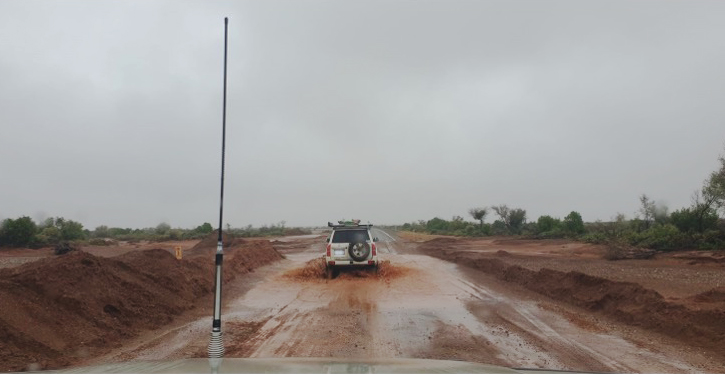 We made it to the Pack Saddle road house and met again to consider our options. Uwe had heard on the ABC radio that all roads north of Tibooburra were closed and that there were no roads open into Queensland.  We decided to have lunch at Pack Saddle then head back south to Broken hill and then over to the Flinders Ranges to complete the second part of the trip.
We camped at Yunta for the night and had a meal at the Yunta Pub.
Day 4 – Thursday May 12th
We headed off to Willow Springs stopping at Peterborough for supplies, and Hawker for lunch. The weather improved during the day and was quite good by time we reached Willow Springs.
Willow Springs could only offer us a one night stay in a bush camp. We decided to go to Arkaroola the next day spend three nights there, and then another three nights at Willow Springs on the way back.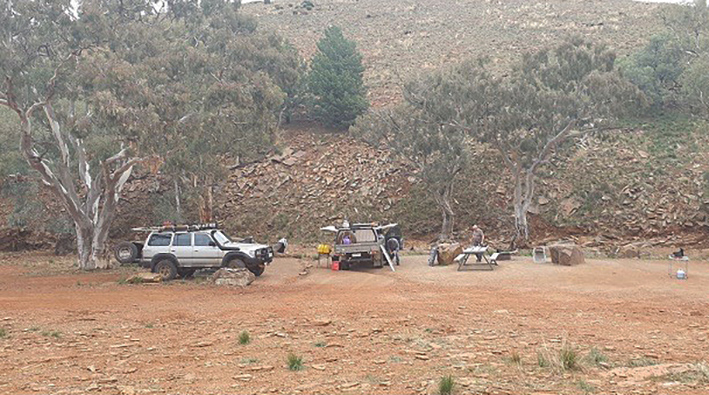 The Willow Springs bush camp and facilities were very good.
We set up camp and had a good camp fire that night.
Day 5 – Friday May 13th
We headed off to Arkaroola. The weather was mixed with some light misty showers and some sunny breaks. By the time we reached Arkaroola (mid-day) the weather was fine with some sunny breaks. We set up camp and had lunch.
After lunch Peter, Roger and Colin took a trip to the Wheal Turner Mine. We took a number of side excursions on the way; the Pinnacles, Bollabollana Spring, and Nooldoonooldoona Water Hole.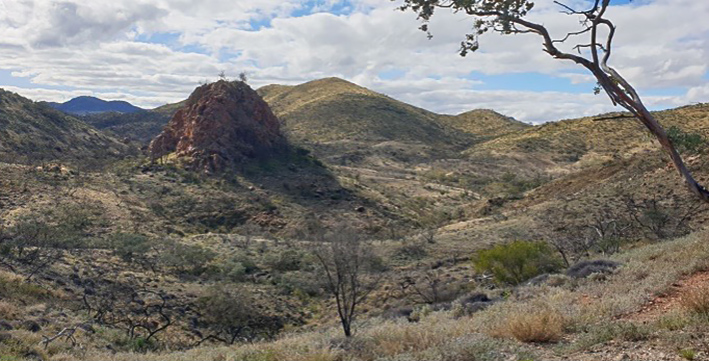 Unfortunately we could not get to the Wheal Turner Mine as that section of the park was closed for pest eradication activities until Sunday.
We collected some firewood on the trip back to camp, set up a fire, and had our evening meal.
Day 6 – Saturday May 14th
We decided not to do the guided tours (Echo Camp Back Track ($45 per vehicle) and Ridgetop Tour ($190 per head)) due to the high cost. We could do a good part of the Echo Camp Back Track tour without doing the full tour and paying the fee. We set off towards the Echo Camp Back Track stopping at the Ochre Wall, Lively's Find (Old Mine and Hut Relic), Jasper Twins (Side Track), Welcome Pound (with expansive views), Stubbs Water Hole (very impressive) and then on to Arkaroola Springs (only a water hole could be found) where we had lunch in the dry river bed using some larger rocks to sit on.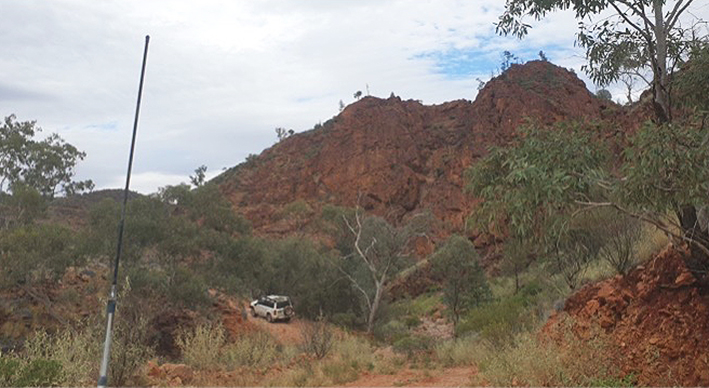 We headed back via the Mt Jamb Backtrack which has some challenging steep climbs and some good overviews. The track came out onto the Arkaroola road and we headed back to camp for the night.
Day 7 – Sunday May 15th
A bright sunny day after some light rain overnight. We decided to do a day trip into the Gammon Ranges (park adjoining Arkaroola) following its opening after being closed for a period for pest eradication activities. There was a variety of scenery and driving conditions.
We stopped at Idninha Out Station (abandoned) and then back to Mainwater Well for lunch. We then headed off on the one way section of the loop track towards Gills Lookout. About half way along this track we encountered a steep descent with a significant rock ledge that looked difficult and could potentially result in vehicle damage if the wrong line was taken.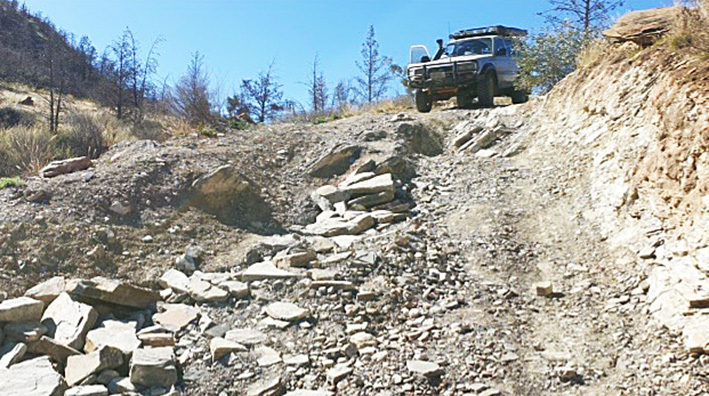 There was a bypass track that had been used by others recently so we used that to complete the decent to the main track again.
We stopped at Gills Lookout and then on to Grindell's Hut.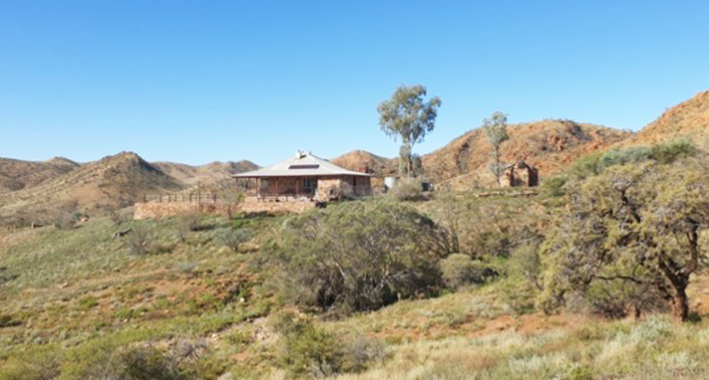 After looking around Grindell's Hut we headed back to camp at Arkaroola and had dinner at the restaurant at the Reception centre.
Day 8 – Monday May 16th
A clear sunny day after a clear night. We travelled to Willow Springs via Copley, Leigh Creek, Parachilna and Blinman.
Morning tea stop was at Copley where there was a variety of Quandong berry treats on offer. We aired up and headed to Leigh Creek for a few supplies from the supermarket; then to Parachilna hoping to have lunch at the pub. The pub however was closed, open Wednesday through Sunday only. We had to make our own lunch, then aired down and headed off to Blinman. We had a short tour of Blinman and then headed to Willow Springs stopping at the Great Wall of China on the way. We arrived at Willow Springs, booked our tour of the Sky Trek for the next day and set up camp at our site which was near to the amenities.
Day 9 – Tuesday May 17th
A sunny morning after a cool clear night. We started the Sky Trek at 08:30. We stopped at a number of interest points:
·       Aboriginal Engravings (petroglyphs)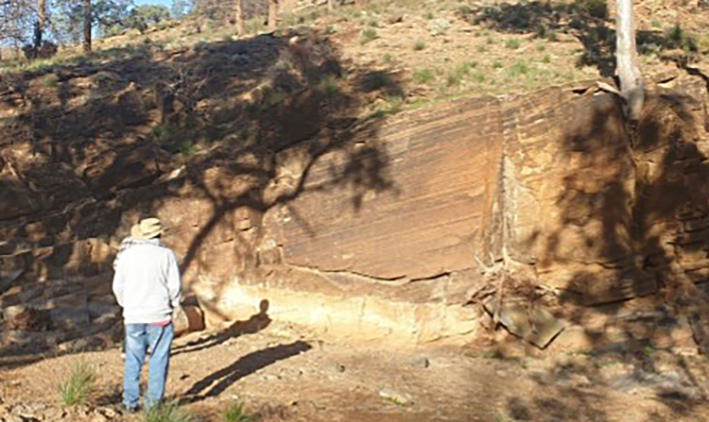 ·       Old Moxan's Hut
·       Pinnacle Range Lookout
·       Valley of the Pyramids
·       Nathan's Knob Lookout (lunch stop)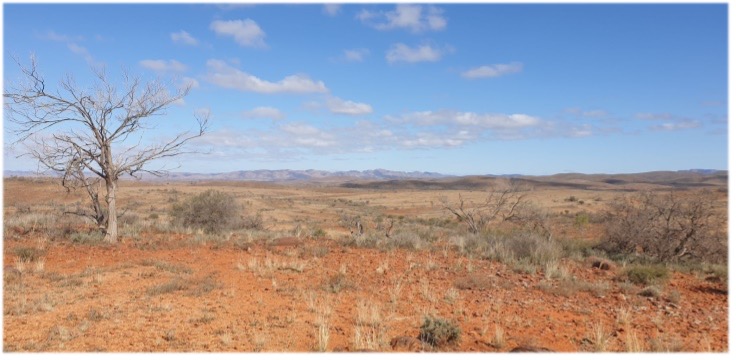 We then moved on through to the more serious 4WD track (last ¼ of the Sky Trek track). This section of the track had some good scrambly climbs that required a well set up 4WD and 4WD driving experience. We stopped at more points of interest:
·       Prominent Hill Lookout
·       Upalinna Lookout (where we signed the visitor book)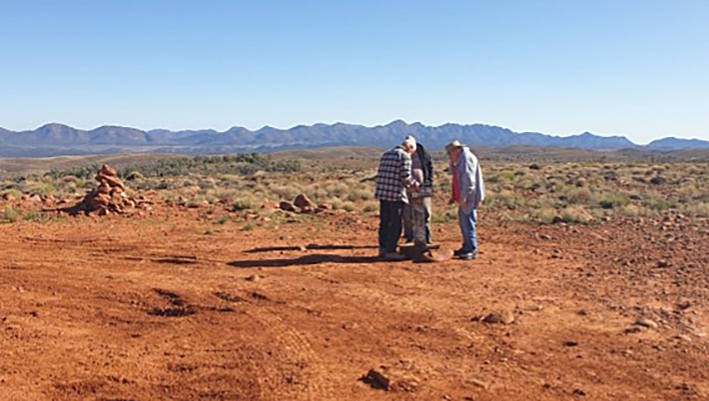 ·       Yacca (Grasstree) area
·       Willow Springs Homestead Lookout 
Then home to camp for the night.
Day 10- Wednesday May 18th
Fine morning after a clear night. We headed out of Willow Springs into the Flinders Ranges National Park to travel the Brachina Gorge Geological Trail following the geological time line through the ranges.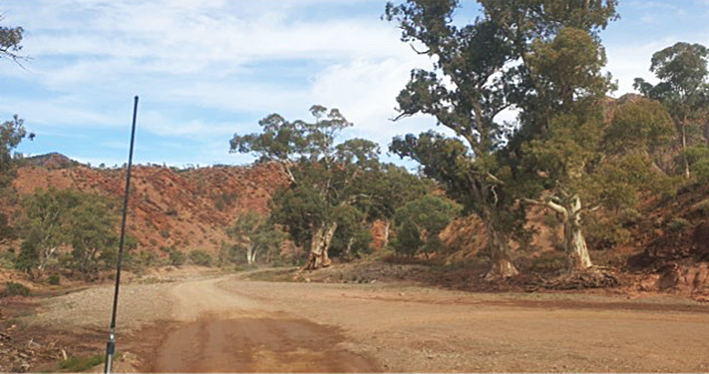 First stop was Appealinna Ruins. We then continued through the Brachina Gorge through to the end of the park and then returned via the Bunyeroo Valley  scenic drive. We then went to Wilpena Pound resort where we had lunch before heading back to Willow Springs, stopping off at Stokes Hill Lookout on the way.
Day 11 – Thursday May19th
Overcast morning though the cloud lifted a bit during the day. Last day of the trip.
We travelled from Willow Springs to Hawker then south to Orroroo where we filled up with fuel. From Orroroo we went to Jamestown for lunch in the bakery. From Jamestown we travelled up the Hills past a forest of wind turbines to Hallet, then onto Burra and finally to Morgan for our overnight stay at the riverside caravan park (overlooking the Murray River).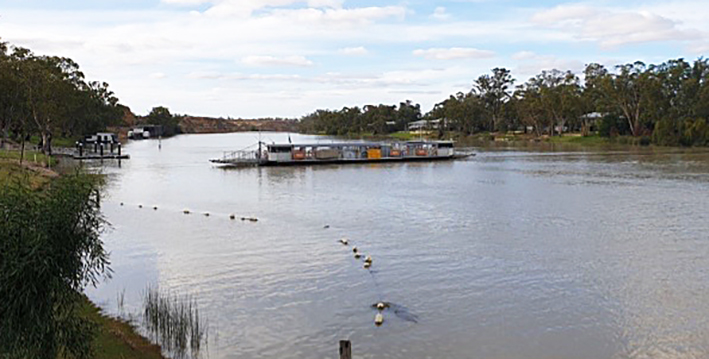 We celebrated the final night of trip with dinner at the Commercial Hotel. The following morning we all set off on our separate ways home.
Although we had to abandon the Corner Country part of the trip due to flooding in the northwest of NSW and western QLD regions we had a very interesting trip covering a wide variety of weather, scenery, road conditions and driving some more difficult and interesting tracks.
Text and photos: Colin A.