Yarra Glen to Buxton Day Trip
Tuesday 7 March 2017, 10:00 am to 3:00 pm
Nine vehicles commenced the Day Trip.
And under the leadership of Gill and Phil, nine vehicles completed the Day Trip.
Success !!
We left the bitumen at Dixon's Creek and travelled north on the Old Dixons Ck Toolangi Rd.
Near the start of Spraggs Rd, we aired down for the gravel roads ahead, and continued in a northerly direction.
Phil drove us hard and refused our entreaties for morning tea.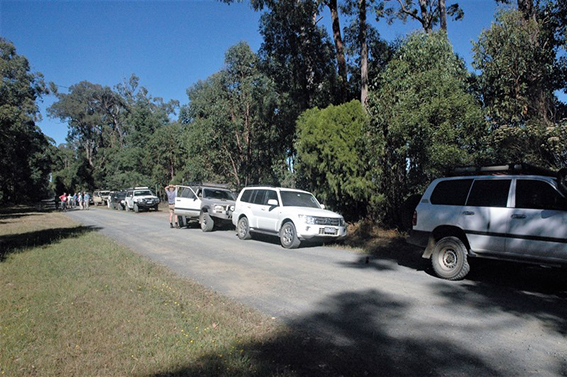 What, no morning tea?
Katy Ck Rd, Breakoday Rd, Klondyke Rd ... we did them all, including a water crossing. There was lots of dust which seemed to just hang in the air for the next vehicles to collect (ie no wind).
We even ended up on a Marginal Rd still heading north, until we turned south onto Wilhelmina Falls Rd and stopped for lunch at the Blackwood day area of the Murrindindi Scenic Reserve. And what a magnificent setting it was for lunch, a chat, a commune with the local kangaroo, and a long drop.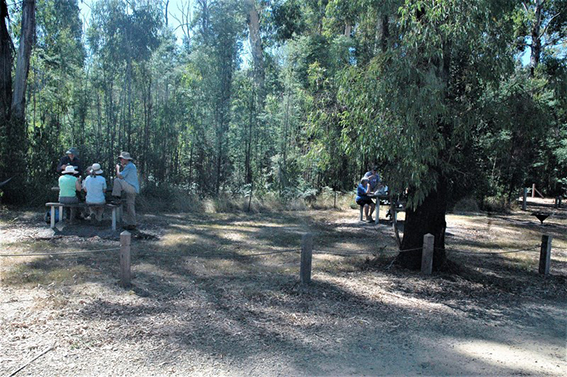 Lunch
We were having such a good time, we even forgot to record our lunch break times.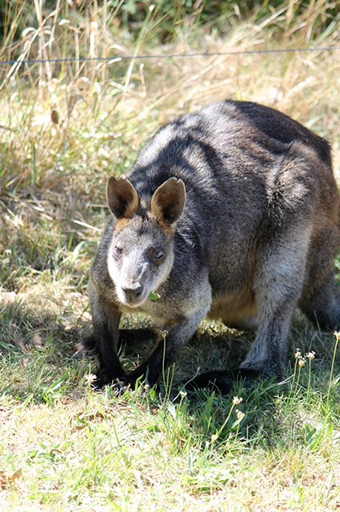 Kangaroo
Anyway, Gill and Phil gave us a fabulous and well prepared briefing for the afternoon – there would be one area where the terrain will be very steep and narrow and another where the terrain would be very rocky, with large boulders for climbing and negotiating. Gill and Phil had prepared maps with these "difficult" routes highlighted in purple and the alternate "less difficult" routes in pink for members to choose.
NB: the standard has now been established that "difficult" routes will be in purple and "less difficult" routes will be in pink.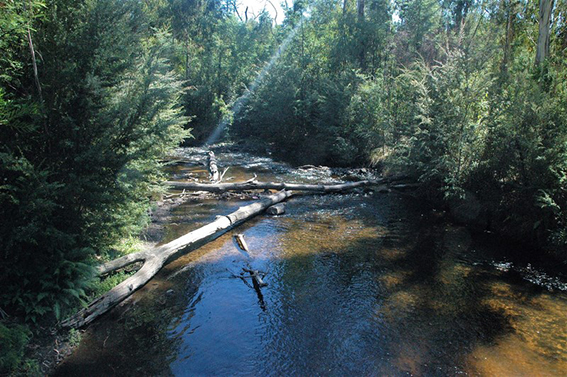 Murrindindi River
We headed south and passed over the Murrindindi River, and travelled on the sharp rocks, dust, narrow passages and steep declines of Vears Rd and Burger Tk. Not too difficult.
Along Jacksons Bk, we experienced significant rock/boulder climbing challenges and needed to stop occasionally to determine the best course/direction for our vehicles.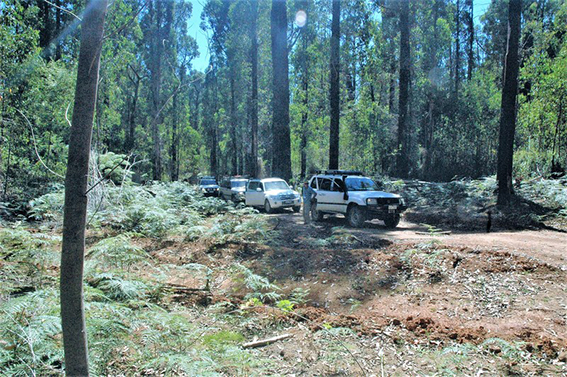 Where to now?
After several regroupings, we sauntered into Buxton and had a debriefing at 3:00 pm.
An enjoyable Day Trip was had by all. Challenges were faced and overcome. New "go faster" stripes were earned by many on some narrow tracks. Whilst many of us picked up "hitch hikers", Daniel's Pajero was speared by a recalcitrant tree branch and had to be released with some help from his mates. Peter's Patrol, only 5 days old, performed well and earned its stripes. Ruthi and Wayne were incommunicado most of the day, with a faulty radio (now fixed). Keith & Monica performed Tail End Charlie responsibilities very well, and Graham was a terrific and authoritative "Relay" of communications.
Thank you Gill and Phil, and congratulations.