Nine members of the Offpeak 4WD Club recently completed a Simpson Desert crossing from Alice Springs to Birdsville, heading for the east coast at Byron Bay. The official report of that trip is published separately.
Two members (Colin A and Gary - both in 80 series Landcruisers) departed the main group at Birdsville to head back to Melbourne to join other trips heading again interstate. This is the story of the two members who broke from the group at Betoota Hotel, to head south on a zig-zag tour of outback NSW and adjoining states.
Shortcut Home - The Long Way
Participants: Gary and Colin A 
Whilst we had formerly said our goodbyes, at midday we actually parted at Dions Lookout, which was quite busy with fellow travellers and caravanning groups. It was not long before we turned south on the Arrabury-Planet Downs Road and made our way to Haddon Corner. As you do, we entered our names into the visitor book.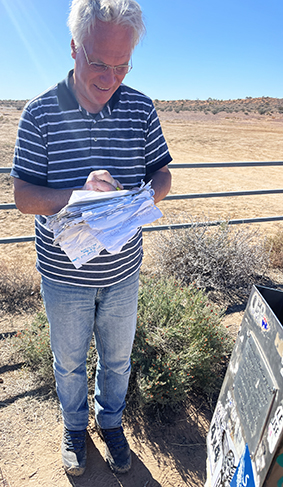 Whilst the weather was sunny, a very strong wind made the prospect of camping difficult with the dust blowing everywhere. We decided to move on and try and find a suitable place to camp.
For those who have not travelled this way, there is not much vegetation or hills to hide away from a dusty wind. In fact it is so flat, emus were often sighted in the distance as walking bushes.
Some 30km on, we managed to find a dry creek bed, behind a dry dam to shelter from the wind. We were in luck, this site came with lots of cow pats, and a considerable number of flies, adding to the atmosphere.
Sunsets and sunrises are very picturesque and are the highlights on such occasions.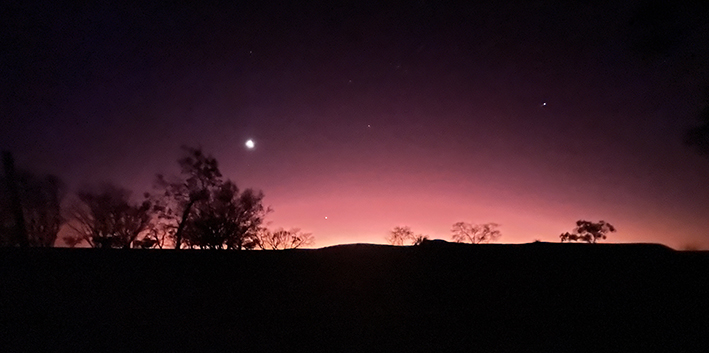 After a brisk morning we continued our way down the Arrabury-Planet Downs Road, which was in a better condition than some of our freeways, and a good speed could be maintained, only to be abruptly interrupted by the "Dip", which brought you back to reality. We chose to not travel down the Cordillo Downs Road and take the Arrabury Road as the Cordillo Downs Road was closed.
The Strzelecki Desert is like a mini–Simpson Desert crossing, with red sand dunes and native flowers. The desert vegetation was all out in full bloom, reminiscent of our earlier Simpson Desert travels, and no sooner had we absorbed this spectacular scenery, we arrived at Saint Ann Range, and the spectacular breakaways to the channel country. We soon turned right and headed into the Burke & Will's "Dig Tree" site on Nappa Merrie Station, paying $20 each for our entry to site.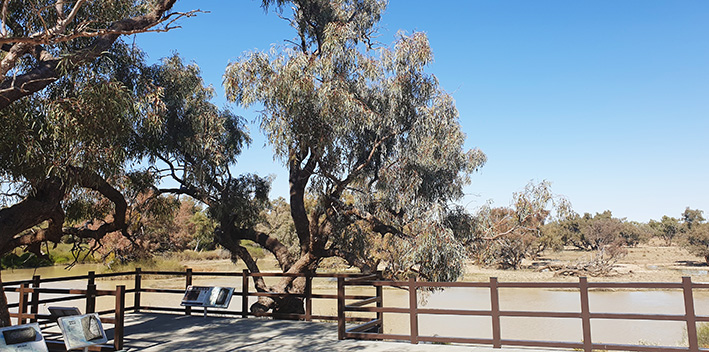 That afternoon we made our way to Innamincka via the Development Road, and due to the height of the Cooper Creek (in full flood), access to Malkumba-Coongie Lakes and most other attractions in the area could not be accessed, per our travel plans. 
The next day we headed for "Fort Grey" in Sturt National Park in NSW, via Cameron's Corner by the old Strzelecki Track. The track was in good condition and we were surprised to see an albino Dingo on our travels, and equally surprised with the number of oil pumps on the southern section of this track.
Turning left at the end of the track, we were on the main Strzelecki Track and soon were undertaking dune cresting on our way to Cameron Corner. In between the dunes the large swales were green pastures and, on several swales, there was water with ducks – yes a second look was required, this is not a normal sighting.
At Cameron Corner, we purchased our lunch at the store before the proof of attendance photos were taken.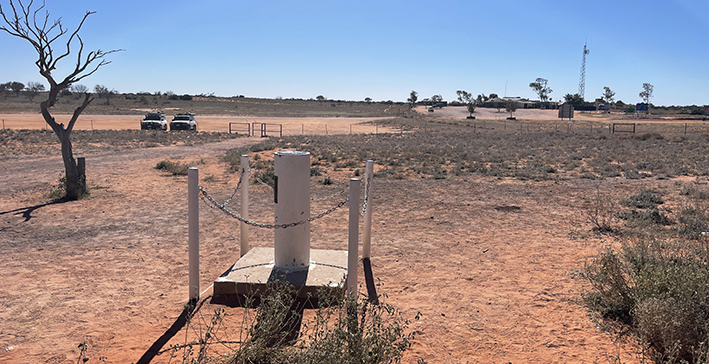 On arrival at Fort Grey, we set up camp and headed out on an exploratory walk, to "Sturt's Tree", which we could not access as the Fort Grey Basin Lake was in full flood and we soon realised we could not walk on water, so this adventure was abandoned although the old homestead site was accessible.
In the morning we set out for Tibooburra and re-fuelled before setting out for Milparinka, where we were impressed with the history of the town, and the work this local community had done on Sturt's expedition and their local history. Lunch was had at the hotel, which had some amazing history inside the Atrium of the hotel.  
That afternoon we headed southeast to White Cliffs via the Henry Roberts Road, which had signs of having been extremely wet, with remnants of deep wheel marks from vehicles using the road when wet. White Cliffs Caravan Park was home for the night, and we took advantage of Pizza Night at the local store.  
Next day we travelled from White Cliffs to Wilcannia, where the Darling River was running at 9.6 metres. Therefore, travelling to Menindee Lakes could only be undertaken on the northern road. This was quite a sight, as only a few years ago this river was dry.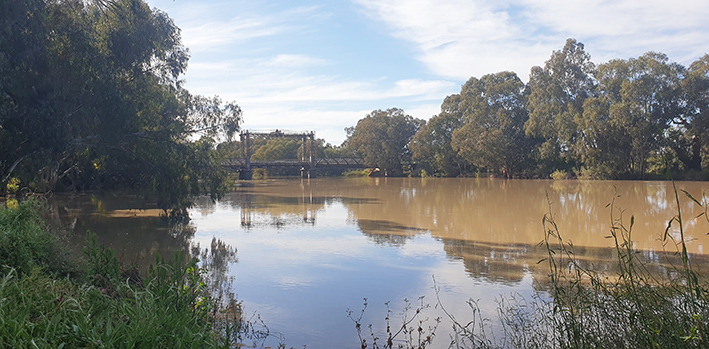 Menindee Lakes were full and large sections of the National Park were flooded. We decided on accommodation at the Menindee Lakes Caravan Park, where we were treated to a stunning sunset with cruising pelicans enjoying the light show.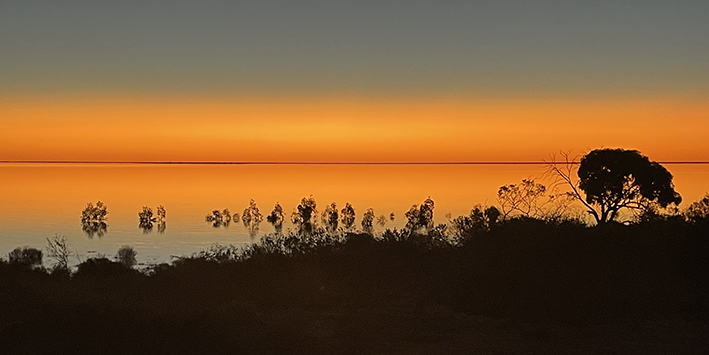 Leaving Menindee Lakes in the morning, we travelled to Hay via the Ivanhoe-Menindee Road, which was open, with a "caution warning". Again, this was a gravel/dirt road which had remnants of deep wheel marks from vehicles using the road when wet, often causing you to be "tram tracked", in a sudden jolt to the other side of the roadway. This was our last gravel road on our trip as we edged closer to Victoria. The night's forecast was for a significantly colder night than we had previously had, so we shared a caravan park cabin. 
The night was very cold, and in the morning, Jack Frost had paid a big visit, ice was everywhere, and we struggled to keep the cars up to temperature. Tyre temperatures were often at 0 to 2 degrees for most of the 200km trip and the frost only cleared by the time we got to Deniliquin. Later that day, we arrived home, having been away for 4 weeks in total.
Text and photos: Gary