Strathbogie Ranges Day Trip Wednesday 8th February 2017
Leader:          Graham
Participants:  Roger
                      Peter
                      Daniel & Paul
                      Phil & Gill
                      Danny & Fay
                      Colin & Heather
Seven vehicles set off from Yea about 10am, having topped up on fuel for the cars and the people.  We travelled about 40km on bitumen through Merton before turning onto the gravel and then airing down.  We passed through some farmland before getting into the natural bush land that surrounded us for the remaining journey.  One farm had an amazing array of old farm equipment, fencing, and vehicles etc. for us to admire as we travelled!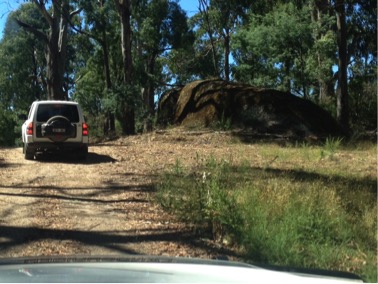 Tall eucalypts & moss covered boulders
For much of our drive, we drove through tall eucalypt trees scattered amongst enormous moss covered boulders.  The occasional tree fern peppered the floor of the bushland.  The track was mostly dry and dusty, but there was much evidence of erosion, ruts and even the occasional mud puddle to suggest that the tracks could be quite different in wet conditions.   Whilst rated as Medium, there were several steep and rocky sections that required careful consideration by the drivers.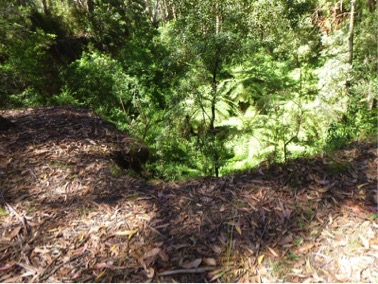 Crocker's Sluice Hole
Prior to lunch we stopped at Cockers Sluice Hole at Dry Creek on Goldfield Track.  This was the site of a gold mine in the 1850's.  All that was visible now was a vastly over grown hole in the mountainside.  Our lunch spot was near the old goldmining town of Tallangalook but there was no evidence of the township, just a picnic table.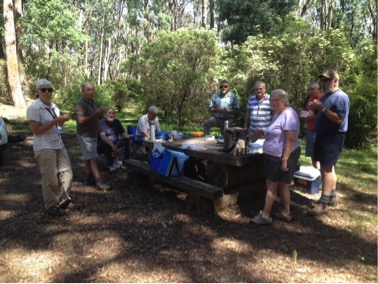 Lunch
During the afternoon drive we had several opportunities to stop and enjoy the breath-taking views over Lake Eildon and Lake Nillacootie.  The contrast between browned off cleared farming land and green forest land was stunning.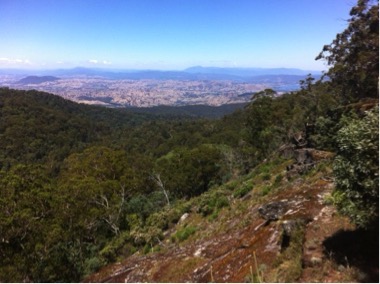 Great views
Our trip finished on the banks of Lake Nillacootie. It was a most enjoyable day-beautiful countryside, interesting tracks and good company.  Thanks to Graham for organising such a great day.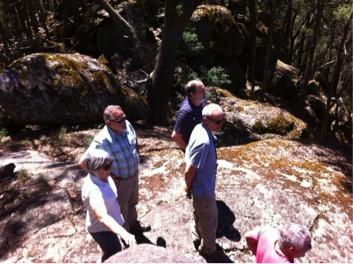 On the rocks