Commenced:  Friday 22nd May, Alice Springs           
Finished:        Friday 7th August,  Alice Springs 
Trip Leaders:         
First Leg:       J-P & Trish, Alice Springs - El Questro 
Second Leg:   Richard & Maria, El Questro - Kalumburu 
Third Leg:      Colin & Heather, Kalumburu - Derby           
Fourth Leg:    J-P & Trish,  Indee Station - Alice Springs  
Club Members: 
Bill & Gill              Phil & Gill           
Richard & Maria    Danny & Fay  
Paul & Tineke       Colin & Heather  
Tony                   John & Jeanette 
Uwe                    Jean-Philippe & Trish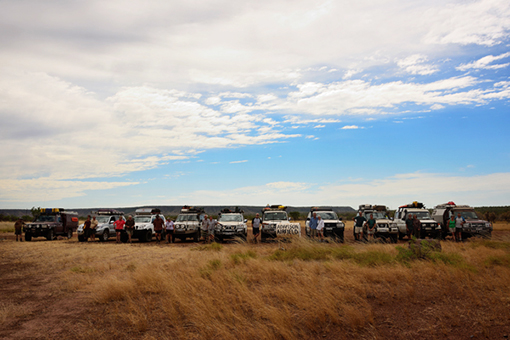 Group at Adamsons Airfield 
Friday 22nd May - Thursday 28th May  
On Thursday 21st May, 14 Club Members in 8 cars, met at the G'Day Mate Caravan Park in Alice Springs.  After a trip briefing and Happy Hour, we all walked to the Heavitree Tavern for a counter meal to mark the start of our trip the next day.  At the Tavern, an interesting talk was given to all by Sarah, from the Alice Springs Reptile Park.  We were all able to have a hands-on experience with an Olive Python, Bearded Dragon and Shingleback.  The next day was the official start to our trip and we headed out of Alice Springs along the Tanami Road.  We spent our first night at Floodout Creek which was a good campsite and the next night was spent at the Border Rest Area, right on the border of NT and WA. 
Sunday saw us arriving at Wolfe Creek Crater by lunchtime and after setting up camp, the afternoon was free for everyone to explore.  The Tanami in excellent condition and we were able to travel around 75 km/hr.  We encountered very little traffic however several road trains passed us in big clouds of dust.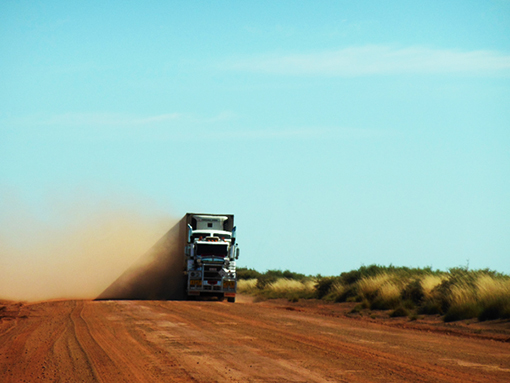 Road Train on the Tanami 
Monday we stopped in Halls Creek for fuel and lunch before heading to Palm Springs for the night.  On the way we called in to China Wall and Caroline Pool.  Our campsite had plenty of room for us all, and most took the opportunity of a swim in the beautiful and safe spring-fed pool.  Great excitement during Happy Hour with two road trains stopping.  The drivers very chatty and told us they were on their way to collect bulls destined for live export from a cattle station about 80 kms away. During the night two more trucks passed through our peaceful campsite !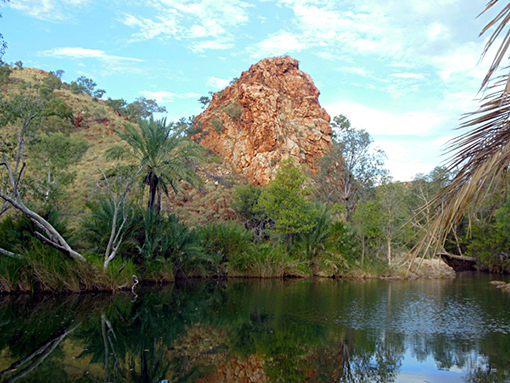 Palm Springs 
Next morning, after a quick trip back to Halls Creek for a door repair on one of the vehicles, we travelled north on the Great Northern Highway to the Purnululu National Park turn-off.  We lunched at the entrance to the Park and made the most of the last mobile reception we'd have for several days.  The 52 km dirt road from the entrance of the Park to the campsite did not cause any problems.  We set up camp at the Kurrajong campsite and with 3 nights and 2 full days there, we were all able to visit the gorges and attractions at our leisure.  As the weather very hot, with 35 - 36 deg temperatures during the day, most of us went exploring early morning, and from  all reports,  everyone enjoyed their stay at the Bungle Bungles. 
J-P & Trish 
Friday 29th May - Friday 5th June 
We welcomed the Coxes to the group as we arrived in Kununurra.  The Lakeside Camping Ground provided a beautiful setting in the day with wonderful sunsets.  People chose different activities, eg. visiting the dam, walking in  National Park or cruising, but all used the opportunity to catch up on shopping, supplies and equipment necessary for the next stage.  At Kununurra we put our clocks to WA time which resulted in everyone being wide awake and alert by crack of dawn.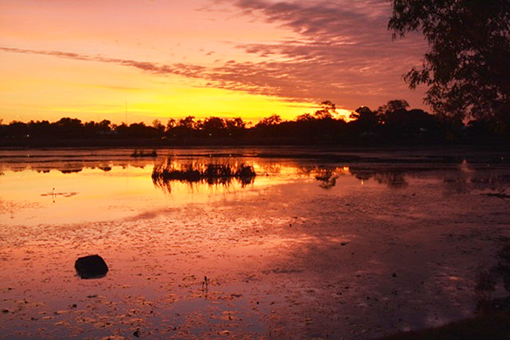 Sunset Kununurra Lake 
We set off on Sunday morning heading for Parry's Creek Farm with some interesting stops at Ivanhoe Crossing, Middle Springs, Black Rock Falls and Mambi Island boat ramp.  After setting up camp a refreshing swim and a warm welcome at Parrys Farm we set off for Marlgu Billabong.  We spend a most pleasant afternoon enjoying wonderful bird life.  The shady Hide was informative and so much action on the lagoon to photograph or gaze, and time passed too quickly.  We then went up  Telegraph Hill,  explored the ruins of the old wireless station, and enjoyed a wonderful sunset.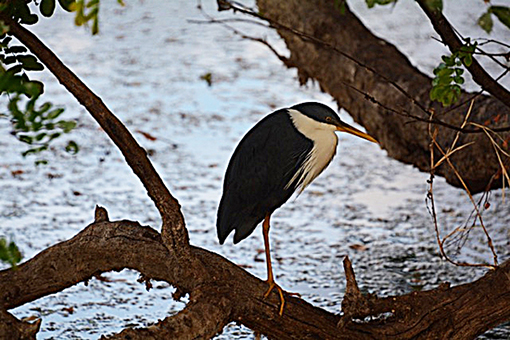 Nankeen Night Heron
Next day, some vehicles explored the Old Halls Creek Road and enjoyed discovering the stone kerbing and creek crossings laid by convicts around 1894.  The grass had been slashed on either side, but the road was good and the scenery very interesting and added interest of old telegraph poles.  The morning trip ended with a visit to Grotto Creek, a wonderful rock bound waterfall.  A few descended the steep staircase and the Austins braved the water.  Some went back and relaxed at the farm, others went and spent time exploring Wyndham.  A very informative museum and spectacular scenes from the Five Rivers Lookout.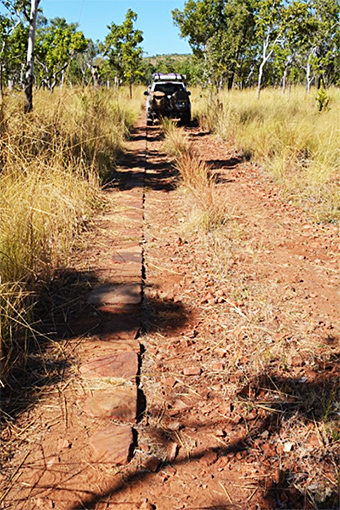 Old Halls Creek Road 
We had a wonderful drive to El Questro along King River Road and Karunjie Road.  We stopped at some Aboriginal art, captured Colin in the Prison Boab Tree and had wonderful views of all sides of the Cockburn Ranges.  The road took us across salt pans and a beautiful lunch stop by the Pentecost River. 
At El Questro each member enjoyed the sights at their own leisure, with wonderful refreshing swims in the gorges and springs.  Some chose to cruise or walk.  A mini group explored some lookouts and scenic gorges and one route proved to be  a very challenging drive to the river, preparing us for the next stage of the journey.  
Gill & Bill 
Saturday 6th June - Thursday 11th June 
Left El Questro behind and had our last communal bath at the foot of a trickling waterfall at Emma Gorge, before hopefully entering the famous Carson River Track.  The manager of Home Valley was informed of our trek (8-10 days) and wished us good luck!  Before we left on Sunday our leaders Richard & Maria instructed us to have no radio contact for the morning at all because we'd heard that a few weeks earlier others had been turned back.   Good track on the grassy plains - slow 2 km/h over rocky hills and river.  After morning tea, just before the Durack River, we met 4 oncoming vehicles - they'd taken 10 days.  It was easier for them to pull over than the 10 of us!  By the way, our last paid meal at Home Valley Restaurant was enjoyed by all.  At 10 to 3 we camped at a rare flat area with no rocks.  Today we travelled an average speed of 11 km/h - it took 5 hours 5 minutes driving time to travel 56 kms, or 25 by the crow.  A wonderful campfire.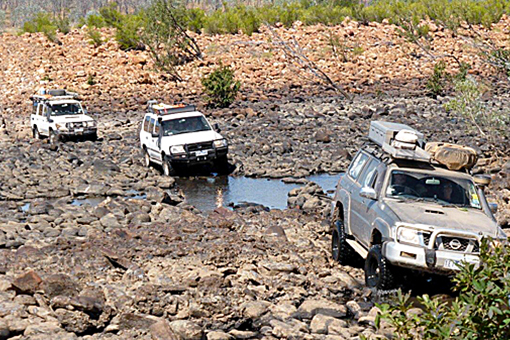 Crossing the Durack River 
Next day we started at 7.25am, woken up by our inner clocks rather than the noisy crows like at other camps.  Lots of travel through long grass.  Photo and morning tea stop at Warambur Creek crossing with many flat rocks but hazardous ascent and descent into the Creek.  Guidance and rock readjustments were needed for the descents into the Forrest River crossing. 
At Oombulgari, a now deserted (Anglican) Mission Station, all the Aboriginal houses had been removed and all that remained was a large historical house, large shop, medical buildings, school and administration housing.  We had lunch and explored the buildings - most were still in very good nick but strewn with papers, files and cabinets.  It looked like everyone had left in a hurry.  The avenue of boab trees, we think were planted earlier in the 19th century, made it look rather grand. We fossicked around after lunch and near the river access we found a good trailer, a shark and maybe a distant crocodile.  We drove further to a barge landing and caught a glimpse of wild horses.  The Forrest River is tidal.  Turning right at the end of the airstrip we came to a sheltered lagoon with fresh water, and decided to camp at the edge of the nearby mud flats.    52 kms - 4 1/4 hours driving (12 km/h)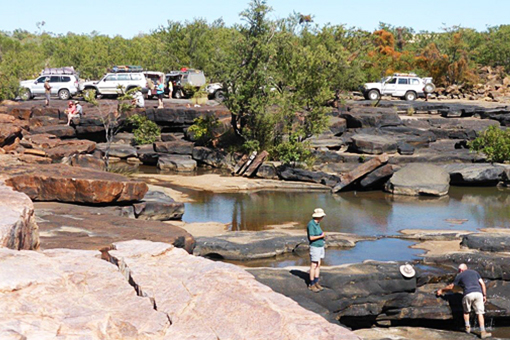 Forrest River Crossing
Next morning, with cloud, it gave us an awesome sunrise!  At breakfast there was a pack of dingoes watching our every move as they circled the camp.  It was definitely a different experience today with some deep sandy entrances and exits from dry creeks - these required extra "herbs" and at one stage one vehicle needed the help of a snatch strap and another 2 did flying leaps in the air as they mounted over the sand hill.  Fewer rocks/boulders today.  We camped in a flat area only about 1 km from the Berkeley River.  A beautiful sunset.  62 kms - 4½ hrs driving (14 km/h)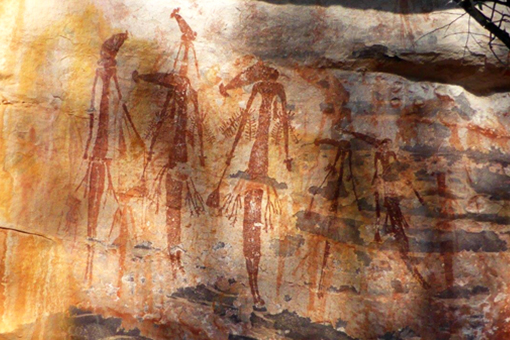 Bradshaws at Python Pool 
Next morning we stayed about ½ hr at the Berkeley River on flat rocks, and collected water and washed windscreens.  We made fairly good progress along the grassy areas but really had to watch out for sudden quite deep narrow washaways.  We followed the quite elongated Seppelt Range nearly all the way to Python Pool where we planned to camp for 2 days.  However, our record travelling was interrupted by a huge bog.  Three cars got bogged - 2 were snatch strapped out and one winched out using a tree.  After arrival we all hiked along the pool and found the Bradshaw paintings along with a death adder curled up on the ledge.  We all enjoyed the cliffs and pool immensely.  54.6 kms - 4½ hrs driving (15 km/h) 
Paul & Tineke  
Friday 13th June - Friday 19th June 
Everyone enjoyed the rest day at Python Pool and caught up with basic housekeeping jobs.  On Saturday morning we headed back to the Carson River Track to complete the full distance of the track and headed to King George Falls camp area.  Pretty uneventful drive - all 38 kms of it. We got to the camp about 11.30am and met up with the young people with the trailers.  We were beside the river which was flowing steadily and the water was very clear and shallow.  On the way we had a wander round an abandoned diamond mine.
I found a large number of Colt 45 shells and a few 30-06 rifle shells.  Either target practice or perhaps arguing about a diamond ???  Lots of abandoned equipment.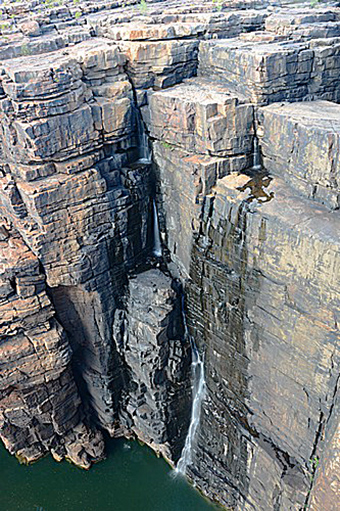 King George Falls 
A bit of excitement this arvo.  A helicopter landed near by and brought a mum and son back from the Falls to their campsite which was about 6 kms away.  She just asked the pilot and he said 'yes'.  He was showing people around from  Berkeley Station. 
Next day, the hikers took off around 5.15am to the King George Falls and returned about 1.30pm.  They pretty much all said that they were glad they did it  but would not do it again.  There were some sore legs in the morning.  For those that did not go, it was an enjoyable rest day. 
Next day, the drive was pretty uneventful.  The track was better and we had lunch on the Drysdale River, then headed to Bulldust Camp.  Unfortunately, due to the river changing course sometime in the past and the fact that no one had been there for years, we could not find the track as it was all overgrown.  The decision was made to stay at the nearby stockyards for one night and then head for Kalumburu.
Kalumburu Mission
Next day we reached the end of the Carson River Track and had morning tea on the Carson River crossing.  We then headed for Kalumburu and arrived there just before lunch time. The following morning we walked the grounds of the Mission  and were given a running commentary by Richard and Maria.  It became more apparent that the tremendous effort they put in here was hugely under valued.  We then had a guided tour of the Museum by the lady Administrator.  The contents of the Museum are greatly valued and some items are invaluable and cannot be replaced.  It was here that we learnt that the Mission store was broken into the previous night and all trading, shops etc, would be  closed for a certain time next day.   During the afternoon we took a drive and visited the old plane wreck from WW2, the barge landing site, Kevin Rock Art site, and we also called into the McGowan Island and Honeymoon Bay Camping Ground.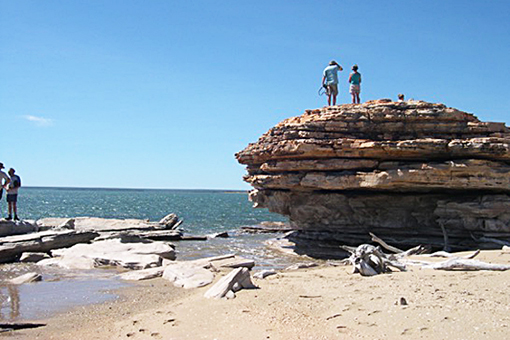 Beauty Point 
Thursday was a rest day.   On Friday morning we got fuel at $2.47 litre, then drove to Pago and Beauty Point.  Beauty Point  is where the Monks originally landed over 100 years ago and is where the original Mission  and Church were set up.  Only ruins remain today, mostly concrete floor.  They moved to the current place in Kalumburu because of better water and more fertile soil. 
Tony  
Saturday 20th June - Friday 26th June 
Rest day.  Many people re-visited Kalumburu Museum and the Art Studio to see Kevin Waina at work (and to purchase paintings).  In the afternoon a few people drove to the waterhole, Teachers Pool, to cool off.  An easy 14 km drive.  First Communion was being taken by several aborigine children in the evening at the Mission.  We were invited to attend this important occasion and join the local people for light refreshments after the service.  
Sunday.  An early rise and pack-up saw us on the very bumpy road out of Kalumburu.  Once past the Carson River crossing, the road surface improved but it was dusty.  Many cattle and horses were seen.  We completed several water crossings, including the King Edward River.  We turned off the Gibb River Road and made our way to the Munurra Camping Ground, arriving in time for lunch.  The Camp Host opened an area for us that had been burnt out 3 weeks ago.  Thanks to his effort with watering, we had some fresh green grass.  After lunch we visited several cultural areas to view fine examples of Bradshaw and Wandjina aboriginal rock art.  Last stop for the day was the Day Visitor car park to enjoy a swim in the King Edward River and Waterfall plunge pool.  The Camp Host visited the camp site later to share some current local knowledge on the state of the roads and park ahead of us. 
Next day, the drive into Mitchell River National Park was extremely corrugated and dusty.  The highlight was driving through the vast number of fan palms (Livistona eastonii).  We arrived mid morning at a roped off section set aside for our group.  A quiet afternoon organising helicopter rides, a cooling swim etc., was punctuated by a visit from Ranger John who filled us in on a little more local knowledge.
Mitchell & Big Merton Falls 
On Tuesday we enjoyed the Mitchell River National Park.  Many people were up early and set off on foot to see Little Merton Falls, Big Merton Falls and the Mitchell River Falls.   The 5 km walk was great, with many cooling off in the pools above Mitchell Falls.  A helicopter ride back to camp was an exhilarating way to complete the morning!  The afternoon was very relaxed, with many people cooling off in the nearby waterholes. 
Wednesday.  Surveyors Pool was our first destination today.  Dusty, corrugated roads had us travel through tall stands of fan palms and large gum trees.  The short walk into the pool rewarded us with a beautiful view of a waterfall tumbling into a deep green pool.  Having heard the grader had been busy, we set off for Port Warrender.  Although the last few kilometres were very rocky and steep, the drive to Point Walsh provided a lovely view of the turquoise water contrasting against the deep red rock and soil of this region.  Back to camp for a cooling dip again.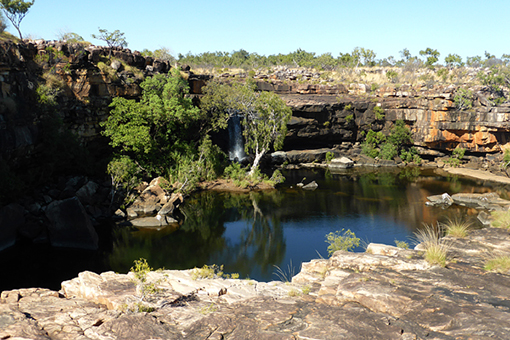 Surveyor's Pool 
On Thursday, the drive to Drysdale Station was very dusty and corrugated.  We took a couple of breaks from the bone-rattling - one at a lookout over the Mitchell Plateau and another at the Day Use area at Munurra camp for morning tea and/or swim.  We had a late lunch at Drysdale Station and the afternoon was relaxing - using the phone to book Broome, washing clothes, restocking supplies and water.  To celebrate the end of Stage 2, we gathered for drinks and a meal at the beer garden. 
On Friday, turning off the Kalumburu Road after 60kms of corrugations, we were happy to be travelling on the smoother Gibb River Road for 70km.    The road into Mount Elizabeth Station was more corrugations.  We enjoyed a free afternoon to explore the area around the station and nearby waterholes. 
Gill and Phil  
Saturday 27th June - Friday 3rd July 
This morning a group of 4 vehicles drove to Wunnamurra Gorge.  The other group of 4 drove to Warla Gorge.  In the afternoon 2 vehicles drove to Warla Gorge.  The 3.5 km walking trail around the station was enjoyed by most of us.  The owner of the station, Pat Lacy gave us a very interesting and informative talk about the history and workings of her station.  Richard and Maria arrived around 5.30pm after having their vehicle repaird at Kununurra.  It was great to see them back. 
Next day, Sunday, we left Mount Elizabeth Station at 7.30am and drove along the Munja Track.  We crossed the sandy Hann River, the rocky Mary's Road Creek crossing and saw some aboriginal rock art before stopping at Drysdale River for morning tea.  We drove through Magpie Jumpup very slowly.  Stopped at Turkey Creek for lunch and looked at more aboriginal rock art.  Drove through Fig Tree Jumpup, across many water crossings and passed Jameson Arch.  Filter Creek was the start of Bachsten Jumpup.  We arrived at Bachsten Camp around 4.30pm.  During the course of the day, the convoy was reduced to 9 vehicles as one of the group had to return to Mount Elizabeth Station for mechanical repairs.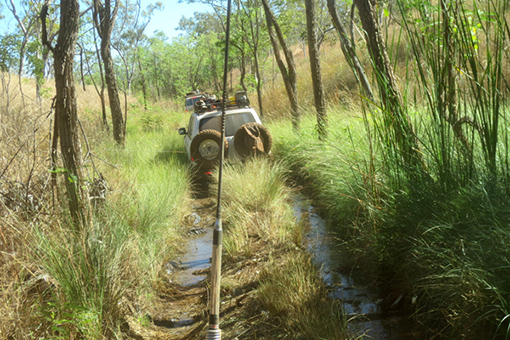 Munja Track 
On Monday morning Rick and Ann Jane, owners of Bachsten Camp, highlighted some of the points of interest around Bachsten Camp / Walcott Inlet.  We set off around 8.30am toward Walcott Inlet stopping for morning tea at Karl Lagoon.  There were a small number of blue/mauve lilies in the Lagoon.  We then proceeded further along the Munja Track and stopped for lunch on a bare rocky outcrop overlooking the Harding Range.  After lunch we continued on, reaching Walcott Inlet around 2.30pm.   Along thew way we encountered many obstacles, including Brockman Jumpup and several creek crossings.  Some of us were lucky enough to see Red Kangaroos, Olive Python and a Bustard.  When we got to the Inlet we saw crocodiles, a Jabiru and a variey of other birds. 
On Tuesday, 7 vehicles drove a short distance to the old airstrip and drove along it to the wetlands, where we saw large flocks of brolgas, magpie geese, waders, jabiru and plovers.  We then drove a bit further on to the Inlet, then back to camp.  We watched the tide come in and go out again and saw many crocs, fish, birds and dolphins.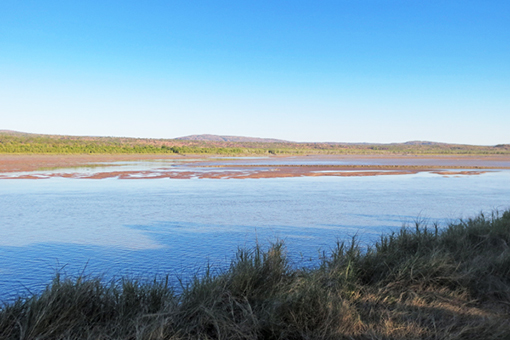 Walcott Inlet at low tide
Wednesday we returned to Bachsten Camp and on our journey we visited the Munja Mission ruins, the Yam site, a sacred aboriginal site used for the sharing of the yam.  We had morning tea and  continued on  to Karl Lagoon where we stopped for lunch.  Our next stop was Wren Gorge where we swam beneath the waterfall and looked at the aboriginal rock art.   We then drove back to Bachsten Camp 
The next day was largely a rest day with no organised drives.  Most of us chose to visit either Bachsten Creek Falls, the Rockhole, the Honeycomb caves, the Lost City, or just reading and relaxing in camp.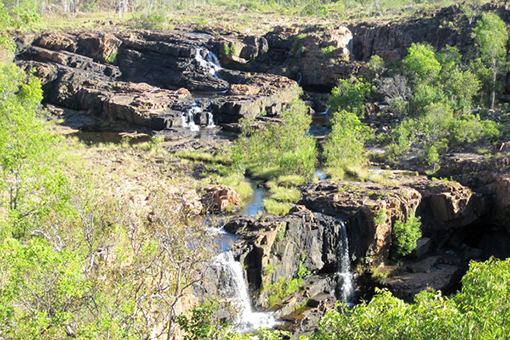 Bachsten Creek Falls 
Friday on our journey back to Mount Elizabeth Station, we stopped for morning tea at the Pearson River, 2 areas of the Jameson Arch, one to look at some rock art and the other for a closer  look at the Arch.  We stopped at Turkey Creek for lunch and at the Dulux site on the opposite side to view a single Bradshaw.  We arrived at Mount Elizabeth Station around 4.30pm. 
Fay & Danny 
Saturday 4th July - Friday 10th July 
Back on the better roads now as we left Mount Elizabeth Station and turned onto the Gibb River Road - the convoy became very spread out because of the dust.  On arrival at the Mt Barnett roadhouse we booked into the Manning Gorge Campground, fuelled up, resupplied our groceries from the shop, then drove the extra 7 km to the campground. 
Sunday was a rest day with most of the group crossing the pool near the campground in a cable-pull boat, then walking to the waterfall at the gorge.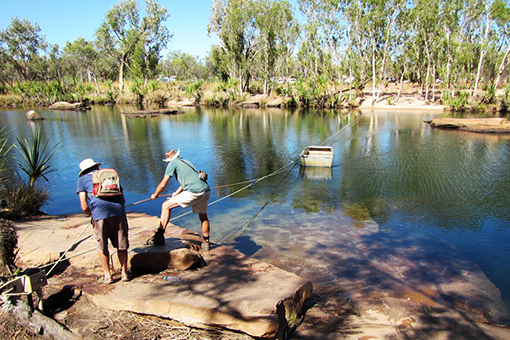 Crossing the Pool at Manning Gorge 
Monday, after a stop at Mr Barnett Roadhouse for last supplies, we continued along the Gibb River Road until we reached the Mornington Road, then onto Mt House station, where our entry to Moll Gorge was paid and a mud map of the area collected. We drove an extra 50 km to the Gorge and camped on the sandy bank right next to the large waterhole, a few getting bogged in the sand while turning around to their selected camp spots.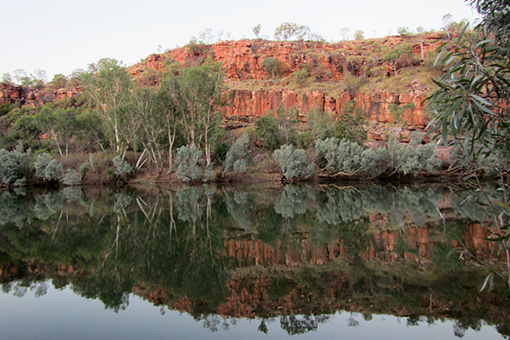 Moll Gorge
On Tuesday we went back to the Mornington Camp Road and continued down to the Tablelands Track where we turned to go to Gladstone Lake.  Following tracks on Hema maps we found one Frank Hann boab tree, then following the mud map picked up yesterday, we found a second Frank Hann boab tree and the bird hide on the Lake. We then went back out to the Mornington Road and onto the Mornington Wilderness camp, which in addition to normal camping has tours, a restaurant and bar, and safari tent accommodation. 
There were no official travel events on either Wednesday or Thursday and most people went to see the 2 gorges and other water holes, with some canoeing on Dimond Gorge.  There was a slide show on Wednesday telling us a bit about what the Australian Wildlife  Conservatory is doing.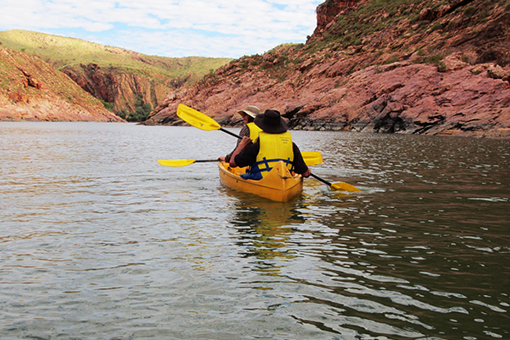 Canoeing the Dimond Gorge 
Next day, our first stop was the old Mornington Station ruins, abandoned when the AWC took over the property.  Next stop was at the few remains of the Glenroy Meatworks.  We then continued back to the Gibb River Road and onto Beverley Springs Road, passing another Frank Hann boab tree on the way to Charnley Station which is also an AWC property. 
Jeanette and John 
Saturday 11th July - Thursday 16th July 
We are at Charnley River Station and many of us got up and away early to go to Grevillea Gorge.  There were orange grevilleas in full bloom on the way.  We had to scramble through rocks to the ladder and more scrambling to reach the middle of the falls, which were barely flowing.  We found some rock art but the more intrepid of us climbed down, down and down, through the water and the black rocks to a very still pool below.  There was more rock art - crocodile? with a wandjina head.  We did Mt Clemont Lookout, some went to Dillie Gorge and Donkey Hole and some just rested.  Some of us bought fuel at $3.00 litre, but only 20 litres.  The termite mounds changed from grey, to beige, to a deep red, in 10 kms.    Distance: 72.9kms. 
Grevillea Gorge 
On Sunday we left at 8.00am and off to Silent Grove, only 129 kms of driving. Silent Grove had a lovely clean camping area and plenty of room there which became very crowded later.  We drove the 10kms to Bells Gorge and it was beautiful.  We crossed the tip of the falls, climbed up and down again, and swam looking at the falls above.  Back to camp where we enjoyed another fire and the Austins cooked a pie and then a loaf of bread. 
Off again on Monday, this time to Windjana Gorge.  Only 135.3kms travelled this day, so we were there for morning tea.  Had a great walk up the gorge - limestone this one, so it was quite different from all the glorious colours of the King Leopold sandstone we had become accustomed to.  Saw lots of crocs (freshwaters) basking in the sun.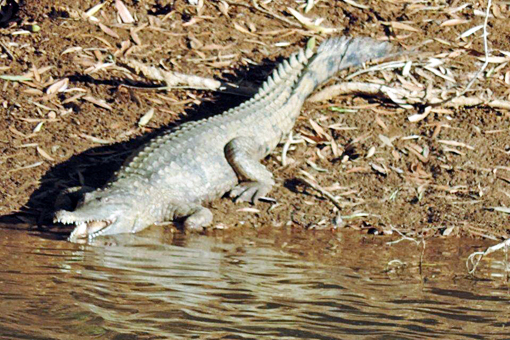 Croc basking in the sun
Tuesday.  Some of us rose early and went back to the Gorge.  Windjana Gorge is magnificent - morning, noon or night.  At 9.30am we all left in convoy for Tunnel Creek where almost all of us enjoyed the experience of a tunnel, dark and mysterious - broken halfway by a landslide that opened the tunnel to the light.  Wonderful photo opportunity.  At the end we found some more examples of rock art, both on the left and the right.  Back through the tunnel and off to Lillimooloona Police Station ruins.  Tunnel Creek is a sad place for the aboriginals as that is where Jandamara died, and sad for us as well when we saw the photos of aboriginals chained together because they'd killed a few animals (actually a policeman as well).  Back to camp and Richard shared some port and Colin said thankyou.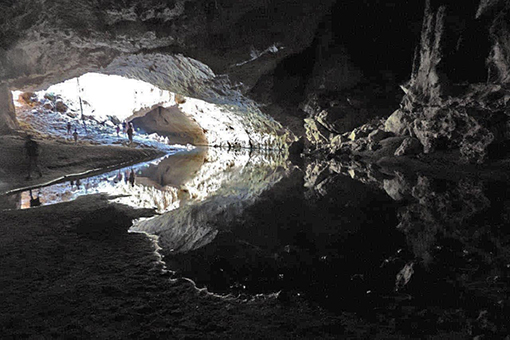 Tunnel Creek
On Wednesday we were off to Derby at 8.00am.  Stopped at the Boab Prison Tree and Myall Bore, where we saw a very long concrete trough supposedly watered 500 head of cattle.  Staying at Kimberly Entrance CP - $76.00 for 2 nights.  People just did their own thing in the afternoon, galleries, 4WD garages, drive to the jetty, ate fish and chips, or ate at the Pub or the cafe.  94.6kms. 
On Thursday many of us had to go to 4WD garage for oil and filter changes.  Some to museum and Mowanjum Gallery where there was art work and an excellent video!  We went to photograph the sunset Boab tree. We are all going out tonight for dinner at the Spinifex Hotel to celebrate the end of Stage 3 of our trip.  Then we are off the chain until the 26th of July, meeting at Indee Station for Stage 4. 
Maria and Richard 
Sunday 26th July - Wednesday 29th July 
Today we all met up again at Indee Station which is just south of Port Hedland.  Indee is a working cattle station of 450,000 acres, running approximately 3000 head of cattle.  The camping area was huge and very quiet, even with the iron-ore trains in the distance which we could hear vaguely all night. We were told that BHP Billiton, Fortescue and Roy Hill each had a rail line from their mines to Port Hedland. 
All agreed that Indee Station a great place to stay, very nice camping area and amenities, and fire rings and wood for our campfire.  We were also given two mud-maps - one to Poonthuna Pool and another to Redrock, where we found some etchings.  Both very interesting places to visit and each only about a 20km return trip from the camp.  The owners of Indee Station also provided lots of nibbles for Happy Hour which was held at the Homestead, and a friendly way to meet other campers as well.  We supplied our own drinks !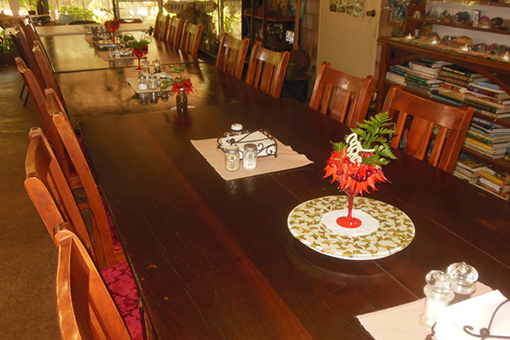 Happy Hour Tables at Indee Station 
While at Indee we were able to catch up on what each other had done during our break, with the Horizontal Falls, Dampier Peninsular and various fishing and beach spots south of Broome being visited.  Everyone seemed to enjoy their break and were refreshed and ready to begin the Fourth (and final) Leg of the trip - the homeward journey. 
On Monday, we set off at 8.00am for Karijini National Park.  Two cars from our group left us at Derby, and so we are now 8 vehicles.  On arrival at Karijini (Dales Campground) we were very lucky to get campsites, as the camp nearly full.  As we only had three tents, the rest sleeping in or on their vehicles, the camp hosts were able to keep us together by putting two vehicles per site, and ample room for us all.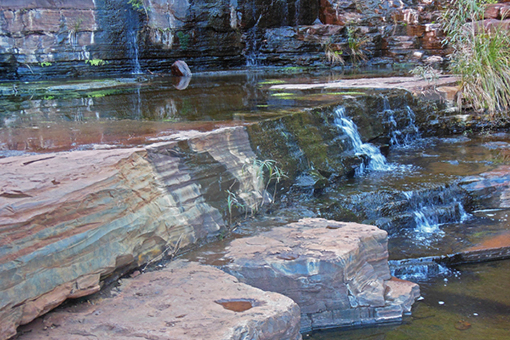 Kalimina Falls
Over the two full days at Karijini, we all chose our own itineraries for each day - lots of gorges explored, walks and swims undertaken.  A really lovely National Park. 
J-P and Trish  
Thursday 30 July - Friday 31st July 
A beautiful dawn saw us packing up to leave Karajini but the Dodsons car had its third puncture and they had to head to Port Hedland.  The rest of us headed to Glen Herring and a wonderful surprise it was with a beautiful camping spot.  We were surrounded by beautiful wild flowers and interesting rocks.  On the way we visited a fascinating Museum at a disused gold mine with many interesting exhibits & relics.  Marble Bar was a very pleasant 33.7 deg with intriguing and beautifully coloured rocks.  The Dodsons rejoined us and we headed East !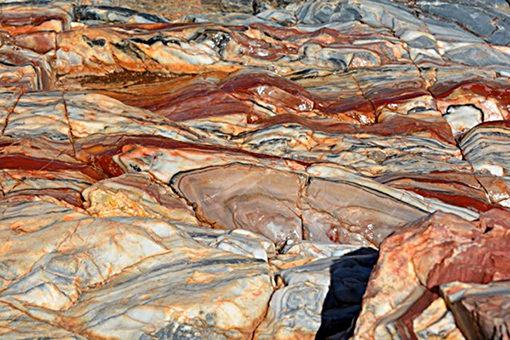 Jasper at Marble Bar 
Carawine Gorge was another wonderful surprise with beautiful cliffs, water and water birds.  A Blue moon took on a new meaning in this beautiful spot and Maria had mud up to her knees trying to get that perfect photo.
Gill & Bill Austin 
Saturday 1st August - Sunday 2nd August 
We left Carawine Gorge, went to Glacier Rocks and then out to reach the Telfer Mine Road, which we followed to the Telfer Mine.  We continued south, calling out every 5 kms to declare we were coming south to Rudall River National Park.   It was a wonderful drive with sand dunes on our right and rocky outcrops on our left.  There were wildflowers blooming everywhere, even Sturt Desert Peas flowering in the middle of the track.  Blues and yellows and purples.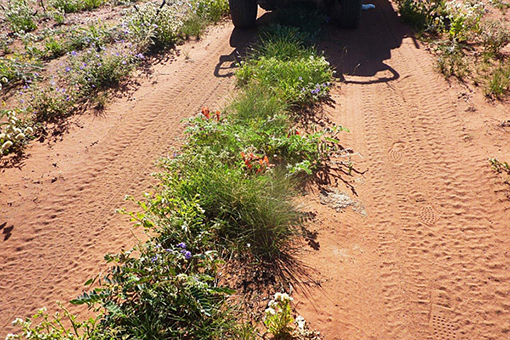 Flowers in the middle of the track 
We arrived to a mountain that looked like a giant had been throwing frisbees - huge slabs of red coloured slate. The Desert Queen Baths were a series of seven pools - one had the most spectacular reflections. 
The Dodsons had a problem with their exhaust system and the Austins decided they were leaving for Alice on their own.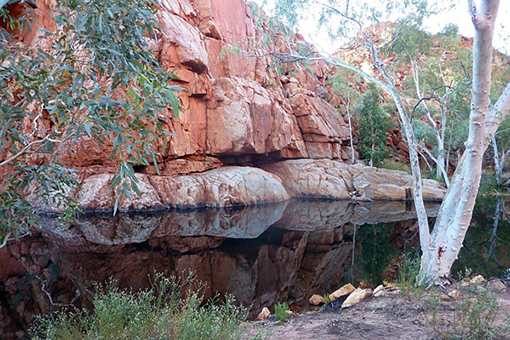 Desert Queen Baths 
On Sunday, all the guys helped Paul wire up his exhaust and we changed our plans, as it was decided we would now all go and escort them back to Alice via the Telfer Mine Road.  The Austins packed up and left for Alice Springs. 
In the afternoon the rest of us walked the Gorge and looked at the Art Work in one of the caves.  Generally a restful day after the worry of the exhaust problems.  After dinner, Trish and J-P made a delicious damper on the campfire which we all ate with jam. 
Richard & Maria  
Monday 3rd August - Tuesday 4th August 
Nothing much to report today.  We covered 304 kms, and reached the Gary Junction Road and headed for Alice.  The wild flowers and the salt lake, Lake Dora, were the main attractions.  There didn't seem to be much life in Punmu, so we went on another 20 kms or so and camped beside the road.  The temporary repairs to the exhaust are holding up so far.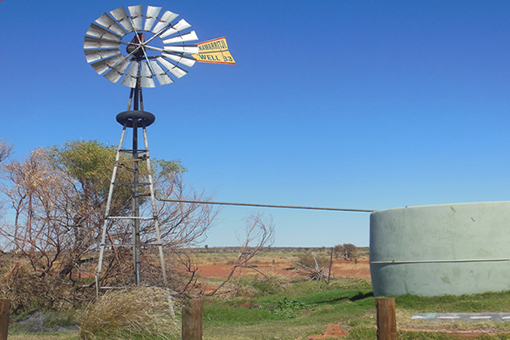 Well 33 on the CSR 
On Tuesday, once again nothing much to report.  Another salt lake, Lake Auld, was walked on by some of the group.  We stopped for fuel at Kunawarritji Community and paid $3.40 litre.  Then onto the Canning Stock Route for 4 kms to Well 33.  Here the group split as some wanted to visit more wells on the Canning.  Four vehicles went on to Gary Junction and three went to the wells, arranging to meet up and camp at Gary Junction. 
Tony 
4th August - 7th August 
The group who took off along the Canning Stock Route to see Wells 34 and 35 had quite an experience.  Driving the corrugations of the CSR (even the chicken runs) was quite a 'shocking' shake up.  Turning off the CSR to drive into the wells was easier, driving on softer sand, winding our way through the bush.  Both Wells 34 and 35 were in ruins - only rusted bits of buckets, troughs and the well handle were to be seen. 
The 'short cut' from the Well 35 turn-off on the Canning heading east along the Callawa Track to get back to the Len Beadell Plaque at Gary Junction was challenging as the track was not well travelled.  We had to negotiate long spinifex grass and bushes through the middle of the track, much of which was overgrown with trees.  It took us 3 hours to travel the 40kms, which included several stops to remove spinifex from beneath our vehicles.  Even so, it was a great adventure !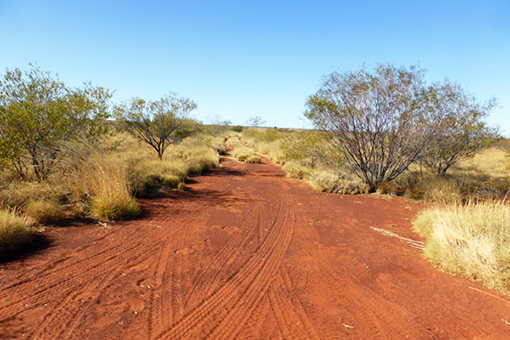 Onto the Callawa Track 
Wednesday was Len Beadell day.  Having read the plaque and signed the book at Gary Junction we spent the day driving the Gary Junction Road, stopping along the way to visit Jupiter Well (where the grader broke down while constructing the G J R), the Len Beadell plaque on road and the Len Beadell truck that has been partially restored at Kiwirrkurra.  Informative plates were at all sites.  The actual location of the burnt supply truck was even located 31 kms east of Kiwirrkurra.  A clay pan at the vicinity of the Pinnacle Mts was our bush camp for the night. 
On Thursday we left camp 1½ hours after sunrise (7.00am WA time, 8.30am NT time).  We only travelled 40 kms to get to Len Beadell's WA/NT post.  Morning tea was taken at the site of Len Beadell's Sandy Blight junction.  Despite the road conditions in NT being more corrugated, we were able to maintain a compact convoy, travelling at 65-70 km/h all day.  A quick lunch stop helped us reach Papunya by 3.00pm for a fuel top-up for some.  Our final bush camp for the trip was located at the base of the majestic Bell Ranges.  The fire that night was extreme - burn all the wood from the tops of the cars.  Using the great coals, a cranberry scone was baked for all to share.  A wonderful evening was had by all.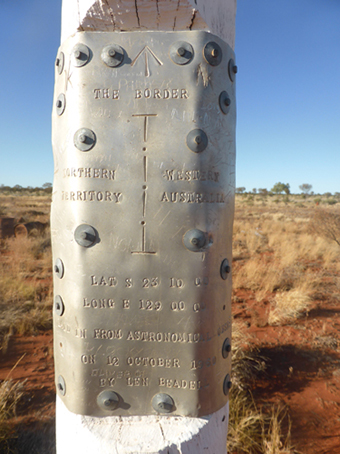 Len Beadell Plaque at Border 
Friday 7th August.  Today's journey took us past the West MacDonnell Ranges and into Alice Springs by lunchtime.  Along the way we stopped at the Mt Sonder lookout to admire the rugged mountains.  Below, we checked out the lovely free camp area adjacent to the Finke River.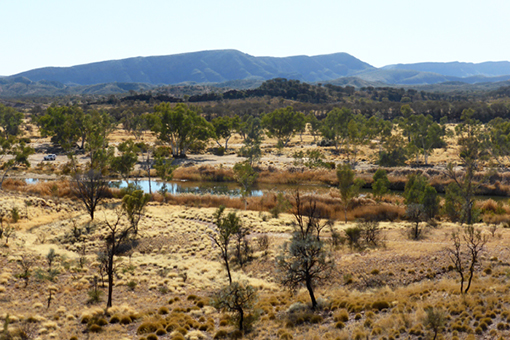 Fink River from Mt Sonder Lookout
The afternoon was spent attending to personal business - but most importantly - a long awaited hot shower !
Our final meal together was enjoyed at the Heavitree Pub.
Sincere thanks to the three Trip Leaders for their courage and planning to tackle such an adventurous trip.
Thanks also to all the trip members for their camaraderie, support and good humour along the way!
Gill & Phil