Otways Base Camp - 28th April to 2nd May 2017
Trip Leaders:  J-P and Trish
Participants: Richard & Maria
                     Phil & Gill
                     Danny & Fay
                     Wayne & Ruthi
                     Geoff & Peggy
                     Graham
                     Peter
Day 1 - Friday
Most of the group met at Forrest at midday for the short drive to Stevenson's Falls campground where Wayne and Ruthi were already ensconced. After setting up camp, we headed off on foot for a leisurely stroll in the drizzle to the falls.  Happy hour and dinner ensued, and continuing rain and drizzle meant everyone headed off early to their various camps though sleep for some was challenging due to other raucous campers nearby.
Day 2 - Saturday
We woke to a dreary morning, rain still sprinkling down, puddles everywhere. Around 9:00 we headed off with our heaters on full to dry wet shoes. The sun almost came out! We had a lovely drive through tall timber on Benwerrin-Sabine Rd. heading towards Mt Cowley in the Otway Forest Park. Then up Mt Cowley Tk. to the Telstra tower for morning tea. Not the most beautiful spot, and still raining. But off we went again until we reached Erskine Falls Rd. The rain cleared and the walk to the falls was in sunshine with lots of bluestone steps to walk down and back up again. The falls were magnificent.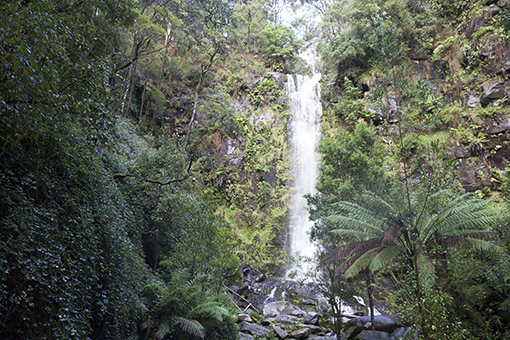 Erskine Falls
We went to Lorne and found a wonderful spot for lunch were we watched the Southern Ocean pound the beach.Then off along the Great Ocean Rd. to Wye Rd. turnoff and back into the forest. The blue gums were recovering from the recent bushfires, the track was dry and the sun still shining. The tall timber gave way to pine plantations as we neared Mt Sabine, and before we arrived the natural forest was back. The Mt Sabine Falls walk was 3.6km and 2.5hr so seemed that it was too late in the day to tackle it. We continued to the top of Mt Sabine and another Telstra tower in a cleared area. After a brief excursion into a bit of mud, we did u-turns, reached the Forrest-Apollo Bay Rd. and headed north back to camp. We had a most enjoyable day and travelled 110kms. (Maria)
Lunch at Lorne 
Day 3 - Sunday
9:18 - We headed out of the campground towards Forrest and Lake Elizabeth after jump starting Peter's flat battery. We didn't have much rain over night so expect less damp conditions than yesterday. After 17 km, we arrived at Lake Elizabeth for the walk. We all rugged up against the cold and the leeches. A 3.5 km walk later, we'd all completed the loop of the lake and enjoyed a longed-for late morning cuppa back at the now crowded carpark. Lots of lovely photos were taken of the lake, the track and the "beach".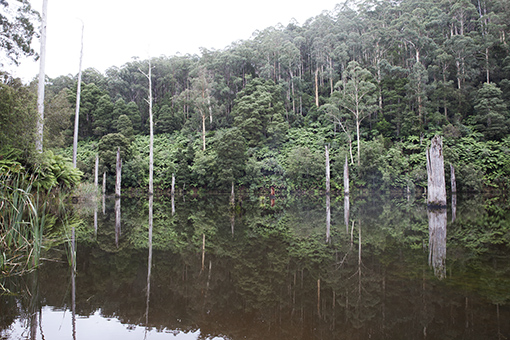 Lake Elizabeth
11:55 - We departed the carpark for the Otway Fly. This spectacular tree-top walk provided fantastic views of the stunning greenery of the forest below. Someone suggested it was the longest tree-top walk in Australia - it is certainly the longest walk to get to it from the ticket office! (Wayne)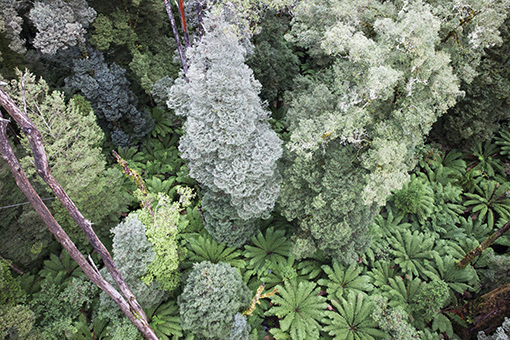 Looking down from the Otways Fly
Day 4 - Monday
It was an overcast morning as we said goodbye to Richard and Maria who had to leave the trip a day early.
We left camp at 9am and took the Barramunga Track to Bridge Track travelling through tall eucalypt forests. We then turned onto Sayers Track which took us to Dandos Campsite with lush green grass under the rows of very tall eucalypts, a great place for summer camping.
From there we turned onto Lardners Track which meandered through very tall eucalypt trees, tree ferns, pine plantations and blackwood trees. When we reached the Beech Forest Road we drove to Phillips Track which took us to Triplet Falls for morning tea. Most of us walked to the falls up and down the many steps, sighting a couple of Black Snails on the track. The falls were quite impressive with a lot of water flowing. The return track to the carpark took us past an old mill site with the remains of an old boiler and timber trolleys still in place.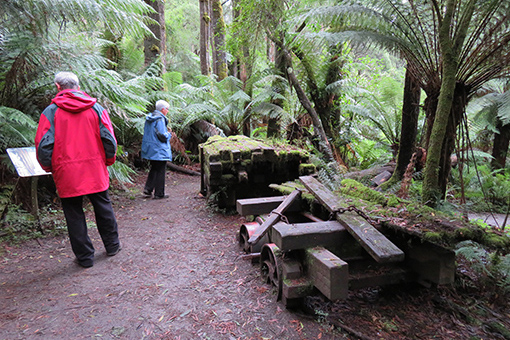 Relics near Triplet Falls
We left Triplet falls and turned onto Youngs Creek Track travelling through the same terrain to Aire crossing track which was a little bit muddy in places. We turned onto Aire Settlement Track which went through lush green, hilly farmland where we came out onto the Great Ocean Road. It started to drizzle as we went through Glenaire and we stopped briefly at Castle Cove Lookout which overlooked the Southern Ocean. We took some quick snaps and continued on to Maits Rest Carpark for lunch. It was also a quick stop as it continued to rain.
From here we continued along the Great Ocean Road and turned off to Beech Forest on Binns Road and another beautiful drive through the tall timbers and ferns. We drove past Redwoods Carpark where there was a magnificent plantation of Sequoia trees.
From Beech Forest we travelled on Lardners Track, Bridge Track, Ridge Road and the Barramunga/Roadnight Road and decided to go to Forrest as it was still raining. At this point Trish and JP called an end to the trip and we all went onto the Forrest Brewery, some for beer tasting, coffees and hot chips. We all had a great day in spite of the weather.
On returning to camp the fire was lit and we had a great time sitting under umbrellas and tarps, eating and drinking and having a laugh even though at times the rain was quite heavy. (Fay)
Day 5 - Tuesday
With the trip officially finished the evening before, all that was left was to pack up and head for home. With rain continuing overnight and into the morning, it was a miserable and wet pack-up, but everyone was cheered by the fact that we'd nevertheless had a great trip thanks to J-P and Trish.