Leader:  Graham
Participants:  Roger, Tineke & Paul, Gill & Phil, Fay & Danny, Heather & Colin
Tuesday 23rd May
The group assembled at the Riverside Holiday Park at Moama and enjoyed an evening meal at the Bowling Club.
Wednesday 24th May
After an eventful night - traffic noise, lightning, thunder, rain and a train at 5:30am - the group set out north.
Firstly we crossed the Murray River twice to get us headed in the right direction on the Cobb Highway. We passed through Deniliquin and crossed the Edward River. We paused at Eight Mile Creek for morning tea, then headed on across the plains. We noted a lot of water lying beside the road, but little green grass.
We had lunch at Hay near the Murrumbidgee River, then it was back on the Cobb Highway. We saw very few sheep and cattle apart from two or three groups enjoying the Long Paddock, but we did see several emus and the occasional kangaroo.
We arrive at Ivanhoe a little before 4:00pm and were pleasantly surprised to be able to camp on lush green grass in the camping area next to the store. Exploring the town proved interesting and enjoyable for those who took the time to do it.
Thursday 25th May
After a very cold night with lots of condensation we awoke to a beautiful clear blue sky.
We left Ivanhoe around 8:50am with the temperature at 9º. On the road north towards Wilcannia we travelled on bitumen for a short distance before hitting the gravel where we stopped briefly to air down.
Although the road showed signs of recent water damage, it was in reasonably good condition. On the way we saw numerous kangaroos, goats, some emus, parrots, galahs as well as a couple of Major Mitchell cockatoos spotted by Heather.
Morning tea was taken at Big Tree Rest Area after which we continued along the Cobb Highway with varying road conditions, some short bitumen sections, some road works, nothing too rough.
We stopped at Wilcannia for lunch and a rest break where most of us took the opportunity to tour the town. At around 1:00pm we left Wilcannia and headed for White Cliffs where we set up at the caravan park in 20º sunshine and had a free afternoon to explore the town.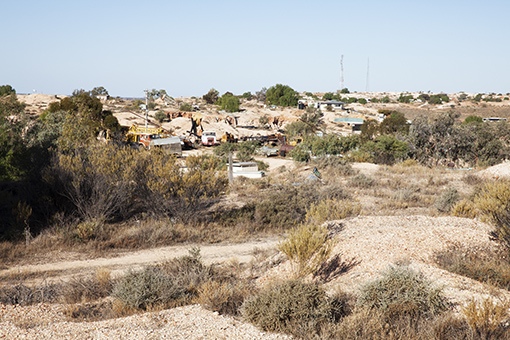 View of White Cliffs from the diggings
Friday 26th May
The mild quiet night saw everyone waking well refreshed and ready to leave by 8:45am.
The first 135km of track was predominantly dirt with small black-top sections, particularly in the floodways. Many, many grey kangaroos were spotted. Also, emus, goats and pigs were seen scurrying in the low, sparse bush on either side of the track. Morning tea was taken trackside.
Another stop occurred when we joined the Silver City Highway. Cameras clicked excitedly at the wide straight aeroplane landing strip on the road and at the massive "Tool Tree" constructed on an old Hills Hoist clothesline. That, and the "Baby Tree" beside it were adorned with all manner of spanners, wrenches, etc.!
About 60km up the mainly sealed highway we turned off to the historic Milparinka township. We set up camp on the sandy, dry bed of Evelyn Creek. Lunch and firewood gathering completed, we spent the afternoon wandering among the relics of the old town. 1844 saw the first Europeans to the area - members of Sturt's inland expedition. In 1880, gold was found in the area. The ensuing "gold rush" was short-lived. By 1896 the population was in decline but many fine sandstone buildings had been constructed.
Some people chose to eat at the pub while others enjoyed a fire-cooked meal at camp. We all enjoyed a starry evening sitting by the warm fire.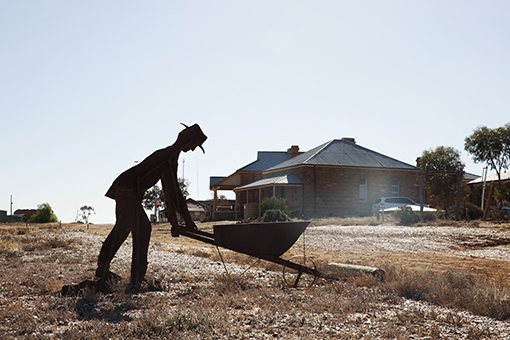 Milparinka
Saturday 27th May
We woke to another sunny day and departed Milparinka at 9:00am. We turned left to Tibooburra via Depot Glen. This was Sturt's depot where his 2nd in command, Poole, died in 1845 from scurvy. His monument, with a few other graves, was near a forested, but today, dry creek. 7km from there we walked up to Sturt's cairn which gave us an amazing view of the area. Feeling slightly fitter, we enjoyed our well-deserved cuppa.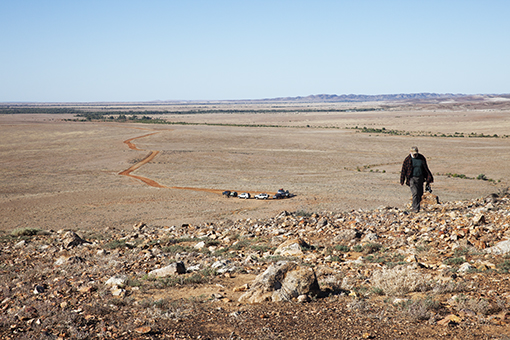 The climb to Sturt's Cairn
We turned up Mt Sturt road and wondered whether the good, deep red soil just needed a good bit of rain to produce more vegetation.
From here on there were many gates to be opened and shut as we travelled through station property. The grey and red kangaroos were far more numerous than any sheep we saw, and mobs of kangaroos hopped, almost flew, in the distance, but also along and in front of especially the lead vehicle. The area was flat and often covered with quartz and some iron gibber.
Gum Vale Gorge proved a delightful drive with a shady track and many white river gums. We ate lunch in the shade of one and arrived in Tibooburra about 2:30pm.
We camped near the Roadhouse; some cooked over a fire nestled just below the giant granite boulders after our happy hour at the Tibooburra Hotel, one of the two pubs in town.
Sunday 28th May
After a very lazy start to the day, we set off to Sturt National Park at about 10:30am. On arrival, we headed off on the Dead Horse Gully walking track. There were plenty of granite boulders to see in all shapes and sizes. Some people chose to take on the longer walk while others decided to take the shorter one. On completion, we headed back to camp for lunch.
After lunch, we headed out to another part of the Sturt NP to drive the 100km of the Gorge Loop Road. Our first stop was the outdoor Pastoral Museum where there was a lot of old farming equipment and engines - very interesting. After leaving there, we passed Mt Wood homestead and continued on through gibber plains where numerous kangaroos and emus were spotted. We stopped for a photo shoot at the gorge lookout. As time was getting on, we passed South Torrens Bore and Horton Park ruins, stopping to check out the sunset viewing area for those that wanted to take photos.
Later, we all gathered at the Family Hotel for an evening pub meal together.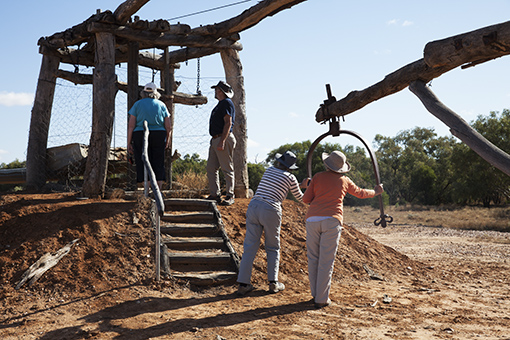 Reconstructed Whim at the Pastoral Museum
Monday 29th May
We woke to the bleating of goats and the screeching of corellas. After a leisurely pack-up, we headed north on the Silver City highway. We passed some station hands recovering a trailer that had rolled over, then turned onto the Jump-Up Loop Road.
We paused at the South Meyers Tank bird hide. A wedge tail eagle obligingly came to strut his stuff, and there was a variety of ducks on an island and in the water. We drove on across the rocky plain, again seeing many kangaroos and emus. We stopped for morning tea at the remains of Mt King Station where we saw some feral pigs as well as more emus and other birdlife. After following the dry Connia Creek for some time, we came to the base of the "jump-up". We could see the formation of the mesas with layers of sandstone topped with silcrete. We drove to the top of the jump-up and enjoyed good views of the surrounding plains as well as the rock formations.
We arrived at Olive Downs camp at lunchtime and set up camp on sandy ground surrounded by Mulga trees. After some down-time, the more energetic members of the group walked the Jump-Up Track and had good views of the surrounding country. As we enjoyed happy hour, cold air settled around us and we were sorry that campfires were not permitted. So we kept warm as best we could before heading to bed.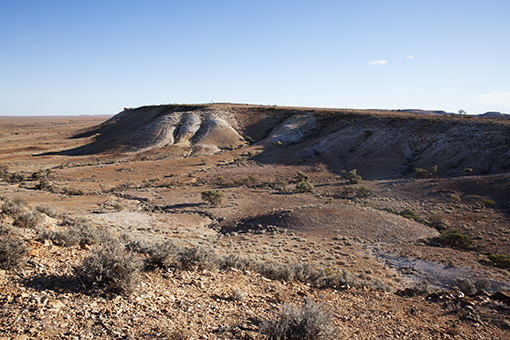 View from the Jump-Up Walk
Tuesday 30th May
We left Olive Downs around 9:30am, once again with clear blue skies. Our first stop for the day was the old shearers' quarters located near the historic Olive Downs Station. We did a quick inspection before moving on. On the next stage of our trek we drove through some very flat and open gibber and saltbush plains with, again, many kangaroos. Our next stop was to take some photographs of the old windmill at the Binerah Well site.
Morning tea was had near the turnoff of the Toona Gate Road and Middle Road, after which we doubled back to inspect the Dog Fence at the Queensland border where a group photo was taken with each member having one foot in Queensland and the other in N.S.W. We returned to the Middle Road and ventured into the old Binerah homestead ruins where we scoured the site for any treasures - none found!
From there we ventured to Bottom Bore and lunch. While there, many took an interest in an old "Ricardo" Stationary Engine. Just before leaving, we spotted a pretty little bird which, after inspection of Heather's bird book, was deemed to be a Red Crested Robin.
We continued on through sand dune country with a quick visit to the Fort Grey camping area where we decided not to do the 4km walk around Lake Pinaroo.
Our final stage for the day was to travel along the Cameron Corner Road in N.S.W., through the South Australian border gate, then back into Queensland for our overnight stop at the Cameron Corner Store.
We set up camp and were able to enjoy a campfire.
Wednesday 31st May
Today we headed towards Innamincka via the Old Strzelecki Track and we had been informed that the track would be "rough". We aired down and left Cameron Corner under clear blue skies, but with a very fresh breeze making the air temperature a bit cool.
We left camp at 8:30 and headed to the three-state cairn marking the intersection of the Queensland, N.S.W. and South Australian borders. A group photo was taken via tripod apparatus to ensure all members of the party were included.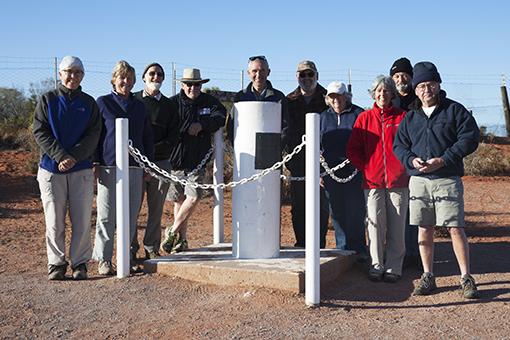 Oh Dear!
Driving through dune country, there were lots of ups and downs with a few rough spots marked by red flags. We saw some cattle and one dingo, and managed to avoid the few boggy sections. We turned right on to the Old Strzelecki Track which turned out to be not so "rough" after all. Morning tea was trackside at 10:30 with a still very cold wind.
We came across a few more boggy patches with bypasses, turned briefly onto the Strzelecki Track then back onto the "old" one. We pulled up at 12:30 for lunch under some trees beside a dam. Then a short drive into Innamincka saw us arriving at 2:00pm.
We called at the Trading Post to pick up our Coongie Lakes camping permits (needed for the next day), then drove to the Town Common with its honesty box for camping fees. We found a great spot by the Cooper Creek - with water - to enjoy the rest of a great blue-skied day.
The evening turned to a clear star-studded night. We had carried wood from other places to have a campfire. Some groups cooked while others enjoyed the warmth of the fire. When all that ws left was coals, it was time to turn in for the night.
Thursday 1st June
Today we were off to Coongie Lakes NP, 100km from Innamincka, for one night only. We woke to see a flotilla of pelicans fishing in the Cooper Creek and with everyone packed and ready, left before 9:00am, now on S.A. time.
The track was flat and sandy, with some mud the closer we got to Coongie Lakes. For morning tea, we made sure we stayed on the roadside rather than pulling off the road as yesterday, the Parks lady had ticked us off for just that. We bypassed the Scrubby Creek waterhole which wasn't signposted, but did have a fallen down "no access" sign.
Kudriemitchie Outstation, our next stop, was a mustering station but is now being maintained for tourism. It was interesting to have the Cooper Creek right next to it, and the huge meat safe (in very good condition) below the water tank.
We arrived at Coongie Lakes in time for lunch and tent set-up at the southern end campsite. This was a sheltered spot with quite a number of arocets with their upward-curved long beaks. Other birds spotted included swamp hens, spoonbills, pelicans, long-billed ducks, black swans, sand plovers, corellas, pink galahs, one little eagle and its huge nest and a yellow bellied robin type at lake's edge in the afternoon.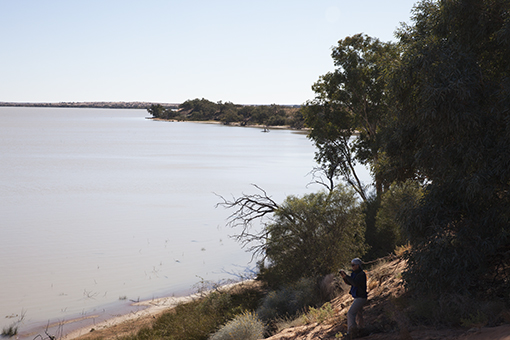 Coongie Lake from our campsite
And so, early to bed where the silence of the night magnified any sound of animal, bird or camper, to be followed by an early rise for some.
Friday 2nd June
Leaving our beautiful campsite by the lake at 9:00am, we drove around the lake as far as we could in both directions to see how large it was. We stopped at a couple of spots to check out the scenery and bird life. We had morning tea before commencing the return trip to Innamincka.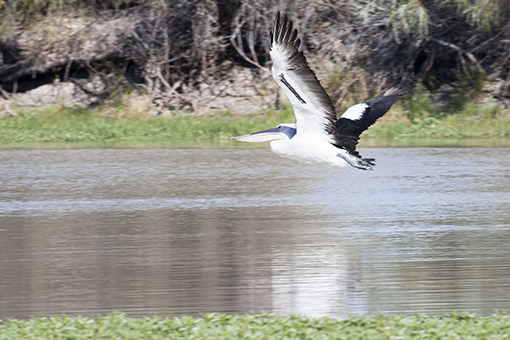 Pelican at Coongie Lake
Again we stopped at the Trading Post carpark where we had lunch and attended to other duties. Three cars then headed off to take a look at Burke's Grave site, or really the spot where he died and was initially buried before his body was moved back to Melbourne. The rest of the convoy returned to the Common to set up camp for the night. All in all it was a great day.
Saturday 3rd June
We broke camp at Innamincka on a fresh morning (4ºC) and headed out of town on 15 Mile Track. Some of the group spotted a wheel and tyre beside the road. We later caught up with the caravan that had lost its spare wheel and gave them directions to find it.
Excitement mounted as we neared Moomba, not because it is an important oil and gas field, but because it has mobile phone reception! We had morning tea at the viewing point and those who could tear themselves away from their phones/computers had a good view of the operation. We joined the Strzelecki Track. Our next stop was Montecollina Bore - an interesting place with a waterhole from the bore and a landscape dotted with small sand hills with vegetation on top. Quite a change from the long parallel sand ridges we had been seeing for many days.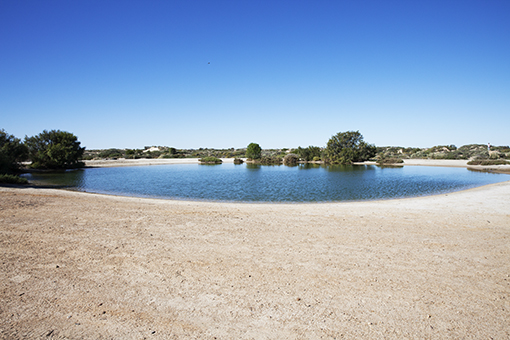 Montecollina Bore
We moved on to open plains country and got our first view of the North Flinders Ranges. We found a good campsite at Blanchewater ruins on level ground with surrounding bushes.
As evening came, a distinct chill was in the air. Fortunately we had a great fire to keep us warm - we just had to sit as close to it as our small circle would allow.
Sunday 4th June
We left Blanchewater at 8:30am, continuing along the Strzelecki Track until turning on to the Mount Freeling Track. This track was in good condition into Mtount Feeling and beyond until we reached the turnoff to the Mount Fritton talc mine (closed to the public). From then on, the track became quite rough as advised by the Mount Freeling manager. The pace was fairly slow but was a most enjoyable track to drive. The scenery was spectacular and along the way, we saw numerous wedge-tailed eagles, kangaroos and emus.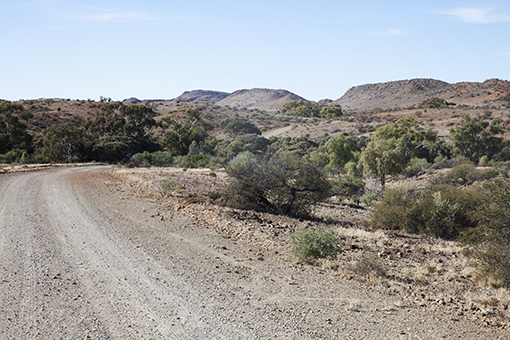 Along the Mt. Feeling Track
We paused briefly to look through the old Mount Fritton homestead ruins and take some photos before moving on.
We stopped for lunch along the track then continued on to Moolawatana homestead where we joined the track heading south. This track was in good condition and we moved along at a good pace, passing through North Mulga homestead, Balcanoona and arriving at Arkaroola with the dust and sun in our eyes. We booked in for the next five nights and set up camp.
Monday 5th June
Several people attended an information session presented by Margaret Sprigg in the morning. She spoke about the geology, flora, fauna and early settlement of Arkaroola - all very interesting.
At 11:20am we set off for Grindell's Hut. After a short stop at Nepouie to view an aborigine sculpture, we turned right into the National Park onto a great 4WD track. Mt. McTaggerty loomed over a stone well on the roadside. The long winding track through many dry creek beds was greatly enjoyed, especially the magnificent red gum trees. Lunch was amongst many beautiful trees, The track then started climbing into the hills. Many steep inclines with blind crests were negotiated. Gammon Yards was the turning point of the outward bound trip. Travelling on the one-way track the country-side was less treed. The low range climb up and down Gill's Lookout answered our question about the need for one way only traffic!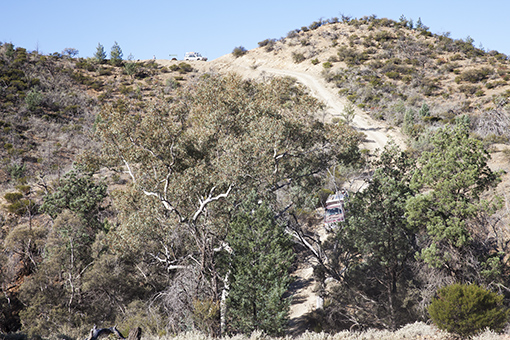 Gill's Lookout
A quick side trip to Loch Ness Well revealed nothing so we travelled on to Grindell's Hut. The original stone hut was very basic, but the more recent stone building is more substantial. A good camping area was nearby. Driving back towards Arkaroola about 3:30pm we were able to see many wallabies and rock hopping kangaroos coming out to feed.
It was a great 4WD track set among beautiful mountains, creek beds and trees.
Tuesday 6th June
This was a declared free day during which people took the opportunity to engage in one or more of the following activities:
     Arkaroola's famous Ridge-top tour
     The Mawson Valley Trail walk
     The Bararranna Waterhole walk
     Doug Sprigg's morning talk
     The Station Backtrack drive
     Catching up on various domestic duties
     General downtime
Wednesday 7th June
After filling out forms and collecting the gate key, we headed off to undertake the Echo Camp Back Track self-guided 4WD tour. Specified as a 40km, 4-hour loop, that didn't take into account the side trips and walks which added an extra 30-odd kilometres and more than 2 hours travelling time.
To tell the truth, a bloody good, if bumpy, day was had by all and we returned to camp tired and dusty and in need of a good lubricant, feed and night's sleep.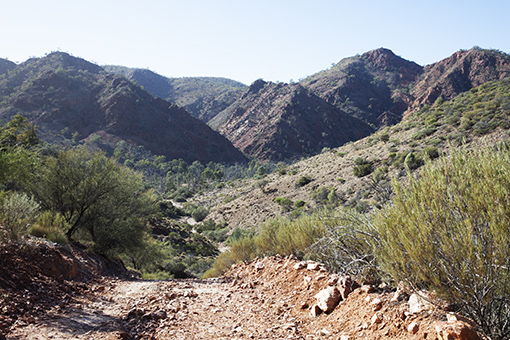 Along the Echo Camp Back Track
Thursday 8th June
There was general consensus that the scheduled final day's drive would be too much after yesterday's effort, so it was cancelled in favour of another free day so that people could prepare for a first-light exit the next morning.
That left the final group activity as our final meal at the Native Pine Restaurant at the Arkaroola village. And a surprisingly good meal it was with city flavours and country servings. Everyone enjoyed the meal and acknowledged that it had been a successful, interesting and worthwhile trip.
Friday 9th June
With the trip officially ended last night, goodbyes were made and everyone headed out on their own homeward-bound journeys.
Post Script
All participants contributed to the writing of this journal. The Trip Leader acknowledges the willing and good-natured participation in all aspects of the trip by all members of the group. Thanks!