Sunday 26th November
Arrival day - 17 vehicles carrying 29 members travelled independently from various home bases to set up camp at the Dargo River Inn, mostly before a brief thunder storm dampened the camp ground.
Monday 27th November
Billy Goat Bluff
Leader:  Graham
Five kms out of Dargo we turned off the black top, aired down and proceeded to follow the Wonnangatta River, stopping at Kingwell Bridge for morning tea.
After morning tea we began the climb to the Pinnacles.  The track, whilst steep, was in good condition and did not pose a problem for any of the vehicles.  At one stage, while stopped for a photo opportunity, we waited for three vehicles coming down from the summit, all had QLD registrations.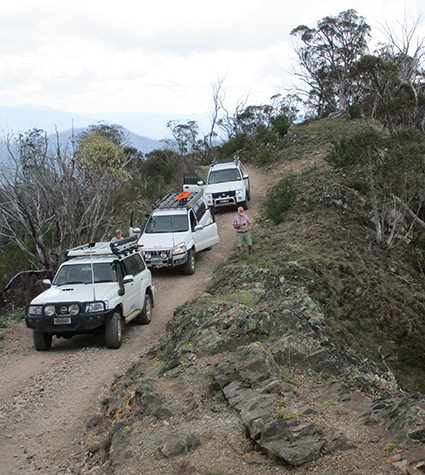 Stopped at Billy Goat Bluff
After eating our lunch at the  Pinnacles we walked up the steep, narrow track to the Fire Tower.  Unfortunately the normally spectacular view  was impossible to see due to extremely low cloud/mist.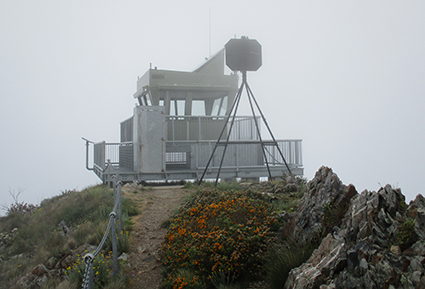 Mist obscures any chance of a view
Descending along Castle Hill Track we encountered  some rutty, puddly sections and fallen tree branches. At the intersection of McDonalds Gap and 65 Fire Tracks a coin toss saw us taking the 65 track. There were several creek crossing and bog holes to negotiate.
We drove on to Castleburn Creek Track which eventually petered out, so turned around to Black Range Track and took the long, steep, challenging, bumpy way back to Reedy Creek Road.
We then took an un-named track in the hope of cutting down to Dargo Road. This track appeared to be a new one which had been recently bulldozed and was very soft in parts.  We then went on to the Main Road and back to Camp, just in time for Happy Hour.
Words and pics:  Geoff & Peggy
Wentworth River
Leaders:  Phil & Gill
We left camp at Dargo River Inn at 8.42am, with 11 cars, turning onto Old Dargo Road, then over the bridge to Lower Dargo Road. The track was dry and after missing the turn, we made a quick U-turn and went onto Tabberabbera Track, which we followed for quite some time. In fine misty rain we went onto Punchen-Budwuid Divide Track, then Gidley Track, where we stopped for morning tea. The hills ahead were clouded in mist. Then onto Mt Steve Track, where there were many pretty wildflowers blooming among the blackened tree trunks. We continued via Waynes Track to Wentworth River crossing, where we had lunch.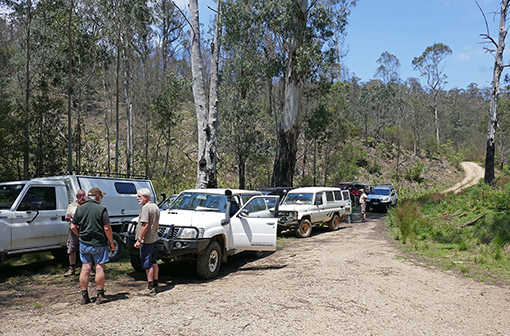 Lunch at Wentworth River
One of our members had a fuel problem and returned to camp. After lunch our homeward journey took us along Jones Road, Wild Horse Creek Track, Danes Track and Murdering Spur Track, then onto Birregun Track and back to Dargo.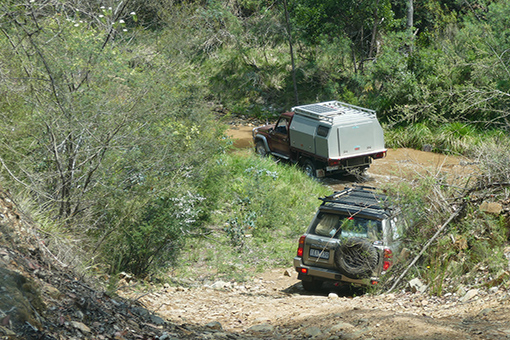 Waynes Track River Crossing
This round trip took us on some quite rocky and challenging tracks, and we had some wonderful views once the mist lifted. Total distance travelled was 92 kms.
Words:  Maria; Pics:  J-P
Tuesday 28th November
Scrubby Creek Track Area
Leaders:  Keith and Monica (in Mark and Felicity's vehicle)
Our trip leaders had contaminated fuel issues so they could not travel in their vehicle but Mark and Felicity offered to take them as passengers, so seven vehicles headed south from Dargo to Scrubby Creek Track.  First stop was at Collins Hut and an old tunnel.  A few kilometres on we reached the Wonnangatta River.  We explored the area but could not find a track across.  It became our morning tea stop and Tineke enjoyed a swim. We compared different maps and decided to return and take Rock of Gibraltar Track and that led us to Scrubby Creek Track.  Other tracks travelled included Junction, Castle Hill and McDonald Gap.  We had some steep low range climbs and descents with good views from helipads.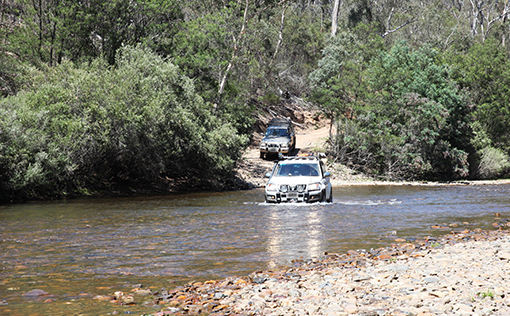 Wonnangatta Crossing
When we returned to the bitumen one vehicle had black smoke and strange engine noises!
We towed it back to camp and next day it left on a tow truck for Melbourne. (Approx total distance 70 kms)
Words:  Monica
Assorted Huts Trip
Leader:  Uwe
6 vehicles carrying 9 people left the Dargo River Inn camp ground under beautiful clear blue skies for Uwe's 115 kilometre Tuesday trip.
We crossed the lovely Dargo river and proceeded along Tabberabbera Road past Sheepyard Point and turned left onto Gidley Track heading towards Wallers Hut. After running out of road, morning tea was enjoyed with fantastic views of Hustlers Valley while we all debated which one of the three gates to go through. The middle one was eliminated as it had a lock and chain on it that would have kept Ned Kelly out. After much to-ing and fro-ing with nine people wanting to go in nine different directions we decided to follow Uwe, as we had had enough practice of three point turns. We then got back onto Bald Hill Road looking for Wallers Hut.
After viewing Wallers Hut, which had 3 bunks, a fire place, water, cooking utensils and a large rug on the floor, we motored along Storer Track, enjoying fantastic views at the helipad and arrived at Marthavale Hut for lunch. Sadly this hut was in ruins. Apparently somebody had used diesel fuel to try and light their fire. Who could have predicted this would be the very night that the CFA's Scrabble and Badminton practice was being held. It was a very sad sight indeed. Let's hope it gets rebuilt very soon.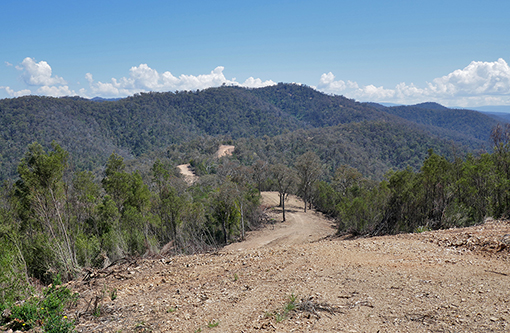 Storer Track                                                                                   
After Geoff and Peggy stopped to remove a metre-long piece of tree, stuck up their rear bumper, we low-ranged it through some quite large bog holes and deep ruts only to come across a road closed sign. After practising some more three point turns, we traversed back past the ruins of Marthavale Hut and returned to Bald Hill Road where we encountered a large Kenworth prime mover towing two timber jinkers loaded with huge logs. Uwe got that close he said the driver had a gold filling and three studs in his left ear. Wisely we all pulled over and gave him clear passage.
We cruised past Kilgowers Lookout and turned left onto Jones Road, where we saw the remains of Seldom Seen Hut. Even less was seen, than would have been seen, if we had seen it, many years ago. We then splashed through the Wentworth River, drove along a wide cleared fire track, and stopped after crossing the Dargo River via Madigans Bridge. As we all had practised many three point turns and tossed coins for directions we were a little behind time, so before a search party was formed we decided to return to camp via Italian Flat before it got dark. Then onto Dargo where hot coffee and cold beers were the order of the day.
Daniel, Trish, J-P, Peggy, Geoff, TCs Judy and Murray and me Peter, would like to thank our fearless leader Uwe for a great day with lots of extreme driving, great views as well as  Interesting historical sights and conversations.
Words:  Peter; Pic:  J-P
Wednesday 29th November
Harrison's Cut Drive
Leader:  Uwe
Under a clear blue sky Uwe led ten vehicles out of the caravan park and headed up the Dargo High Plains Road until we veered right onto the gravel Upper Dargo Road. We continued along the Upper Dargo Road which ran adjacent to the Dargo River, passing numerous picturesque picnic and camping sites along the way - Italian Flats, Jimmy Iverson's campsite and Ollie's Jump Up to name a few.
We then crossed the Dargo River at Madigan's Bridge and continued slowly along the very dusty Upper Dargo Road until we turned left onto Birregun Road. With little or no wind to disperse it, the dust became very thick and the convoy ended up spread out over a considerable distance eventually requiring Uwe to stop and allow the tail enders to catch up.
We then turned left onto the Stock Route track which had a very steep downhill entry, so low range, first or second gear was the wise choice.
It was a slow decent down into the valley below, some 4 kilometres in length. Taking it very slowly and with careful wheel placement was the best approach. Everyone took appropriate care and we reached the bottom, crossed the deep(ish) Dargo River at Birregun Crossing and headed for the Collins Flat picnic area on the other side for a well earned cuppa.
Shortly after arrival Ruthi and Wayne made a beeline to the toilet block only to find it already occupied - by a wombat! It appears the wombat entered the toilet and the door must have closed behind it so it couldn't get out. We don't know how long it had been trapped there but it was a decent size and looked quite healthy. Wayne did the right thing and lodged a stick against the door so it could exit when ready. Needless to say no one was prepared to expose their tender bits whilst sharing this small cubicle with the wombat!
After morning tea we drove along Matheson's Spur Track to Harrisons Cut where we had a short break and a group photo was taken before pressing on. Harrison's Cut was apparently the work of gold prospectors who created a 'short-cut' through the rock to create a diversion of the Dargo River. The result today is a small but very impressive waterfall.
The Crew with Harrisons Cut in the Background
We then continued along the Matheson's Spur Track, climbing very steeply out of the valley. This was a very challenging section with steep ascents, quite rutted and lots of loose rocks - once again wheel placement was a key requirement. Everyone took their time exercising due care and we all reached the top safely. 
Once at the top, those doing the 4WD recovery training with Richard and JP, remained (6 vehicles) while Uwe and the remaining 3 vehicles continued onto the Dargo High Plains Road for the return trip to camp.
This was a great drive offering some quite challenging uphill and downhill stages but with good leadership and appropriate care we all made it back to camp in one piece. Thanks to our Trip Leader Uwe and TC Peter for a job well done.
Words:  Fay & Danny
Den of Nargun
Leaders:  Colin & Heather 
We headed south on Dargo Road and turned off at Tabberabba Logging Track to go into the Mitchell River NP.  The plan had been to follow the track by the Mitchell River from the Angusvale Camping Area at the north end to the Den of Nargun at the south end.
On reaching the campground we found that this section of the track was now walkers only.  We turned back to find the next point to join the river track and found a road closure sign, part of the track closed due to storm damage, with no other entry-exit points we had to go back out to Dargo Road to head further south.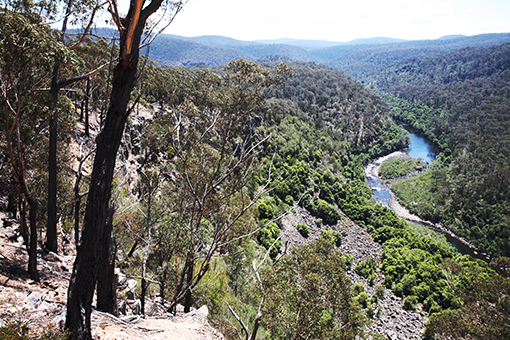 The View from the Lookout
This time we turned off at Billy Goat Bend Track and went to Billy Goat Bluff Picnic Ground for lunch and a short walk to the Amphitheatre Lookout. 
We then went on to the Den of Nargun, we all set off on the first section of the walk to the Den but when we got to the steep rocky steps leading down to the Den only some of the group continued down.  After a look and a few photos and a slow climb back up we joined the rest of the group who were patiently waiting.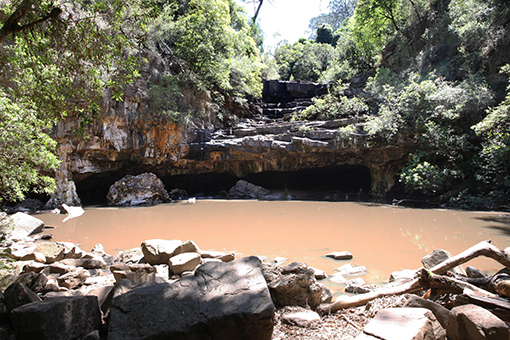 The Den of Nargun
We then headed back out to Dargo Road and back to camp. Distance travelled  135km
Words:  John & Jeanette; Pics:  Graham
Thursday 30th November
The Pinnacles
Leaders:  JP & Trish
A convoy of 6 vehicles took 11 members on an exhilarating 7.5 hour exploration of those parts of the Pinnacles State Forest and Alpine National Park located west and south-west of Dargo.
No one got lost before or after leaving Dargo and all returned to camp - mostly unscathed.
The 121 km trip included morning tea and lunch breaks, as well as a walk to the new fire watch tower at the magnificent Pinnacles, 1450 m above sea level.
There were many challenging steep ascents and descents in low range 4WD and photographic opportunities.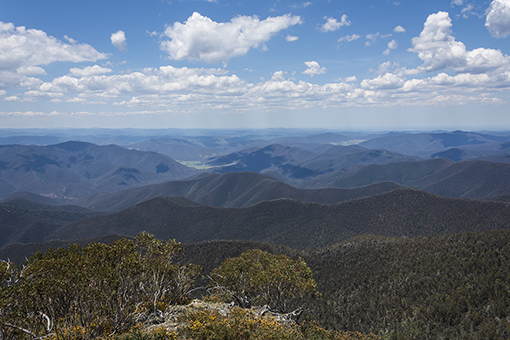 The Pinnacles view we didn't get on Monday!
The trip leaders saw some interesting fauna – fish in the Castleburn Creek, wallabies and red deer along McDonalds Gap Rd. Apart from the interesting soft-bottomed mud holes and many creek crossings, the convoy saw magnificent flora, including the alleged Victorian Christmas Bush (white flowers), some purple flowers (unidentified), and golden-flowered native pea bushes (one of 120 species).
It was a companionable expedition with opportunities for low range 4WD skill development, and we were lucky with dry weather and tracks. Many thanks to JP & Trish for the trip leadership, and Peter for being TC and eating lots of dust.
Words:  Wayne & Ruthi; Pic:  J-P
Basalt Knob
Leader:  Graham
On a sunny day, five cars drove towards Basalt Knob, in a NE direction from Dargo.  We were led by Graham, TC were Phil & Gill.  The others were Daniel F, Peter, Geoff & Peggy.
We drove north up the Dargo High Plains Rd on bitumen for about 20 km, then continued on the gravel for another 10 km, where we encountered a grader and road roller doing road works and causing massive amounts of dust.
After turning west down Richie Rd, we again had to negotiate a grader and bulldozers.  Our morning tea was had at the ford at 30 mile Creek – a nice grassy spot for about 10 cars.  We then continued on Ritchie until we got to the Red Train Carriage near the Basalt Knob hill.  According to Phil the boxcar was a "cool store" wagon, where you put blocks of ice in the top of it to keep the contents cold.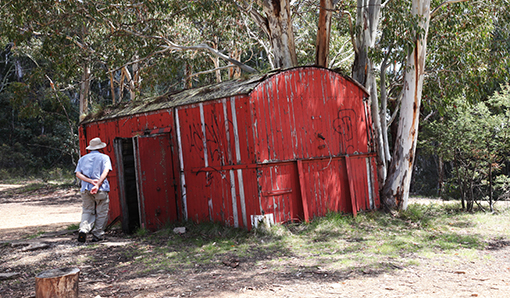 Historic Carriage at Basalt Knob
Moving south on to South Basalt Knob Track we came to a steep drop-off, where we had magnificent views of the track going up and down many hills ahead of us, just like a roller coaster.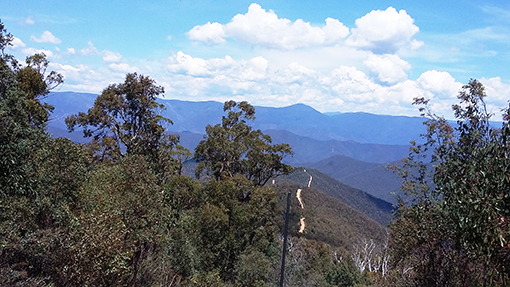 South Basalt Knob Roller-coaster
Continuing on to South Basalt Knob Track, we encountered some descents that were quite challenging, needing to "accelerate through the brakes" quite often.  We then did 3 water crossings of the Crooked River, before having lunch at the Talbotville site (nothing there except a big clearing).
Taking McMillans Rd to the Grant ruin site, we aired up and continued on McMillans Rd east.  We then returned via the bitumen Dargo High Plains Road to our campsite.
This trip had it all:  exploration, adventure, adrenalin, scenery, history, fine company!
Words:  Daniel F; Pics:  Peggy & Graham
Friday 1st December
Departure Day - With heavy rain threatening for later in the day, those who hadn't departed previously were up early to get away in sunshine and navigate the numerous road closures enforced by the Great Victorian Bike Ride which was in the area today.