Wyperfeld - Sunset Country Trip   8th to 16th October 2018
Monday 8th  
Six Club members met at Patchewollock and after viewing the painted silos, made our way to Casuarina Camp Ground. The camping area was very spacious, well maintained with reasonably new and clean amenities. BYO wood for the fire pits. It was a very warm day for travelling, but even so we took advantage of the fire pits, and most of us cooked on the fire that night.
 Tuesday 9th
After dust suppressing rain overnight, we headed off on Meridian Track. While there was still some cloud around, patches of blue skies were trying to peep through. Spectacular views and lots of crisp air on the top of Mt Jenkins (sand dune).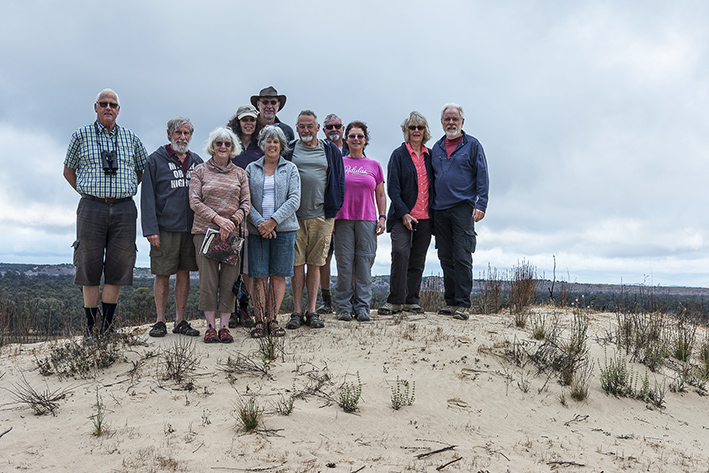 Atop Mt. Jenkins
Kangaroos in abundance. Beautiful scenery and wildflowers at Mt Kellie lookout with our first lot of sand climbing. Lovely stroll up O'Sullivans Lookout and back. Exciting lunch stop at Snowdrift campsite with the braver of the group tobogganing down the hill. Arrived back at Casuarina Campsite after a very enjoyable day. We saw lots of wildlife, including kangaroos, a dingo, wedgetail eagle and lots of assorted birds and flowers. The weather was cool but not too cold and the dust suppression system worked a treat.
Wednesday 10th
The day is best described by starting the evening before – windy, cold and rain, so much so that any gathering around the fire after dinner had to be abandoned. "Lights out at 8:00pm", the night was cold with the sounds of wind and flapping canvas.  
The day's outing started with the pre-trip meeting at 8:30, and soon we were on our way towards Wonga Camp, starting south on Meridian Track, followed by Eagle Track, Ginap Track and Dattuch Track. There were plenty of tricky sandy patches – especially on a few ridges and curves. Some puddles were also encountered. Wonga Camp is a large open camp area and seems to be well maintained. An interesting water catchment (basically a large roof of corrugated iron) at near ground level was observed. Our homeward journey took us to Black Flat, Baby Cameron's Grave and the Eastern Lookout. After the Lookout we had lunch and continued the journey home on the sand tracks. For a change of scenery, the final leg was via the North Callitris Track. Many sheep were seen in a paddock as well as one that was stranded on the wrong side of the fence. A large sandy dune was conquered by the Trip Leader but the rest went home an easier way. Many roos seen today, including Reds.
Thursday 11th October
We awoke to clear blue skies and a mild wind. As the day consisted of a transport stage to our next camp, we were able to take our time packing up. Everyone had morning tea, and we left camp by 9:58am. We drove to Patchewollock where a member took photos of the silo and some restocked at the General Store with minor supplies. We continued on to Walpeup to refuel and some bought more supplies. It was a short distance to the turn off to Pink Lakes. On arrival at Pink Lakes we inspected both camp spots and voted for Lake Crosbie camping area. It was a beautiful spot overlooking the lake, with beautiful blue skies and sunshine. We set up camp and had a free afternoon. 
Friday 12th October
At 8:30 we left our lovely waterfront campsite beside Lake Crosbie. One member decided to rest in camp that day. We headed out along Pioneer Drive, past Lake Kenyon and travelled over many gravel, muddy and challenging sand tracks, including Honeymoon Hut Track, Rocket Lake Track, Nowingi Line Track, Mt Crozier Track, just to name a few. Morning tea was at Mopoke Hut, and the bird shaped window in the toilet was to one members delight. We had lunch at Rocket Lake campground and saw many interesting things, especially the gypsum mine loading hopper made out of steel and very heavy timber. It was a great day. We managed to disturb many kangaroos, goats, lizards, two emus and one fox from their everyday peaceful environment. A member produced a variety of Magnums and we all enjoyed ice creams by the fire after dinner.
Saturday 13th October
We changed our plans because of forecast storms in the next few days and decided to leave Lake Crosbie a day earlier, so we packed up and all left our lakeside camp at 9:30am, leaving the little white everlasting daisies dancing on the dunes. Off to Murrayville. We passed Lake Hardie again then over the railway line and we reached the Mallee Highway.
Linga and its unpainted silos, with wheat fields stretching away on either side. Boinka with only the railway crossing and the sign to denote its presence. On to Tutye (at least it had a silo), and to Cowangie, which had a few houses dotted beside its silo, then Danyo – purely a sign.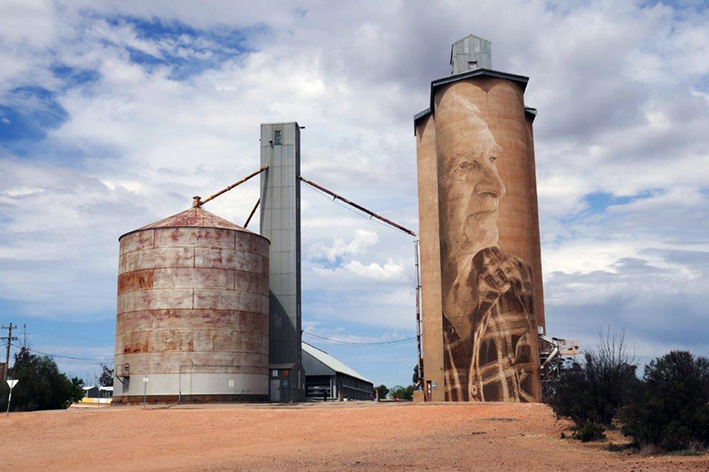 Silo Art at Lascelles
We reached Murrayville for morning tea in the public park where a terrific mosaic celebrating the centenary of the town in 2010 covered the local public toilet, which incidentally wasn't operating. Then we followed our leaders down South Road that became the Murrayville-Nhill Road. It was white gravel, quite smooth, and we passed wheat fields stretching as far as the eye could see, then we entered the Big Desert State Forest. There were lots of grey Mallee, Broom, Heath, Tea Trees that looked like snow in summer and clumps of yellow Stackhousia on the edge of the track. The creamy dunes were covered with vegetation on either side.  No wattles were blooming and the small cypress pines were trying to make their presence felt.  Then we were there at Big Billy Bore campground, and a relaxing afternoon ahead after we had set up camp. 98 km.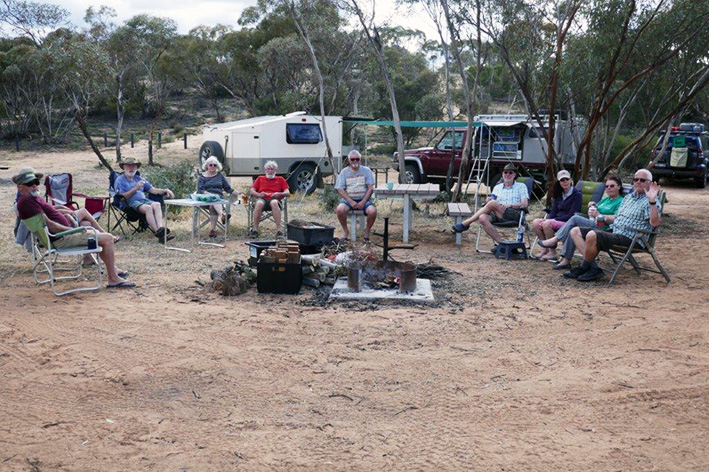 Around the Campfire at Big Billy Bore
Sunday 14th October
We left camp at 8:30 am, right on time, on a lovely day and headed for the S.A. border and the Border Track.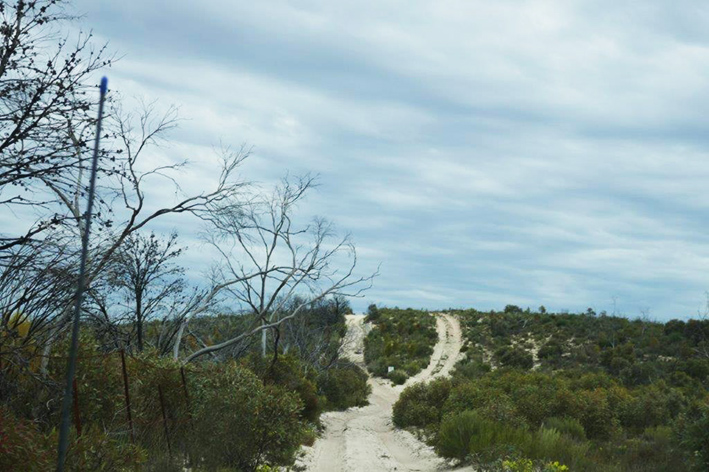 Along the Border Track
On the Cactus Bore track we stopped to put up our sand flags in readiness of oncoming dunes. After negotiating some steep rises with heavy sand, some of us aired down a little and we kept going. At 10:00am we stopped for morning tea at Red Gums, then headed out for 17km to the Border Track. Only one snatch on the whole of the track. We were back on track after a short lunch break at Hensley's Trig Lookout, turning off the Border track at Red Bluff track, at the end of which we aired up before heading back to camp.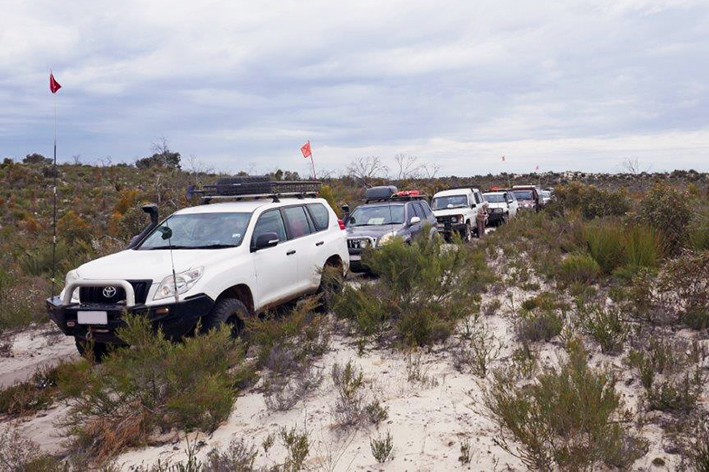 The Convoy on Red Bluff Track
We arrived about 5:30, ready for dinner. No time for Happy Hour. 190 km.
Monday 15th October - Visit to Hermies Gardens 
We left camp with windy and light rain, two cars short of the full contingent, to visit Hermies Gardens. A quick visit to the Big Billy Bore was first on the list. Not much to see other than a large poly water tank and a functioning windmill. The group then headed south on the Nhill-Murrayville Road before turning east on the Milmed Rock track. Back to the sand and dunes, made slightly firmer by the light rain. First notable place was Pigeon Springs camping area. Then onto Milmed Rock for a group photograph.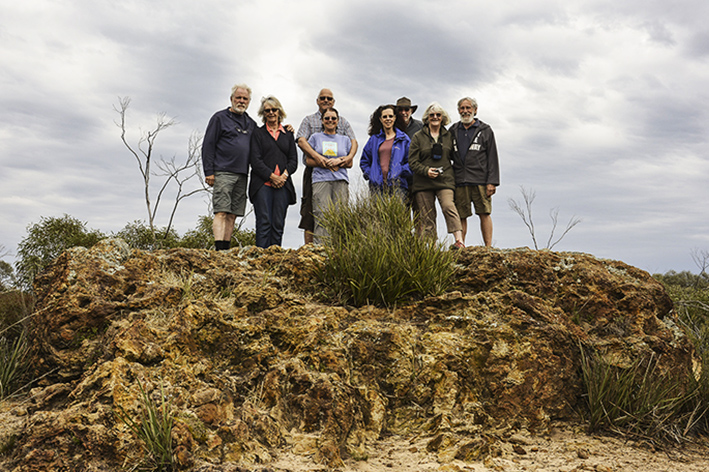 At Milmed Rock
Continued on the track passing through Arnold Springs, stopping for lunch at the well-appointed Round Swamp camping area, again in light rain. The vehicle of one of the members then failed to start. Fortunately jumper cables were available to get the vehicle going, but it was decided to return to camp in light of the issue and the heavy (deep sand) track conditions that would be encountered. No recoveries required but there were multiple attempts required at steep sandy dunes. All safely back to camp at 3:30pm. 117 km. 
Tuesday 6th October
After an overnight sound and light show, the storms had passed by the time we all packed up and left camp, making our way to Nhill and a visit to Westprint, where the trip ended.
Many thanks to everyone for making this trip so enjoyable, and thanks also to all for contributing a day to the writing of this report!