Wellington River, Licola - 18th to 23rd November 2018
Almost all members (and some potential new members) of the Club set up camp on Sunday at Red Box Camp on the Wellington River, about 20 km along the Tamboritha Road north of Licola. Everyone was primed for four days of day-tripping through the south western section of the Alpine National Park and adjacent forest and pastoral areas. The weather was looking promising for the first couple of days at least, though rain was threatening for later in the week.
So here's what transpired…
Monday 19th November
Cheyennes Bridge - Mt Useful - Cob Spur
Leaders:  Keith and Monica
A group of six vehicles departed from our camp near Licola at 8:30 am. We did approximately 38 km of bitumen before we reduced tyre pressure and engaged low range to climb on Cheynes Bridge Track to Black Range Track.  Along Springs Road we stopped to check out historic marker signs.  One was called "The Germans" where two huts and paddocks existed in the 1870s. Beautiful orchids were spotted on the ground.

The other notice board told us about the "Smith Hotel" where the owners always had a feed for visitors, whether they could pay or not. A grave site was also nearby.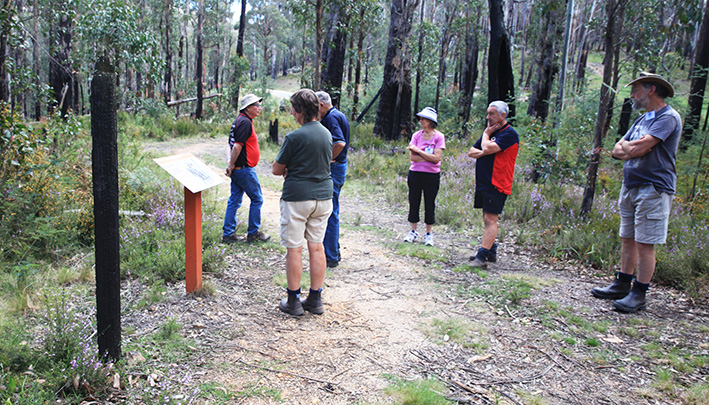 The next highlight was Mt Useful Fire Tower and Communications Tower at 1434 metres. The "worker" had just arrived to begin his 12 noon to 6:00 pm shift. It was good to see the snow gums in the area regenerating following the earlier bush fires.
Next was Green Hills Track, along which we stopped for lunch and then went to the helipad, which had good views of the distant mountain ranges.  Pink Trigger flowers were in bloom.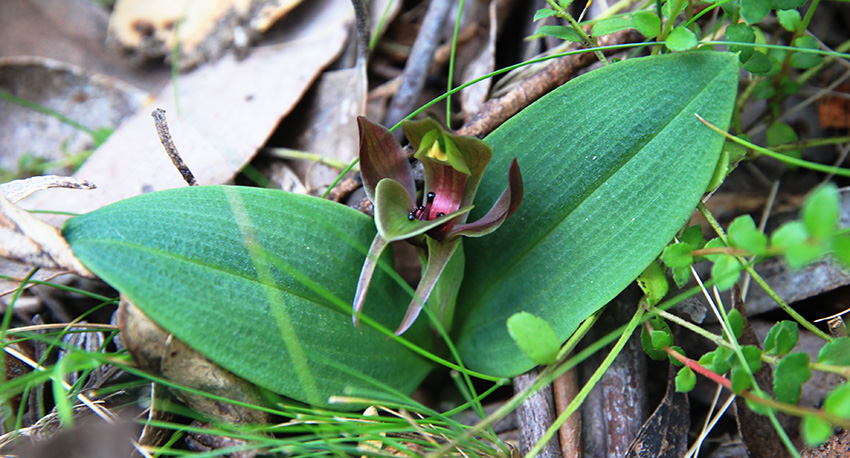 Low range was again required on Cob Spur Track as we descended to a creek and then climbed up again to eventually meet the bitumen on the Jamieson - Licola Road and travel 29 km back to camp.   (Total approx. distance 127 km)
Ben Cruachan - Golden Point Hut
Leaders:  J-P and Trish
Monday announced itself with sunshine and little wind, perfect for a high country jaunt. After travelling a few kilometres down the sealed road toward Licola, we turned up Mt Margaret track. Some of us switched to 4X4 and slowly climbed to the top where we stopped for the views.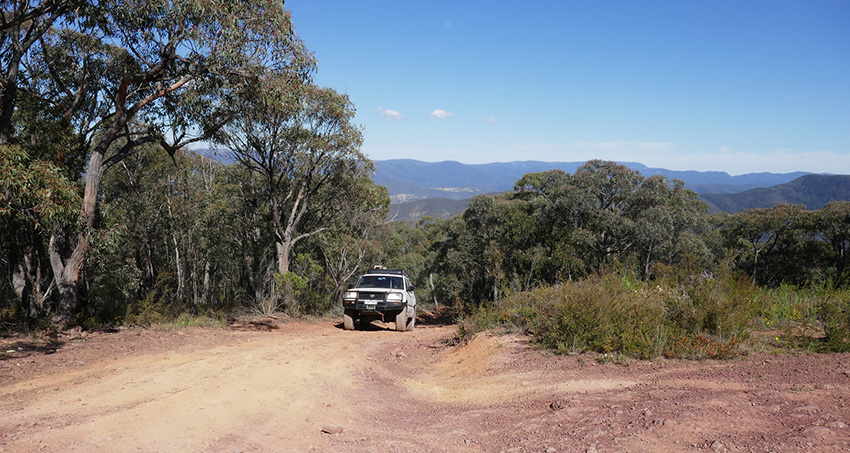 We then continued along Mt Margaret track, stopping for morning tea before turning east onto Hickey Creek Tk and then south on Dolodrook Tk.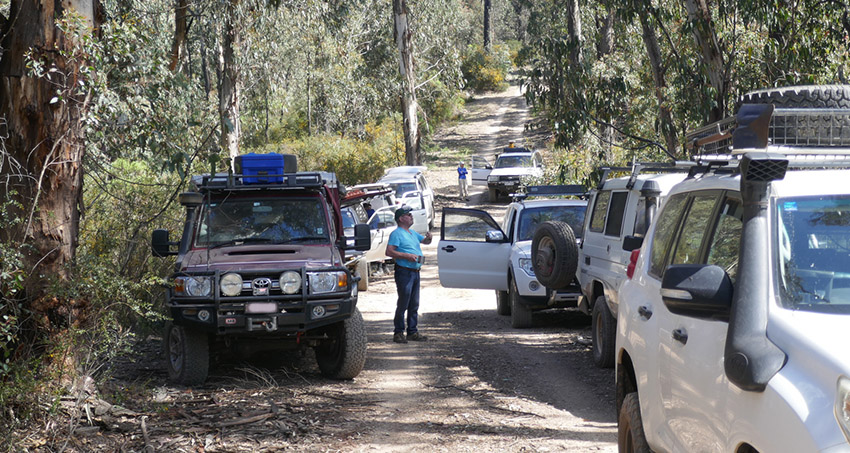 Near the top of this rather rough track, one of the team had a puncture which took a little while to fix.
With the time passing rather quickly, we had to abandon the idea of making it to the hut or Mt Ben Cruachan, and decided to rejoin Mt Margaret track via Avon Rd heading north. Back at Hickey Creek Tk we turned left to McMillan's Lookout and down to the bitumen.
We returned to camp and arrived at around quarter to five.
Those tracks, being open year-round, have suffered a lot since I did most of this trip several years ago.
J-P
Tuesday 20th November
The Pinnacles
Leader:  Uwe
Firstly let me say Hello. Secondly let me say, I did not volunteer to do this story of today's trip report, but was hijacked into it.
At 9:06 am seven vehicles carrying eleven Offpeakers turned left out of the camp ground and travelled 5 km on the dust free black tar. We then continued onto a long dusty dirt road.The first point of interest we came across was a quarry were they extricate the Dust and Gravel to put along the long dusty dirt road. We then stopped at Bennerson Lookout where we saw lots of big hills with big trees on them. Most people were more interested in having phone reception than the wonderful vista before them.
We then continued along the long dusty dirt road and stopped at the Lost Plain Picnic Area, where some people used the long drop and some people didn't. After those that did washed their hands, we all had morning tea. I had Jarlsburg cheese on Savoy biscuits washed down with black tea poured from my thermos, with no sugar. We then travelled further along the long dusty dirt road, made from Dust and Gravel from our first point of interest (The Quarry). Oh, by the way, our goal for the day was to find the spectacular Pinnacles Lookout and FireTower. On the way we passed bull dozers and much heavy machinery, pushing over trees to allow the Fireys access to save the Great Alpine National Park from burning. If they don't stop soon there will be no trees left standing to burn.
When we arrived at the Pinnacles car park there were about 15 4 wheel drivers from the ACT and they were expecting another 16 vehicles who were driving up Billy Goat Track to join them. I believe they wanted to be called the Scomos  but decided on the Slowgos. From the Pinnacles car park we then skipped and jogged up towards the fire tower. On the way some people used the available long drop again before reaching the fire tower. The view was amazing. We saw lots of big hills with lots of even bigger trees on them - obviously the dozers and heavy machinery haven't gotten that far up into the forest yet. Our financial guru, Paul, saw some smoke on the horizon and tried to alert the Fire Spotter Lookout Man, but was told not to cause trouble, as fire and smoke spotting was his job.
We then had lunch on time (thanks to Tony not losing another tyre like the day before) 100 metres below the Pinnacles car park, as it was now overrun by the Slowgos from the ACT. For lunch I had two medium sized wraps filled with rabbit food, purchased from Coles in Traralgon. About to leave our lunch spot and head back towards Red Box Camp, which by the way is 20 km east of Licola on the trickling Wellington river, one of our members needed to find a tree, which was rather difficult as most of them had already been pushed over. As six vehicles containing 10 people left our lunch spot I grabbed a boysenberry ice cream from my freezer while no one was looking and devoured it whilst driving back along the long dusty dirt road heading for Moroka Hut.
We all stopped beside the long dusty dirt road and walked or ran with excitement the 450 metres towards the hut, helping each other climb over some huge fallen trees while heading towards a timber bridge called Westgate. Angela was a little worried about crossing it in case it fell down, so her loving husband Ignatius told her to "toughen up girl, close your eyes, and follow me". And if your feet get wet you have gone too far and walked into the river. After we visited the historic Moroka Hut we them jumped into our 4X4s and once again headed off along the long dusty dirt road heading for home with our heroic leader Uwe saying what dust? Passing D9s and heavy machinery still pushing over many more trees creating much more dust, we passed Lost Plain picnic area "where some people did and some people didn't" before having morning tea. For my play lunch I had - it doesn't matter. Past the Bennerson Lookout, past the quarry where they get the Dust and Gravel to put along the long dusty dirt road.
No wild native or domestic animals were sighted. No exotic, rare or common orchids were seen, and no snow or hail as promised was forth coming. A dusty great time was had by all whilst travelling along the long dusty dirt road which I believe is really called SHORT STREET. We arrived back at our digs at 3:14 pm after travelling 98.9 km. Thank you to Uwe and TCs for a great day out. 
If I have insulted any people, they being fictitious or real, I apologise. (Toughen up). If you didn't find this little story a bit humorous, have another drink or two - I did (and it worked). Here's mud in your eye.
Peter
Mt Skene
Leader:  Graham
This trip started out as a rather long one with several different add-ons and take-offs as might be needed. Eventually being modified/shortened somewhat because of time restraints. We would all have liked to travel the planned route, but time being "the enemy" and all that.  
T'was a mildish day as the 7 vehicles left camp and drove through Licola and up (and up) the Heyfield Jamieson Road to Mt. Skene.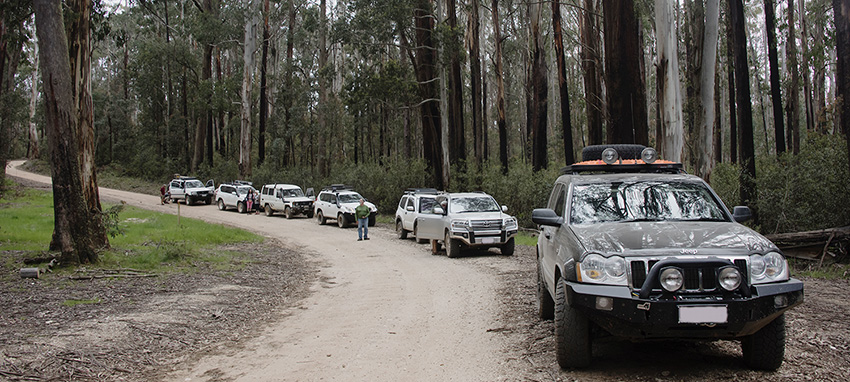 This is a great drive at any time in any weather. The road has some fantastic vistas of The Divide – ranging from bleached skeletons of trees protruding from recovering bush to lush unburnt belts. Nearer the road there were many wildflowers in full bloom along with sprouting ferns and eucalypts and in the distance the layers of blue mountain ranges stood out.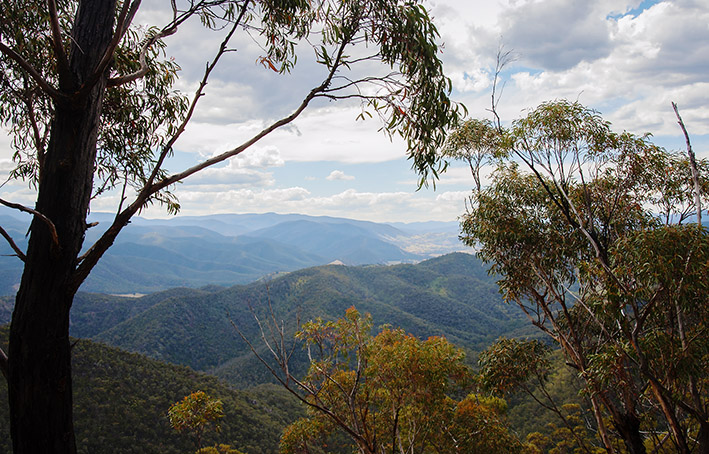 Graham found a sheltered spot near the summit, circled by snow gums, for morning smoko. The wind was brisk and temps around the 12-15 degree mark and Graham advised jackets were needed even before we alighted – spot on advice! A good few nearby orchids provided interesting camera fodder as well as the snow gums.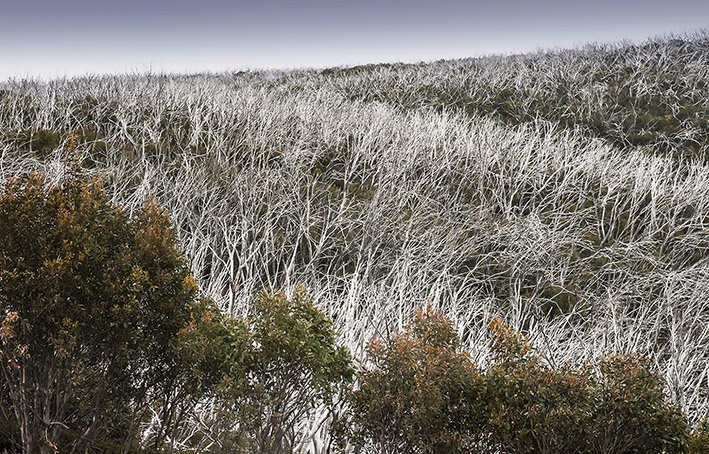 After smoko we went to the summit for the mandatory look. Even though the day was 100% overcast the mountains stood out well and so provided a wonderful view.
The original plan was to go on to Snake Edwards Tk. but we decided on a U-turn to Barkly River Tk.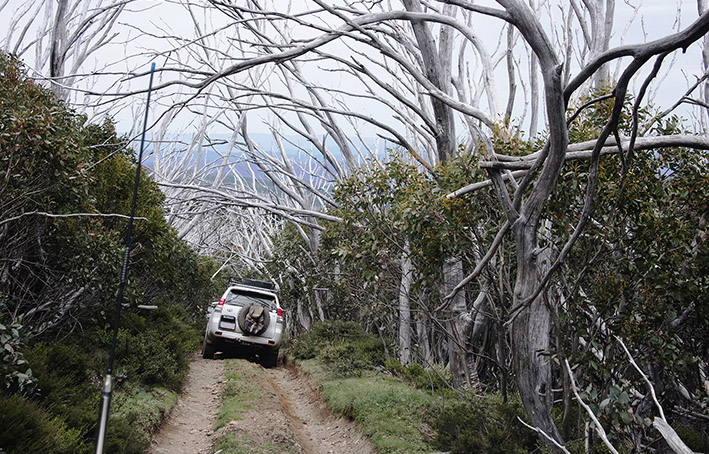 After a navigational hiccup we found the turn we wanted. However, one look at the cliff-like track and we could see we needed diff locks, superswamper tyres, Marks gear reduction and a good winch (as well as very fit person(s) to run the cable), etc. just to get down! For us a resounding thumbs down!
So we backtracked and turned down Lazarinis Spur Tk. to find a lunch spot. This is a narrow partly overgrown scratchy high range 2WD/AWD track. We could not find a "pull-off" so had a roadside lunch. A tad warmer at this lower altitude.
Then back up the hill to the main road and back towards Licola. At about 15km from Licola we turned down Morris Tk. This is a steep clay based LR 4WD track and would be very exciting in the wet. Many trackside trees exhibited winch cable scars (appears many people still don't use winch tree protectors).   
The track met Glencairn Rd. near the river where we regrouped and headed back to camp via Target Ck. Rd. and the black top. These roads also provide some beautiful views of the Licola valley's farm land. 
All in all a top day travelling through some interesting country on some at times challenging tracks with great company. And that is what this club is all about. Thanks Graham.
Murray and Judy
Wednesday 21st November
Mt. Wellington (or Roger to the Rescue)
Leaders:  Colin & Heather
On the morning of Wednesday 21st November, eight vehicles departed Red Box Camp headed towards Mt. Wellington. We travelled north-east on Tamboritha Road stopping at Bennison Lookout to catch a glimpse of our destination through the clouds (and to make use of mobile phone reception). We drove on through some drizzle but also some sunshine and halted for morning tea at The Lost Plain. When we reached (Fatty?) Arbuckle Junction we turned right onto Moroka Road passing the tree felling operation on the way.
After about 17 km we turned right again onto Moroka Range Track and soon forded the Moroka River. When we reached Mt. Wellington Track we stopped to air down and Ignatius reported that he was concerned he was low on fuel. While we were considering what to do about this problem Roger came to the rescue producing a 20 litre jerry can of fuel from the back of his truck and the problem was solved.
We proceeded cautiously up Mt. Wellington Track, allowing our visitors to get the feel of real four wheel driving.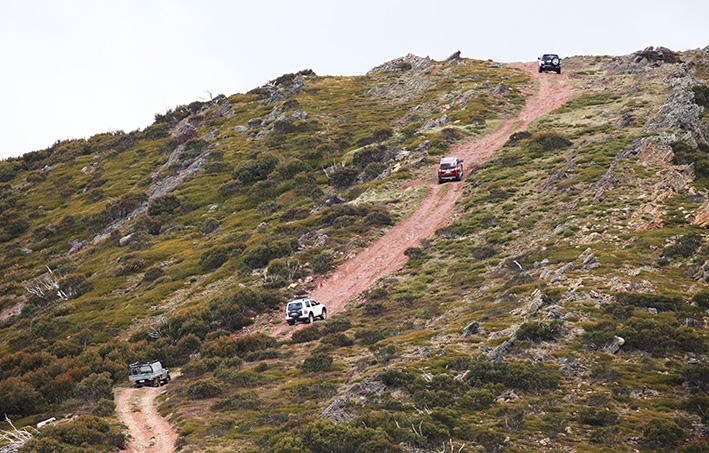 When we reached the top we were surrounded by cloud, but it came and went, revealing great views when it rolled away.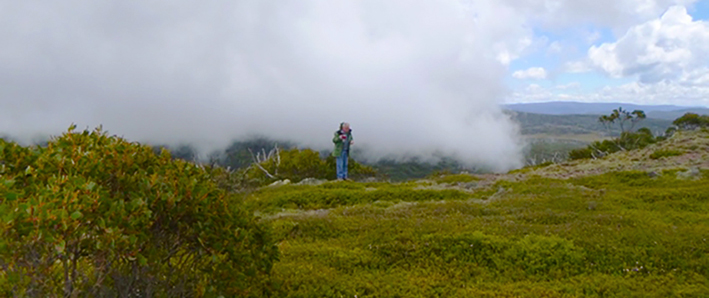 We had lunch and explored the alpine terrain, finding numerous wildflowers.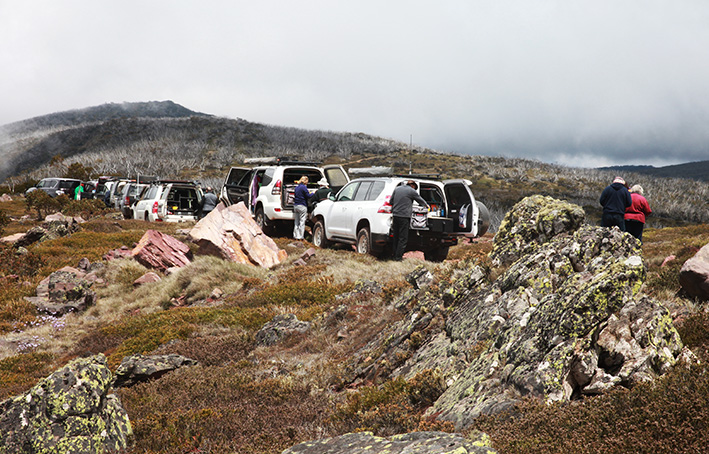 Looking around it appeared that there might be a higher point a little further on, so it was decided to drive on a little way and then turn around to allow us to get back to camp in plenty of time for the communal BBQ that evening. This proved to be a big mistake, as there was nowhere to turn the convoy around and we found ourselves heading away from where we wanted to be.
Then a member of the convoy pointed out that his computer indicated he had 0 kilometres to go before he needed to refuel. This called for some drastic action. All vehicles were able to find places to turn and we headed back slowly down in reverse order to the track junction. Here Roger produced another 20 litre jerry can of fuel so we avoided having to send someone into Licola to buy fuel.
We made good time on the journey back to camp and arrived in plenty of time to prepare for the evening meal which was enjoyed by all. It was an eventful trip but it could have been much more eventful if Roger hadn't been carrying extra fuel. Thank you Roger!
Heather
Thursday 22nd November
Chester's Hut
Leader:  Graham
Seven vehicles set off after a wet night, stopping first at Licola for refuelling. By 9:45 we were under way traveling on the wet and often sloppy, muddy Licola Glencairn Road. Morning tea was enjoyed at the intersection of the Bull Plain Road beside the 'dry weather tracks only' which we then proceeded to drive on!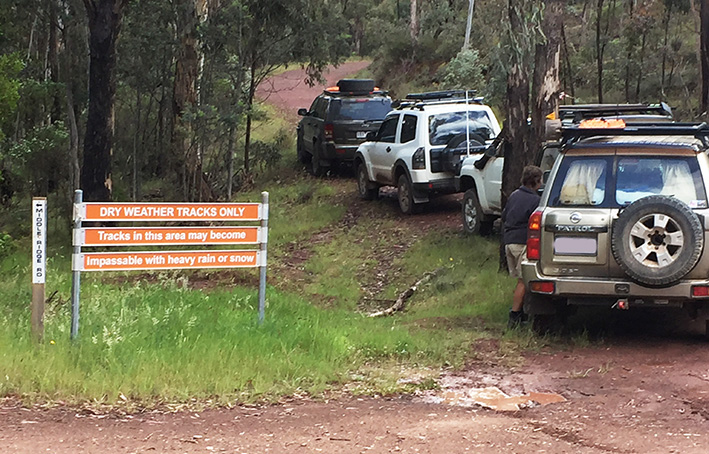 Whilst it was slippery in a few patches, the track was generally very good offering good views and driving through majestic mountain ash trees. The track off to Chester Hut was not signposted and we were about 1 kilometre beyond it before we realised that we had missed the turn. The very narrow track offered no opportunities to turn around, so 1 kilometre of reverse driving was skilfully executed by all. Turning onto the Chester Hut track, we soon gathered to inspect a large spoon drain filled with water and offering a very steep slippery exit.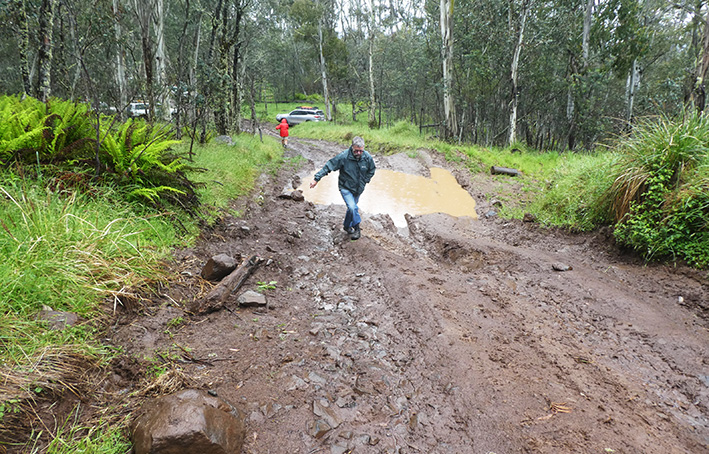 Realising that the Hut was not much further, we chose to walk (in the drizzling rain) into Chester Hut, rather than drive and risk several recoveries. Chester Hut was a corrugated iron structure and parked close by was a very old, decrepit caravan.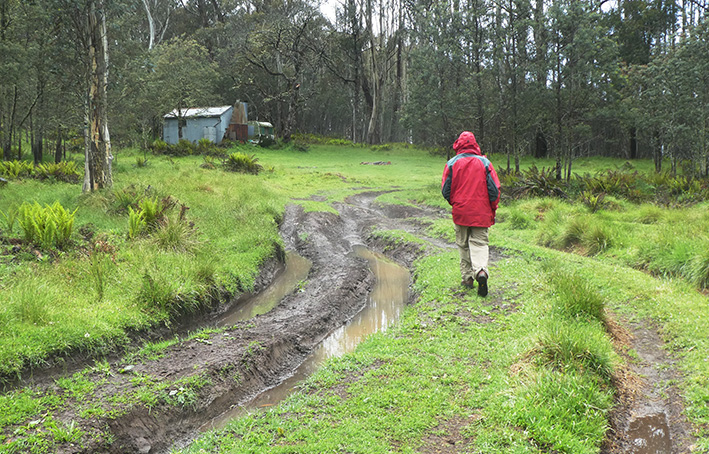 The rain cleared while we ate lunch, then we headed back towards Licola. The track was now very wet and churned up by us on the way in so low range was needed to help control the vehicles on the slippery descent.  One member chose to try out the ford over the Barkley River. The steep exit was challenging but no recovery was needed! The bridge was a much easier option. The trip ended at Licola to allow members to return to camp at their own pace. In all, it was a very enjoyable day. Thanks to Graham for leading the drive.
Gill L.
Friday 23rd November
With rain again threatening, the remaining campers de-camped and headed in their various directions. For me, the trip home was into strong and gusty headwinds and driving rain, and with the trailer, I have to say it wasn't the most pleasant of drives. But we had had a fun week and could sign off on another successful Gathering. Thanks Uwe for your co-ordination of the event, and to those who led trips. I'd also like to thank St. Roger for emergency fuel supplies, and everyone for good company.