Leader:  Uwe
Participants: Peter, Tony, Roger and Jeff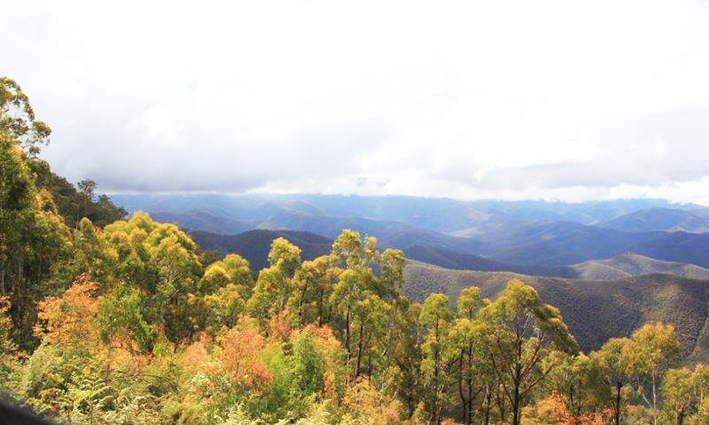 Sunday 24th February 2019
We met at the Mansfield High Country Caravan Park. It was very nice but extremely dry. Costs were reasonable and facilities okay.
After pitching tents putting up swags etc., we relaxed and all had a bit of a chat, with the others meeting my youngest son Jeff who was going to drive my vehicle whilst I relaxed as a passenger and navigator (not that that was needed as Uwe did a great job as usual).
After relaxing for a while we decided it was time to go to the Pub and have a meal. The staff were very friendly and the meal was great. After a couple of beers and quite a bit of banter we decided it was time to head back and hit the sack ready for the days ahead. 
Monday 25th February 2019 - Day 1
Up bright and early for an 8:30 start we had breakfast, packed our vehicles and headed off on Mansfield/Mount Buller Road to find Buttercup Creek Rd. We aired down just as the road turned to gravel. It was rather an easy run to Tomahawk Hut where we had a small break. We left there and after turning left we continued onto the No 3 track. Then Left onto the Weston Track which was rather bumpy and tested one's skill at finding the right path to go. 
Sometime on this track we heard the dreaded clunk, clunk from our driver's side front wheel. Jeff had made a makeshift shocker bush before starting the trip due to a non-delivery of new bushes. After stopping and upon checking, we found the bush to be completely demolished. After consultation with Uwe we continued on to Pineapple Flat where we discussed removing the shocker altogether to save it from damage and take it easy, or to have another go at repairing it in the same way as before, but this time with some electrical tape wound around it to make a tighter fit. We decide for the latter. Thank heaven for Jeff's experience as a mechanic. All was well for the rest of the trip. We continued on to King River Hut for a well-earned rest for the drivers.
Tuesday 26th February 2019 - Day 2
After a good night's sleep we awoke early to another glorious day. After packing up Jeff and I enjoyed a hearty breakfast of bacon and eggs with real coffee. 
We proceeded off on Speculation Road where we encountered what they called the staircase. It was rough and tough - a great test of all the drivers' skills and the vehicles' capabilities. All drivers and vehicles passed with flying colours. Then on to Cobbler Lake for the second night.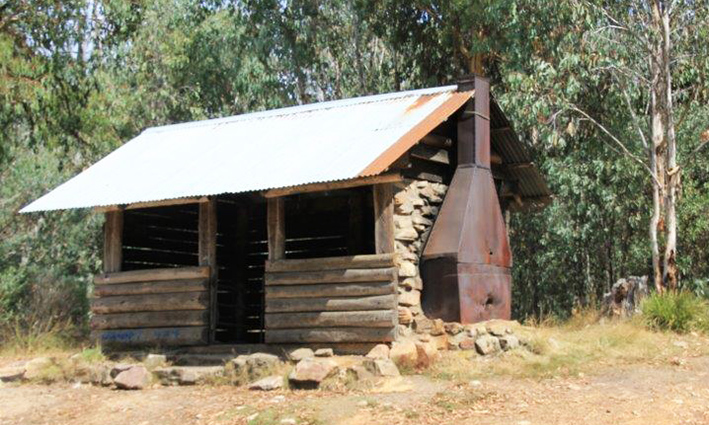 Cobbler Hut
Being a short day we took the chance of relaxing in the ambience of our surrounds. In the evening we had a visit from one lone duck who seemed to be looking for company or something to eat. After another great meal, a few drinks and nibbles and much banter as the sun slowly went down, we retired for the night.
Wednesday 27th February 2019 - Day 3
Another glorious day in paradise. As soon as we were all ready we were off again, retracing our steps of yesterday, only this time we went down the stair case. To me it seemed not as bad coming up and we all made it down safely to King River Hut. We continued onto Circuit Road before turning left onto Clear Hills Track heading up to Craig's Hut where I believe The Man from Snowy River was filmed.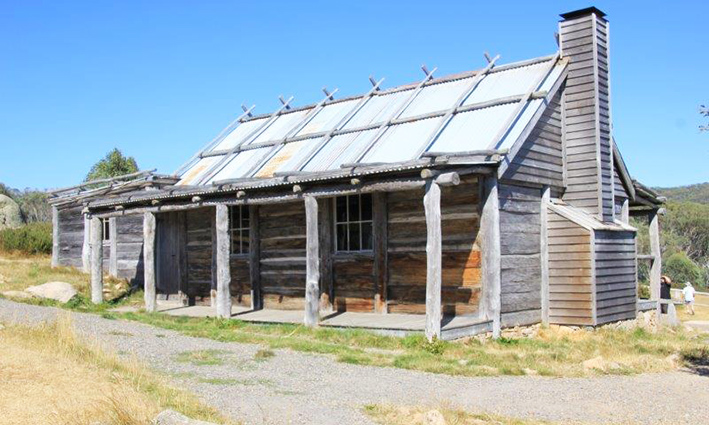 Craig's Hut
The first hut was destroyed in bushfires, but now has been lovingly restored. We continued on to Clear Hills Track until we turned on to Monument Track and back down to Circuit Road. Then we turned onto Bindaree Road and on to the Bindaree Falls. Wow what a refreshing sight it was. We went around under the back of the falls where it was lovely and cool, took a few photos and then headed back to our vehicles where we had lunch.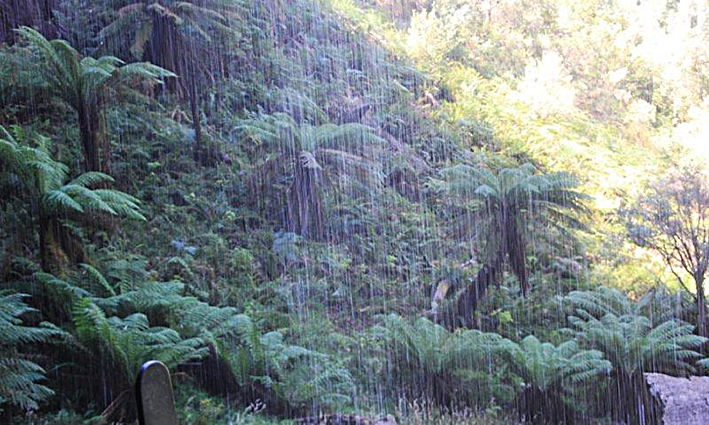 Bindaree Falls
We had a quick look At Bindaree hut.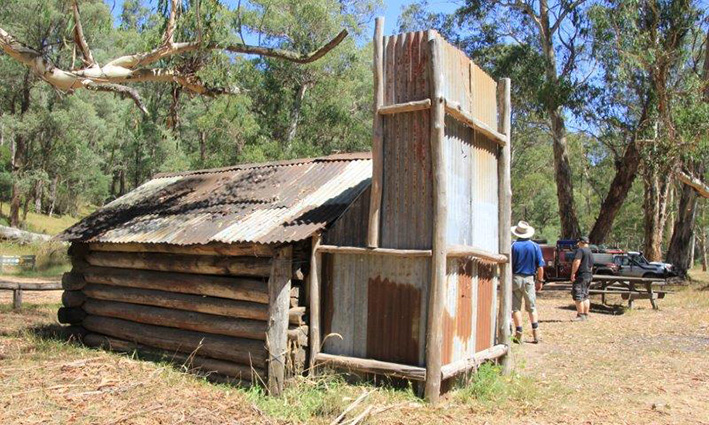 Bindaree Hut
The convoy then moved on to Pike's Flat to camp for the night. I noted that no matter where we went the pesky March flies where in abundance and there was much cursing when they bit us especially by me. 
Thursday 28th February - Day 4
Once again it started out as a glorious day. I believe the rain god's curse on Uwe had been broken - not a drop of rain to be seen. The convoy then headed up 16 Mile Jeep Track up to Bluff Link Road To Bluff Hut where we once again dined with the flies.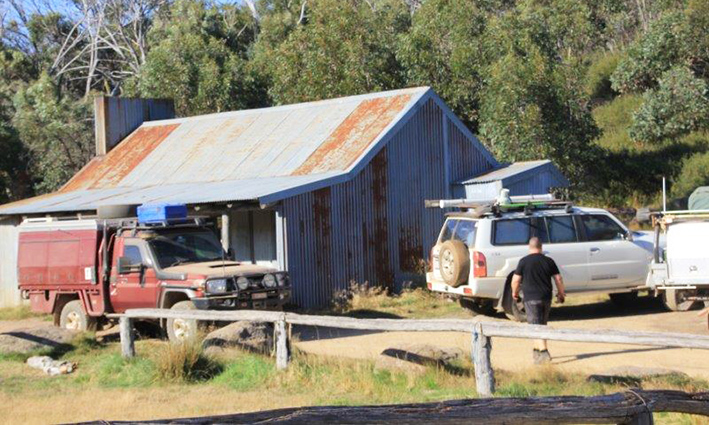 Bluff Hut
After lunch the convoy retraced our steps to Bluff link Road, turned left and headed for Eight Mile Gap before turning left onto Brocks Road. We visited Jamieson Hut where we had a view of Mount Buffalo and the ski runs but no snow. We eventually reached Sheepyard Flat after some very rough driving with, believe it or not, roadworks. Along the way they were grading the roads and making sharp corners wider. We guessed there might be logging up there soon. We made camp and we were quickly surrounded by about 20 wild ducks looking for a feed. Whilst we were having happy hour, down came the King Parrots to feast on whatever they could steal. One actually tried to take a biscuit out of my mouth. After dinner, thunder and lightning could be heard in the distance. By the time we started to get ready for bed it started raining, so we all dashed into our sleeping quarters. It only rained for about 20 minutes so did not disrupt the trip at all.
Friday 1st March 2019 - Day 5
The group was packed up and ready to go fairly early even though our swags and tents were still wet. We headed back to Mansfield but not before airing up and hitting the black top once again. Oh no more groaning and rattles from the old girl. In Mansfield all of us enjoyed something to eat and drink at the Bakery. We said our goodbyes and headed back to civilisation.
Now what else can I say. A BLOODY GOOD relaxing few days with rough roads beautiful scenery and bloody good company.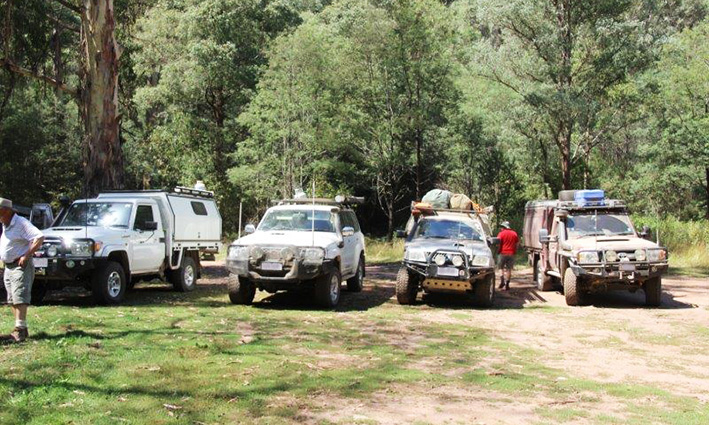 Three dusty - one clean!
Many thanks must go to Uwe for once again leading a safe and successful trip. My son Jeff sends his thanks to the team for accepting him into their midst making it a pleasant and memorable trip for him. He enjoyed every minute of it.
If I have missed anything or got any visited place wrong I do apologise but the old grey matter is finding it hard to remember things and names etc. So from now on Tony, I will use my iPhone as a dictaphone. Thanks for the hint.
Text and images: Roger